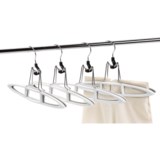 Closeouts. With neatfreak! non-slip pant and skirt hangers, keeping your closet organized is a cinch. Non-slip interior grips hold tight to any thickness of fabric and keeps pressure points spread across a wider area to minimize marks.
Average Rating based on
10
reviews
4.000000
0
5
Reviewed by deb from California on Friday, August 30, 2013

I don't know if this is because the black plastic joints were old and brittle, but two of out of the 16 I bought snapped when I first got started using them, even though I was super gentle after the first one broke as I tried to open it. Then, yesterday, as I was moving clothes from one side of the closet to the other, I saw another had snapped at the black joint - even though I hadn't opened it or anything. However, the ones that I have left are really nice and very grippy...but I'm not sure I'd buy this brand again if they use these weak plastic parts in their hangers.

Reviewed by Diane from Manitoba on Saturday, June 29, 2013

Nice

Reviewed by NJlegal from new jersey on Wednesday, June 26, 2013

These sturdy pant hangers keep pants and capris wrinkle free and ready to wear! I hang my summer capris and shorts right out of the dryer and they look perfect when I'm ready to wear them. Hanging them up also allows me to better see what I have to wear, rather than trying to go through the drawer - plus folding them in a drawer gives them wrinkles. The hangers are working nicely and they are made to last a long time.

Reviewed by Judy from Philadelphia on Thursday, June 13, 2013

As I said, the joint breaks easily, that being said, the hanger itself is lined with rubber and it really grips the clothes it clamps upon. I have decided to be . careful when opening them and put them to work anyway. I have a million pants hangers that poorly grip the pants and that is more frustrating to me--especially when they fall to the ground as I sort through my wardrobe.

Reviewed by Lon Cheney Jr. from Nevada on Monday, June 10, 2013

I can't believe the previous reviews! I wish I could say the same because the concept of the hangers seemed like a nice change from the traditional pant hangers. I unclipped one and the plastic latch snapped right off - flew clear across the room. I thought perhaps I was a little too enthusiastic with my new hangers, so gently unclipped a second. Same thing! I don't understand why no one else had this problem? Cheap, cheap, cheap! Too cheap to return, unfortunately. Aggravating.

Reviewed by Ann in Fargo from Fargo ND on Thursday, May 30, 2013

Hard to find these, and they work very well.

Reviewed by Anthony G from Pennsylania on Saturday, May 25, 2013

The only kind of hangar you should hang your pants on. A more modern version of the wooden pants hangars and a slight upgrade. FAR superior to the type you drape the pants over. Preserve the crease and don't wrinkle the pants halfway down the leg.

Reviewed by Terry in WA from Medical Lake, WA on Sunday, May 19, 2013

I bought several packages of these, work well I wish they were a little wider for skirts

Reviewed by NewEnglander from CT on Thursday, May 9, 2013

I order these to try out. Many that I have purchased at local department stores have
in most case become weak over time and slip. Then i toss them out. These are
a breath of fresh air. Very strong grip and appear to be well made. time will tell
however, I have confidence in this product. Well worth a try.

Reviewed by Flint Springs from Kentucky on Wednesday, May 8, 2013

I had been saving the clippy hangers from stuff purchased at the nicer stores over the years, but they are scarcer and the ones you find these days are generally cheaper. I got these to have enough to hang skirts and slacks and to prevent finding the clothing in the floor and they are all I use now. The hangers clamp easily and securely and look good too, going along with my recent closet upgrade. I ended up getting several packs of these and have used nearly every one already. Sure you can fold slacks over a hanger, but these eliminate the resulting crease at the knees. The don't leave pinch marks at the corners of the garment either, they're well padded. I was leaning toward the fancier wooden bar type clamping hangers, but think I like these inobstrusive ones better, they match my white hangers I got from STP a few weeks ago. Happy purchase.