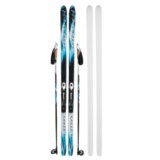 Closeouts. A complete cross-country touring package that includes poles and bindings, Whitewoods Crosstour Nordic skis have a laminated wood core, waxless base, and the step-in convenience of Rottefella NNN bindings.
Average Rating based on
10
reviews
4.500000
0
5
Verified Buyer

Reviewed by The Twiggses from Colorado on Tuesday, January 3, 2017

Great set up for sometimes skiers - have enjoyed these skis on groomed trails and fresh powder. Definitely recommended!

Verified Buyer

Reviewed by Pico from Wyoming on Friday, December 30, 2016

I have no complaints. The bindings functioned flawlessly. Finish is okay.

Verified Buyer

Reviewed by Arnie from North Dakota a on Sunday, December 25, 2016

The only problem with this cross-country ski package deal is that the "baskets" for the poles are not attached to the poles when the skis and poles arrive and there are no instructions on how to install them to the poles. As a result, I lost one of the baskets the first time I used the skis and poles. A basket is the wide peice, usually made of plastic, that attaches to the bottom of the poles that prevents the pole from sliding deep into the snow as you use the pole to propel yourself forward. Despite my best efforts I could not slide the baskets over the base of the poles, so I secured them the best I could and went on my first outing with the poles and skis. When I went on my second outing I discovered I was missing one of the baskets. After my second outing, I did some internet research and discovered you have to boil the baskets in boiling water for about a minute before sliding them over the base of the pole. It is still takes some force to slide the baskets all the way into place, but it can be accomplished relatively easily when you boil the baskets first. I could not slide the baskets all the way on, despite my best efforts, the many times I tried previously without first boiling the basket. Now I am hoping Sierra Trading Post will send me a replacement basket without charge in return for this review.


Verified Buyer

Reviewed by gnarggles from MI on Monday, December 14, 2015

good price, nice skies, not top quality, but no complaints.

Reviewed by Long Time XC Skier from Michigan on Friday, February 6, 2015

I used wax skis for more than 30 yrs and XC skied 40-60 times a year living in Michigan's UP. I was expert at waxing but, while shopping for new skis, the sales guy at the shop urged me to try wax-less. The technology and materials have changed so much. These skis are great. I ski mostly breaking trail and back country but enjoy groomed trails, too. I'll never go back to waxing. All that fussing, carrying wax along for changing conditions, leaves and pine needles sticking to the wax, etc. etc. I just want to ski! . I have had the Whitewoods Explorer for about 5years and my wife has had the Cross Tour from Sierra Trading for about 3 yrs. I live in lower Michigan now so I do more groomed trails and only about 15-30 times a year. I think the Cross Tour are probably better for glide and the Explorer have been better for kick and for cutting trail. I will probably get the Cross Tour now for more speed. The Cross Tour have less fish scale and the Explorer probably has a little too much for what I do now. It's always easy (but not really necessary) to tune up wax-less skis with a little glide or kick wax if needed on a long tour or in some really unusual conditions. It's a good idea to treat wax-less skis a couple times a year with some liquid glide just to sweeten them up a bit. We've both had the Whitewoods boots and I love them. They're the best ski boots I've ever owned.

Verified Buyer

Reviewed by 4ADVTUR from Boise on Wednesday, February 4, 2015

Look a little cheap, but they performed better than other skis.

Reviewed by drew the snowboarder from breckenridhe, co on Wednesday, January 28, 2015

I odered the matching nnn touring boots to go with these and went out today to the local Nordic center here in Breckenridge, Co...what a blast! I usually snowboard but there hasn't been much snow lately, and I'm not much of a park rat, I prefer back bowls and tree running...so I ordered these to have something to do since I quit my job and decided to be a ski bum for the next month or so...and I am loving it. I have never skied before nor snowshoed so I have nothing to compare this to, and hell I don't even know if I'm doing it right, but I had a great time on these this morning, even went down a black diamond run at the Nordic center, side stepped down half of the steep roll in to sharp curve with rocks and a stream to avoid, then turned my skis downhill and so much fun, they can pick up some serious speed on the steep terrain and glide smoothly on the flat stuff. I found it easy to go uphill even on steep inclines with these as long as I put a lot of downward pressure and keep my poles in the ground behind me...even with my poles being too short and skis a bit too long, I weigh 150 lbs but opted for a ski length built for a 170 lb person, so I can have a backpack and do some camping with these. Overall I can't find anything wrong with these and for $120 it was a great buy and much fun to come on days when there is no fresh powder.

Verified Buyer

Reviewed by Brian from New York on Wednesday, January 14, 2015

I am super pleased with this purchase. Was a little nervous buying from a little known manufacturer, but I do love to support small businesses. The skis glide smoothly, look great, and seem high quality. I would definitely buy them again.

Reviewed by JohnTyler from Lake Tahoe on Tuesday, February 18, 2014

I bought these with the matching Whitewoods NNN shoes. Like I said in the shoe review, these products have performed adequately but I would not rave about them. They have been good for what I was looking for, which was an affordable set of cross country skis that I might use "occasionally". If we get any snow here in Tahoe, Im at the ski resorts...but if we dont have much, I take these out to the flatlands. Overall I think it is a good product but if you are trying to get into Cross Country skiing more avidly, I would recommend investing in something nicer.

Reviewed by Mcswigs from Staten Island on Monday, February 3, 2014

Bindings hold well, easy to clip in and out off. Skis have competent grip on uphills. One gripe.....Skis don't glide that well. Probably just need a touch of wax.