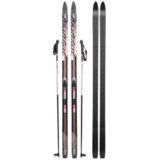 Closeouts. Tour on and off track with Whitewoods Whitetail cross-country touring skis, complete with Rottefella BCA NNN bindings and Cross Trail touring poles.
Average Rating based on
22
reviews
3.909090
0
5
Verified Buyer

Reviewed by Murray Hills from Colorado on Monday, February 20, 2017

The ski's delivered were shorter (165) rather than the ones requested (196) on the site. The metal edges showed rust signs and weren't sharp. Other than that the skies and bindings were well made. The poles could have been good if they also weren't so short!.. The baskets are also a joke. Lost both sets when I when to the local park (the snow was about 1 ft deep) to try the ski's, They came off way too easily as they would not click (lock) into place, so now the poles are only good for hiking. Tried several Nordic stores for replacements and no one had heard of Whitewoods let alone could provide a replacement basket that would fit.

Verified Buyer

Reviewed by DKM from WA on Monday, February 6, 2017

These are a wider ski, and the first time out I was in fresh powder and no tracks. They handled just great. Seemed a little slow at times, but I was able to get some good kick and glide action going and I was cutting fresh trail so that could be it. Handled just fine on down hills and going up I managed to go straight up for quite a while before going into herringbone for the last bit of climbing. Poles seem a little flaky and I did not like the way the baskets are only a half circle and seem flimsy, but they stayed on after I didn't think they were attached very firmly. All in all, for my basic needs, I am very happy with product and the price!

Verified Buyer

Reviewed by valerie from montana on Friday, February 3, 2017

I haven't had a chance to use them yet. But they look good. Not super high quality, but good enough for the money.

Reviewed by Laura from Idaho on Friday, January 27, 2017

I was excited to use the skis after waiting 3 weeks between ordering these skis with poles and boots (from another vendor). I grabbed my snowshoes, and strapped my skis to my pack. After maybe 30 feet the base on one of the poles came off. I put it back on and banged them both in the snow. By the time I got up into the campground, I had probably lost and reattached the base 10 times. I would have gone further up, but my confidence in the poles was gone, and my frustration was growing. I skied up and back down maybe a few hundred feet, and again lost the bases a few times, even tough I was minimizing my use of them by this point. I'd seriously throw out the poles, and not depend on them again, I guess it's what to expect from 'made in China! I have no idea why they don't come locked in place and not separate.

Verified Buyer

Reviewed by Josh from Colorado on Friday, January 20, 2017

Just used these for the first time last weekend for a 10-mile outing near Winter Park. I found the skis responsive and very comfortable in 4" of powder. Great product!

Reviewed by Fudman from Maine on Wednesday, December 28, 2016

I got these last summer during a 25% off sale. A great value! I have not done any XC in over 20 years but these work great. The fish scale works fine and the slightly wider ski is more stable than the older skinnier XC skis for off piste skiing, The partial metal edge is very nice for downhill descents. Bindings work great too. I bought the matching boots and they are very comfy. getting a compete setup with poles & boots for $150 is a steal! Overall, a fine setup for the part-time XC/BC skier.

Verified Buyer

Reviewed by KellyEisen from Idaho on Monday, August 29, 2016

Great quality for the price. Awesome that everything is sold together, perfect for a beginner. Can't wait to try them out this winter!!

Verified Buyer

Reviewed by aktwin from colorado on Sunday, March 6, 2016

This is a basic Nordic set-up, works well enough, just not high end quality. Will be fine for beginner-intermediate Nordic skiing, or touring. Nice that it comes with poles.

Verified Buyer

Reviewed by Mark from MA on Tuesday, February 9, 2016

The binding are the NNN BC which are a bit wider then the NNN bindings. So if you order boots get the NNN BC boots. Also, the metal edge is not a full metal edge but a partial edge (saves on weight but a bit less control). Otherwise a good ski. Works well on tracked and untracked.

Verified Buyer

Reviewed by Beiste08 from North of Boston on Monday, March 2, 2015

We've gotten a lot of snow in the Boston area this year, so I've been able to enjoy this set quite a bit!