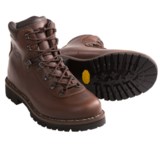 Closeouts. Nestled within the Alps, the Dolomites are known for jagged peaks and deep crevasses that have challenged the climber's craft for centuries. Alico's Summit hiking boots are handcrafted by artisans in this awe-inspiring region and built for exploring rugged landscapes. The oil-tanned leather upper is water-resistant, and the leather lining and moisture-wicking insole reduce friction and blisters.
Average Rating based on
717
reviews
4.582984
0
5
Verified Buyer

Reviewed by Frances from SC on Sunday, July 15, 2018

Previously I went through 3 pairs of another European-made brand of boots that were extremely comfortable, but I ended up having to prematurely throw them away due to the glue on the soles falling apart. Tired of throwing away expensive boots, I decided to try a different brand with sewn-down soles. Did a lot of research, and found that Alico seems to be one of very few companies still making boots with sewn-down soles. Read a lot of reviews on each of the Alico models I was considering, and finally settled on the Summit.

The boots arrived very quickly. I inserted my own arches bought from my foot doctor, put the boots on, thinking I would have to break them in gradually. But surprise of surprises, they felt surprisingly comfortable right out of the box, and I ended up wearing them all day long. I had ordered the wide size. These boots are shaped very generously around the toes, so I wear heavy socks with them. I wear them just about every day, all day long, and they are becoming even more comfortable as they mold to my feet. The leather is thick and of good quality, the tongue is well padded, they offer good support for my ankles, the soles grip very well, and they appear to be made very well. Plus, at some point in the future, these soles can be replaced and resown. I'm anticipating that these will be the last boots I need for a very long time! :-))))) I'm a very happy camper!!

Verified Buyer

Reviewed by Jacob from CA on Sunday, July 15, 2018

So far very happy with the the construction of these boots; they are extremely sturdy and well made. The leather lining is feels great and the craftsmanship is really excellent overall. (There only visible imperfection is a cut on the leather on the inside of the tongue.) I did have some difficulty with the sizing. My first pair in my normal size and D width were far too wide, even with thick socks. Sizing a half-size down, the boots are still a very little bit wide, but I don't want go down any further for length. If you have slightly narrow feet like me, I'd advise sizing down a half size.

Verified Buyer

Reviewed by hammer from ohio on Wednesday, July 11, 2018

So far excellent boot. I was surprised there has been no break-in period. They fit perfectly right out of the box. Great pair of boots! I would recommend them to anyone.

Verified Buyer

Reviewed by Poko from Japan on Saturday, May 26, 2018

I tried to wear it immediately after it arrived. Even if you walk for a long time with a wonderful fitting like wrapping your legs you will not get tired at all.
Because it is finished with NW Welt recipe, leather is thick and it is sturdy and perfect boots.

Reviewed by A Naturalist from San Angelo, TX on Thursday, May 24, 2018

I waited a while to write a review on these boots. I was originally on the fence about them and wasn't sure if they're what I wanted. I did what most people did; replaced the laces, replaced the insoles with superfeet green, and protected them with Obenauf's. Even after all of that I was still unsure. I wore them around the house a little, ran some errands in them, and did some light hiking. Still uncertain. I decided to take them to Big Bend National Park for my Natural History of Bats course for a real test of quality. During the first few hikes they hurt my feet a bit. But as the days passed, I noticed my feet didn't hurt anymore. I also noticed how well they worked on the rocky terrain, from sharp slate to worn down sandstone. And then the flash flood hit. We were on the road right outside of the Basin and had to dig out a path from all of the silt, rocks and mud pushed there by the flood waters. I was up to my ankles in water and mud and didn't feel my feet get wet or dirty at all. After we got home from the trip, I cleaned them and reapplied some obenaufs. I'd say they look and feel better than when I first got them. I think they'll give me a lot of comfort and durability for a long time. And those pictures are from AFTER the flash flood.

Verified Buyer

Reviewed by Ken Landscaper from Scarborough Maine on Monday, May 14, 2018

I have been buying these boots repeatedly for years. When I wear out one I buy another. They break in so easily. I'm not sure I have ever had a blister. That is why I keep coming back. I wear these for my landscaping work. I have purchased the Guide version of this boot before which is much stiffer. If you need more support that is the one I would get, but know that it will take some time to break in.

Verified Buyer

Reviewed by David from SE Connecticut on Tuesday, May 8, 2018

I bought three pair of mid-weight hiking boots, expected to pick the best made, best-fitting pair and return the other two. In the end, I chose these boots over Merrill and Asolo. I wear an 11 Wide and the Merrill (beautiful!) weren't wide enough and the Asolo's didn't seem to be up to the Alico's build quality.

Why did I buy a second pair? Well, I have had these boots for a year and hike weekly with a 30-40 pound pack. Excellent woods boots! However, I just spent 10-days camping in the high deserts of north-western Nevada and these boots were incredible. Snow, rain, mud--all good. Super comfy, laughed at the razor-sharp shale that sliced TWO of my SUV's tires. Came home, washed them, treated them and they look almost factory-fresh. These boots are remarkable! Buy them, but buy two pair because I think Sierra is the only distributor and who knows how long availability will last.

Verified Buyer

Reviewed by MinerJohn from New Mexico on Monday, May 7, 2018

Got these a few weeks ago! Fit well and feel good when you get them broke in. I unfortunately scuffed the toes early on. I did talk to the Sierra customer service people for recommendations for leather care/water-proofing. What I used works fine!

Verified Buyer

Reviewed by Prairiedoghill from Idaho on Sunday, May 6, 2018

I love these Old school boots. These are very well-made with full leather lining. I think my last pair lasted about a decade.

Verified Buyer

Reviewed by Schensted from Sweden on Wednesday, May 2, 2018

The Alico Summit is the perfect backpacking boot for hikers seeking a robust traditional boot suitable for rough terrain and heavy packs.This is not the boot for "fastpackers" or ultralight PCT through-hikers.

Like Alico's Tahoe, which I also own, the Summit features a one-piece full grain leather upper, Vibram sole, and stitch-down construction. As a result the boot is resolable and should last a lifetime with proper care. (I recommend Nikwax products.)

What distinguishes the Summit from the Tahoe is its use of the thicker Vibram Montagna sole vs the Tahoes's Roccia sole. Both are proven soles which give good grip on a variety of terrain. The Summit's upper is also higher, giving better ankle support, especially when combined with its lacing system that allows the lower laces to be comfortably loose while cinching the upper laces tightly around the ankle. The Summit also features a glove leather lining instead of the Tahoe's knit fabric lining, further contributing to the boot's durability and comfort.

Alico's line of stitch-down hiking boots offer superb value. I plan to buy the Super Guide next for three-season mountaineering. In this age of disposable fabric and Gore-tex boots, it's possible traditional leather boots will disappear from the market forever, so get yours while you can.