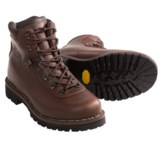 Closeouts. Nestled within the Alps, the Dolomites are known for jagged peaks and deep crevasses that have challenged the climber's craft for centuries. Alico's Summit hiking boots are handcrafted by artisans in this awe-inspiring region and built for exploring rugged landscapes. The oil-tanned leather upper is water-resistant, and the leather lining and moisture-wicking insole reduce friction and blisters.
Average Rating based on
687
reviews
4.580786
0
5
Verified Buyer

Reviewed by Mountain Newbie from Rhode Island on Monday, July 31, 2017

Took very little break-in: a few hikes and a day or two walking around town before tackling the Rockies. Scuffing up and looking cool. Glove leather lining is soft but strong. No blisters. True to size.

Reviewed by George from Fwb fl on Tuesday, July 4, 2017

Bought these boots for hiking the Camino Santiago De Compostela. They did great no blisters held up good to an all day rain. The more I walked the more comfortable they became. At the end I noticed a separation on the heels from the boot. Called sierratraiding post for advice was told to contact alico. Great boot disappointing on the customer service. Took to a shoe repair place problem fixed.

Verified Buyer

Reviewed by Oliver from Washington on Friday, June 23, 2017

Good boot, solid construction, comfortable. I'm a 12.5 shoe with a wider foot, but a thirteen works solid when I wear two pairs of socks (recommended for comfort). I added an insole, and bought leather preservative and will continue to apply it after trips. Great grip on hard-packed trails and boulder-y paths.

Verified Buyer

Reviewed by JustMe from Missouri on Thursday, June 22, 2017

I had to order a man's boot because the Alico boots for women were not available in my size. Thanks to your sizing information, I was able to order the correct size. I love my boots, they are very sturdy and comfortable.Probably the last boots I will ever have to buy, unfortunately, I was very satisfied with ever aspect of my purchase from Sierra.

Reviewed by David W. from MA on Monday, May 29, 2017

I was intrigued by the Summit even as I passed it over twice to purchase 2 other pairs of "new tech" boots, both of which I like very much. The Zamberlan Vioz Plus is my go to winter boot and the Aku Alpina Plus is my lightweight summer boot. They are superb in their roles. I have a fairly high volume foot and my left foot is wider with a bunion so narrow boots are out of the question. Seeing the Summit in my size, I pulled the trigger. First off, they are absolutely true to size lengthwise. I've been a 10 forever and all three of these boots fit perfectly at size 10. Knowing my bunion might pose an issue, I opted for the wide and am glad I did. The interior volume and shape are perfect. The slight extra room in my right shoe is easily filled by a good sock and the laces. The other critical dimension is where the boot flexes at the forefoot. It's ideal, in fact you'd never guess this boot has such a heavy duty sole and midsole. The stride is easy enough for casual walks on trails. I wouldn't recommend for pavement though. The height at the ankle is perfect too. High enough for solid support yet not chafing at all.

Everyone gripes about the weight. No, they are not lightweight. But I grew up with 8 inch Herman Survivors with the exact same sole as this boot and probably weighing about the same. They were my everyday footwear outside the gym. When you consider the technical hiking fit these boots have they feel quite nimble to me.

So, as a fussy, boot obsessed hiker, I'm very impressed. With the right maintenance they should be on my feet for many, many years.

Reviewed by Flymo from New Hampshire on Thursday, May 25, 2017

I seriously didn't think I'd ever find a new boot of this quality and construction. Truly outstanding. Full leather lining is comfy. My boots which arrived in May 2017 did include a pretty nice insole, so it appears that has been upgraded.

Fit is pretty much spot on in length. The toe box is very roomy even in the D width - so much so that I am going to try a thicker insole to take up room I don't need. Very happy with these so far.

Verified Buyer

Reviewed by TerryT from Oklahoma on Wednesday, May 10, 2017

Seems well constructed. A little heavy but think it will work well for backpacking. Haven't had chance to fully break in yet.

Verified Buyer

Reviewed by Jimijam from Montana on Wednesday, May 3, 2017

I wear 8 1/2 d in shoes and ordered the 8 1/2 m, pulled put the factory insole and replaced with green superfeet insole. Boits fit great with medium weight smartwool socks. Have not hiked in them yet, have worn them for 4-7 hours at work, so far they are comfortable. Great value all leather/stitch down sole compared to $350+ others.

Verified Buyer

Reviewed by Vitalie from Philippines on Friday, April 28, 2017

Superb quality of materials and craftsmanship! Perfect fit! Excellent service from Siera Trading with super fast shipping to the other side of the Globe. Very satisfied!

Verified Buyer

Reviewed by Paul T from TX on Tuesday, April 18, 2017

These are extremely well designed boots built of the best materials. STP also has great customer service. Cannot comment on boot longevity yet. The main reason to comment is on the fit, for benefit of those readers deciding on the size. The boots have a wide design and it is obvious they are meant to have you buy your own insoles. There is plenty of room for thick insoles. They do come with a felt insole so you can try them out but the aftermarket insole of choice should be something you also consider when purchasing. (I usually use the Sole brand softec medium). The boots are lengthwise very true to size, I am an exact U.S. 11.5 on a Brannock, and these boots in 11.5 came down right in front of my toe. Large toebox side-to-side like the rest of the boot. However I wound up keeping them in size 12, because hiking most long U.S. trails involves a lot of elevation change, and I didn't want the boot jamming my toes going downhill. So I ordered 1/2 size larger in my usual medium width, a fit suitable for purpose.