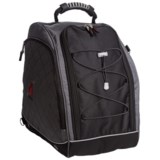 Closeouts. Athalon's Amped heated boot bag is lightweight, durable and designed to operate with standard household outlets or your automobile's 12V power socket. The wrap-around heating system in the main compartment heats boots thoroughly and makes it easier to put on tight, stiff boots.
Average Rating based on
10
reviews
4.000000
0
5
Verified Buyer

Reviewed by Kate from Santa Fe, NM on Saturday, January 9, 2016

I second what the other reviewers say about space and functionality, but want to add that I haven't even had this for a year and it already has a tear in the stretchy helmet storage part, and I don't even use that every time.

Verified Buyer

Reviewed by PMR from Palo Alto, CA on Thursday, June 11, 2015

So far, I've only heated up the bag to test it out. It heated up fast and was nice and toasty inside.

I'm excited to use it to heat up my non-skiing gear before I head out into the elements.

I don't ski and bought this to heat shoes, socks, scarfs, gloves, hats, etc!

Verified Buyer

Reviewed by Jockman from Hudson Valley New York on Thursday, March 19, 2015

The bag appears to be high quality material and zippers. Wished it held more, but some exterior carrying features somewhat make up for this.
The external helmet carrier is too small for my helmet. Tested the heater and boots were significantly warm in 2 hours. I will probably use the boot heater a few times per year but I figure the typical travel time to a mountain of 1.5 hours is enough to provide welcome warmth. I have a large boot (size 13) and the boots fit, although snugly.

Verified Buyer

Reviewed by Jim the skier from Taos NM on Wednesday, February 4, 2015

Heats boots great in the house or car. It could stand to be a little bigger. I wear a 10 1/2 boot and it's a squeeze to fit them in.

Verified Buyer

Reviewed by Alex from Colorado on Wednesday, January 21, 2015

Let me just start by telling you the only two negative aspects of owning this bag. Once you plug it in the wall outlet, it takes many, many hours for it to make the boots nice and toasty warm. The problems with that are many but one that concerns me is that I can't decide whether to go skiing in a flash. I have to know I'm going skiing at the latest the night before to plug in the boot bag before I go to sleep. Or, plug in the boot bag and if you don't go skiing in the morning unplug it and you just wasted a whole bunch of energy! If I plug it in when I wake up, it just won't have sufficient time to get the job done.

The second negative aspect is that the boot bag lacks sufficient space to include other items in the heated compartment of the bag. Once your boots are in the bag, you won't have extra space except perhaps for a pair of gloves and a hat.

Having said all of that the bag does, giving it sufficient time, what it suppose to do. It gets your ski boots so warm that they feel like butter when you put them on when you go skiing. It has a plug in adaptor to keep the boots warm in the car while driving to the mountain.

If you don't mind plugging in the boot bag to the wall outlet 8 hours before going skiing, then this is your bag. I'm happy with mine!

Reviewed by ColoradoSki from Colorado on Wednesday, January 21, 2015

Can't beat the price for a heated boot bag. I can't compare it to other heated bags having never tried one. Only the base and the sides are heated as one reviewer noted (which is why I did not give 5 stars), but it kept my boots fairly warm after I initially heated them on a boot dryer for awhile. It is smaller in profile, which I like, and would probably only hold a pair of gloves and a beanie and not much else. Does have a separate zippered pocket for credit cards and small items. My boots are size 26.0 and fit perfect. Could handle slightly larger, but this bag does not fit my husband's size 29.0 boots. If you are looking for a gear bag that will hold more than boots, this is not the bag for you. If you want just an affordable boot bag that is heated, should be perfect.

Verified Buyer

Reviewed by ski amigo from Utah on Thursday, January 1, 2015

It does what it says it should. Perfect size for locker room. Use with timer for three hours set on medium and easy warm entry into an otherwise stiff boot. Very little interior space however once boots are in the bag.

Reviewed by first impression from Old Utah ski hand on Sunday, November 16, 2014

All my ski buddies said you have to get a heated boot bag. It is the way to go with warm feet/boots first thing in the morning.
In general the bag looks to be of good quality (made in China, of course). I haven't tested the heat settings yet.
I haven't used it but as the other buyers have stated, the mesh side pocket is too small to carry a helmet.
I also found that one of the shoulder straps was mis-sown. It was mis-routed thru the tension keeper and will not hold in place so I will have to unstitch the strap at the bottom, re-route it thru the tensioner, then restitch it at the bottom again. No biggie.
The bag is modest in size and will not hold much beyond a pair of boots and basic ski accessories.
I can't wait to crank this bag up and feel the love in my cold feet at 7 a.m. in the morning when it's zero degrees outside.

Reviewed by slender but not skinny from Colorado on Monday, January 20, 2014

I live in Colorado and love to ski, but my feet get painfully cold so fast. I often take the bus to the slopes (30 minutes) and have wanted a heated bag to carry my boots in for a long time. With STP's price and an extra % off deal I finally got one, and so far love it! I heat my boots in it before we leave the house. In the car I keep it plugged in, but even on the bus it stays warm to the slopes, and starting out with warm boots makes them easier to put on and I last much, much longer skiing. I also used it with my back country xc ski boots and that was a treat too. It's no bigger then it has to be, so not too awkward on the bus. The only negative I have is the "expanding helmet pocket" does not expand enough, and is useless for a helmet, although I did find I could tuck an extra jacket there. The side pocket is not expandable and will about hold a pair a gloves, but does have a place for keys, etc. Fits in a locker. Seems to be well-made, hopefully it lasts a long time.

Reviewed by downhillski from Neveda on Tuesday, January 14, 2014

After skiing I use a boot heater for the inside of my boots and it does a good job. The heated boot bag is fantastic it heats the boot shell making it really easy to put my boots on and buckle. I plugged the bag into my home outlet for 1/2 hour and then plugged the bag into my car for 25 minutes. That is all it took to make the boot shell warm.

My boot size is woman size 23.5 or 7 u.s. . The bag has plenty of room for my boots, gloves and socks. the side zipper can hold my goggles. There is an outside net to hold a helmet ...wish the bag had an enclosed spot for a helmet; might have increased the boot bag size.

I do like the size of the bag and the option to use the enclosed shoulder straps is a nice touch along with an ergonomic " bumper ' in the back. The inside of the bag cleans up nicely. Double zippers are great.

I would recommend this bag for a small or medium ski boot a larger ski boot might not pack as well.