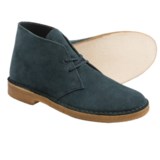 Closeouts. Nathan Clark designed the original Desert Boot in 1949, with simple lines and a crepe outsole for comfort. Offering slight variations on this iconic classic, Clarks' Desert Boots feature a timeless design updated for today's fashion and a comfort that only gets better with age.
Average Rating based on
19
reviews
4.157894
0
5
Verified Buyer

Reviewed by Back from Ireland from Illinois on Monday, May 22, 2017

The boots are very comfortable & provide a very stable foundation. My beef is with the finish. Although brand new, these boots look like they're years old, never having had a cleaning. Everywhere the leather bends, the color has come off, making them look like they're old & abused. I bought the boots to wear on a trip to Ireland. While there, I visited 2 Clark's stores & neither one had dark green polish. I also went to a shoe repair shop & they had some dark green polish, meant for leather furniture. The container was rather large & I didn't want to lug it back to the States, so I passed. I'm thinking about having them dyed black, or another dark color, so I can get polish to maintain them the way I think they should look.

Verified Buyer

Reviewed by redeyehawk from New Hampshire on Wednesday, April 26, 2017

Had a pair 40 years ago, the anywhere/anytime boot ... looked good casual or with a jacket and tie (like khakis). Had to have another pair, if only for old time's sake. Will be wearing them to the wedding rehearsal (with Khakis)don't tell anyone ... I was ordered to dress up, hey, bad is bad. I wear 11 1/2 2e or 12w... got them in 12d and they fit great, very comfortable. I can even fit a Dr Scholls 2x cushion inside, which I often do. I believe I saw a comment about them slipping at the heel ... I can see that, so I just went to the basement shop and punched an extra hole above each top existing hole (3/4" on center and 7/16" from edge). This enables one to cinch the laces down further up and eliminate most of the slippage. I have them on now and man do I feel groovey. Better than sandals if you encounter a scorpion in your travels.

Verified Buyer

Reviewed by Jc in KY from Kentucky on Sunday, April 23, 2017

The boots were so long I thought surely they were the wrong size, apparently not
They were tight on the top of my foot as well. I returned, wish shoe description had fit notes.

Verified Buyer

Reviewed by kh from nc on Sunday, February 19, 2017

Great product, fast shipping and good price.

Verified Buyer

Reviewed by kh from NC on Monday, February 13, 2017

Great product and fast shipping, will by again.

Reviewed by mrphoto from Beijing on Friday, July 15, 2016

It's just in size,the soles are very soft and flexible,But there's a little bit of rubbing on the heel,maybe wear more should be good.

Verified Buyer

Reviewed by The Galipagos. from FISHERVILLE, KY on Monday, July 20, 2015

First time I have ever seen a patent leather Clark boot but that is why I bought them. The price could not be better either!

Verified Buyer

Reviewed by Runner from Illinois on Wednesday, May 27, 2015

These shoes are paten leather. They need very little care, just wipe them off with a damp terrycloth then rub with the dry side, and go ! I would buy another pair if I had 4 feet.

Verified Buyer

Reviewed by Rob from Oakland, CA on Thursday, December 4, 2014

Comfortable and stylish even today. I had these a bazillion years ago as a teen, and they still are one of my favorite shoes ever. Simple, durable and wearable with all sorts of clothes. Everyone should have a pair.

Verified Buyer

Reviewed by Chief Tuskalusa from Alabama on Wednesday, April 30, 2014

Beautiful shoe. Only problem was that the back part of the shoe rubbed my heel with every step. The product was made with good quality, just at an awkward height for my ankle and caused discomfort.