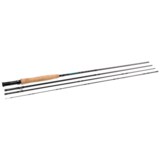 Closeouts. Redington's Link fly fishing rod is a strong and responsive fast-action rod. The travel-friendly, 4-piece design features Red.Core construction and ExoCarbon carbon fiber weave on the butt section for added line carrying.
Average Rating based on
9
reviews
4.666666
0
5
Verified Buyer

Reviewed by fishman from Cape Cod, MA on Thursday, May 14, 2015

For what I paid for this rod it is a fantastic deal. You can't go wrong. I have other Redington fly rods but this is by far becoming my favorite. I purchased the 6wt/9ft . Med fast action stiff enough to through a streamer into the wind but light enough to drop a dry fly. Great purchase for me.

Verified Buyer

Reviewed by AT Hiker in training from Virginia on Thursday, April 2, 2015

Great quality rod at STP pricing. This Redington (4 wt) is perfect for small and medium size trout. The rod is extremely flexible (fast action) and easy to cast. You cannot find a better quality rod for the price. As an extra the rod case is aluminum ready to travel in a car, on a airplane or in a backpack with no fear of crushing the rod.

Verified Buyer

Reviewed by North of Bangor from Maine on Friday, March 20, 2015

I now own two Redington 9' Links. A 6-wt for streamers and a 3-wt for dries and small wets. Although primarily a trout fisher, the 3-wt is a blast for summer panfishing. The Link is very well-made and for what it matters quite attractive. Tip flex/fast action, which is not what I prefer, but these rod get my fly to where I need it. Once I adjust to the flex/action, I can plant a pin-point cast across a stream or in front of a rising fish. More control and distance than my preferred full flex/slow action rods. I over-lined each of the rods, using a 7-wt sink tip line on the streamer rod, and a 4-wt WF floating line on the 3-wt. I tend to fish smaller waters so rarely cast beyond 40'. The over-lining loads the rod earlier, allowing accurate short casts. Yet when I need a longer cast, the rods respond well. If one is looking to purchase a well-made, high quality rod, and choose function over form (IE performance over a vanity brand name), please consider the Redington Link while they are still available.

Verified Buyer

Reviewed by Lauren from missoula, mt on Wednesday, January 28, 2015

I haven't used it yet, but I'm looking forward to doing so. Redington makes great rods and from all of the reviews i've read online it's awesome so I'm giving it 4 stars. not 5 because I cant be CERTAIN

Verified Buyer

Reviewed by MWM from San Diego on Sunday, January 18, 2015

Bought for light action salt water. Plenty of stiffness to throw a sinking line. Good action for small to mid size bay bass. Very pleased with the purchase at such a good value.

Verified Buyer

Reviewed by Asarkozy from Aurora, CO on Monday, October 13, 2014

I bought this 4wt fly rod for smaller rivers and streams in Colorado, I couldn't be happier. There is quality to the finish and I also bought the Redington 3/4 Rise reel to balance as well. This rod has a lot of power and touch throwing a dry in a slight breeze, I can still be very precise. Throwing a nymphing rig is easy and I've caught decent size fishes with this rod. This is a nice delicate rod for tight locations.

Verified Buyer

Reviewed by jcbikes from Colorado on Tuesday, October 7, 2014

Havent had a chance to hit the water yet, but this is a beautiful rod! Seems to be made from top materials, and the finish rivals more exspensive rods I own. I was so impressed that I bought another in a different weight. However, the proof will be in the pudding, whent I hit the water and catch fish. This is the only reason for 4 instead of 5 starts.

Verified Buyer

Reviewed by The Semi-Pro Frustrated Amateur from North Carolina on Thursday, July 3, 2014

Folks, if you're looking for the deal of the century, you can stop here. By that I mean stop what you're doing and buy this rod from Sierra Trading. You cannot and will not find a better deal on a quality rod. If you are new to the sport, buy one because it is forgiving and will last. If you are a seasoned pro and need a backup, buy this and make your current rod your backup. If you fish small streams but want to get into steelhead/salmon waters or saltwater, buy the 8wt. In review: buy one (or more) of these rods now, you won't regret it. This rod is more responsive than my buddy's Orvis Access and has a lifetime warranty. It (in my opinion) surpasses the looks and quality of any TFO I've ever seen/casted. Is it a Sage? No. But does it carry the Sage warranty and at this price cost 1/6 as much? Heck yes. Seriously folks, I paid just $59 more for this rod than I did for my Bass Pro White River brand rod 7 years ago. Get this rod so you can save money for tying supplies, gas money to the river, and food on the way home. You'll be glad you did. Big shoutout to Sierra Trading for having such a great price on the products they sell. It shipped fast too. All around this purchase was a 10, 10+, borderline 11!

Reviewed by Midwest from Missouri on Wednesday, June 4, 2014

Great rod for the money paid. I suggest buying one line wt lighter than you want to use it for. I purchased a 6wt as sort of a do it all to avoid carrying multiple rods on the river. This rod can chuck huge streamers as well as deliver dry smaller dries and nymph rigs pretty nice. I would also HIGHLY suggest overlining this rod. I use a 7wt gpx (which is rated a half size heavy) and a shooting line (which I believe is 2 line sizes heavier) for streamers. So if you buy a 5, use 6-7 wt line. Great rod for my purpose. I'd imagine it'd be great for saltwater although I use it only for fresh.