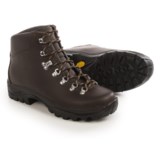 Closeouts. Handcrafted in Italy, Alico Backcountry hiking boots let you explore the great beyond comfortably and confidently. Superior Husky oil-tanned leather and a Dri-Lex® lining keep your feet comfortably supported on extended excursions.
Average Rating based on
63
reviews
4.380952
0
5
Verified Buyer

Reviewed by J.Kaverie from Connecticut on Friday, February 9, 2018

These look & feel like old school hiking boots. In that light there are a couple of things I had forgotten about traditional leather hiking boots. The first is the squeaks & creaks and the second is the break in period. I have two coats of leather conditioner and 14 miles of hiking built up two miles at a time and still feels like there's quite a way to go before I would feel comfortable about taking these out on a 4+ mile hike. I replaced the inner soles after the first hike and so far the laces have held up.

Verified Buyer

Reviewed by Swal1968 from Tennessee on Friday, January 26, 2018

I have been wanting these boots for awhile, so when I saw them at the great price - I had to get them...read the reviews about them running a size big, so i ordered down and they fit great. Very pleased with these boots! Can't wait to go hiking in them:)

Verified Buyer

Reviewed by Chris P from Eugene, OR on Monday, August 7, 2017

Best that my friend's feet has felt in a year

Reviewed by DanD from Texas on Wednesday, June 28, 2017

Adding to my initial low, 3-star review, now I can let buyers know that the boots squeak with each step. That is inexcusable and cheapens them even more. And you cannot return them unless the are like new, with original tags in place. How do you test boots--even on the street-- and keep all the tags dangling as you walk around? Down to 2 stars. Stick with REI and LLBean.

Reviewed by DanD from Texas on Thursday, May 11, 2017

My old HH Brown leather hiking boots lasted 20 years and had been resoled three times. They were done. Since they don't make them any more, I was looking for something similar in appearance and features. It seemed that the Alico Backcountry was a match. I paid $149.99. There are two disappointments: 1. They run large. I wear 9-1/2. The Alico 9-1/2 feel like 10. Too loose. 2. The lace eyelets are shiny like chrome, and have sharp edges as if they were stamped out from a tin can. I think they will chew up the inside of my pants cuffs, so I'm having to file the burrs off (for $149.99 I shouldn't have to do that). The boots are not inexpensive, but they are a disappointment. I intend to keep them, since I have worn them and they are therefore not returnable. Ask me again in five years. . .

Verified Buyer

Reviewed by l from CA on Tuesday, April 11, 2017

Fantastic. Supportive, water proof, comfortable. Immediately supple, essentially didnt need to break in before first use on big hike in rain and snow. Does run slightly big. I wear 11.5 for my Merrels and most sneakers. I needed 11 for these and it fits great.

Verified Buyer

Reviewed by Dog Sniffs from Central Oregon Cascades on Tuesday, March 28, 2017

OK, So we got completely [...] on all winter long and I've been using these boots as my every day shoes for months now. #1 they rock and are super comfy. #2 they keep my feet warm and dry #3 they look rad and I get tons of compliments on them . Overall, they kick @$$! The downside = the leather still squeaks even after a good treatment(s) and they brown dye comes off pretty easy. I'd actually prefer them to be the normal color instead of being dyed at all...seems like a waste if it's just going to wear off after a hike or 2.

Reviewed by Kingfish from Birmingham, AL on Saturday, February 4, 2017

Could not be more pleased with my boots. These were very comfortable right out of the box. Prior to getting 50 miles on my new boots they felt almost as good as my best house shoes. Without hesitation I can truthfully say these are the best hiking boots I have ever owned. Though the first Alico boots I have owned, I am sold on them. This will not be my last pair.

Verified Buyer

Reviewed by Chris from Michigan U.P. on Sunday, January 1, 2017

These are a fantastic boot at an unbelievable price. I bought an 11W and couldn't be happier with the feel and fit.

Verified Buyer

Reviewed by arturo from North Carolina mountains on Friday, December 30, 2016

I have the mid Alico and it fits like a glove this one not no much.