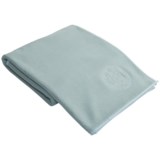 Closeouts. Keep hands and feet from slipping off the mat with Manduka's eQua® yoga mat towel. Lightweight, durable and super absorbent, its multi-purpose design can be used in the studio, the mountains or on the road.
Average Rating based on
23
reviews
4.217391
0
5
Reviewed by Mr Clean from Minnesota on Saturday, July 22, 2017

Washed a purple towel in cold water with several clothes. Everything turned a shade pink. Do not buy unless you don't plan on washing it.

Verified Buyer

Reviewed by Laura from New Paltz on Wednesday, June 15, 2016

nice color, tried once for yoga and once to dry off from a shower- worked fine for both

Verified Buyer

Reviewed by Patrick from Western NY on Thursday, June 2, 2016

While I don't much care for the color of this towel, it is a great towel. Super soft and very absorbent. It is also quite large, I have a standard sized mat and this overlaps each side by almost an inch. I am a very sweaty man that does daily 90 minute Bikram classes at 105 degrees and this towel can take it.

Verified Buyer

Reviewed by H from MT on Wednesday, September 9, 2015

I was pleased with the towel. My hands and feet typically get sweaty during yoga which makes the sticky may not so sticky. I've used hand towels in the past, but this yoga mat towel worked much better. It stayed in place mostly and kept me from slipping. Note that before it gets a bit damp (or your hands and feet have some moisture in them) it's a little slippery. So far it hasn't been a problem for me. You could also pre- moisten it if need be.

Verified Buyer

Reviewed by jennie from california on Thursday, August 27, 2015

its perfect

Verified Buyer

Reviewed by austinannie from Austin,TX on Friday, August 7, 2015

I bought this from seeing a review that said she used this even with non-hot yoga, so I thought I could take it travelling and use it as a mat that was lighter in weight than my usual. Not so...Even with wet hands (which supposedlly makes it stick) it slipped and slid and was just a thin towel.
It would be good perhaps for hot, sweaty yoga on top of your regular mat, but it doesn't work alone, nor does it work for me on top of a mat.

Verified Buyer

Reviewed by H from AK on Monday, July 27, 2015

Only have used my towel twice. It's thinner than a regular beach towel but is very absorbent. I would say for the size of the towel it is a little overpriced.

Verified Buyer

Reviewed by Misha from Orlando, FL on Friday, June 19, 2015

The size fits a regular size yoga mat, very useful if you sweat a lot during yoga. The mat absorbs all your sweat and you don't slip. Wash and machine dry.

Verified Buyer

Reviewed by Mary from Pennsylvania on Tuesday, February 3, 2015

Perfect for what it is... a microfiber yoga mat towel. I purchased this because the yoga mats I own seem to be very slippery and this solves the problem 100%. It did take a little getting used to as you have to be careful not to bunch up the fabric when "heel-toe"ing from one position to another, but overall it is certainly an improvement over a thin "sticky mat". My only complaint is that the "Embrace" color on my monitor looks more like a light purple/pink and when it arrived it is definitely a light bubblegum pink, not a big deal, but I really would have preferred a purple shade over a pink one.

Verified Buyer

Reviewed by sunny from Florida on Thursday, January 29, 2015

I purchased a generic yoga towel and thought it was ok. It wasn't until I tried this towel did I realized how big of a difference it makes. It pretty much didn't move the entire class. I didn't even have to wet it.....must be the Florida humidity. Very impressed. Great price on STP. Hopefully, they will get some other colors in.