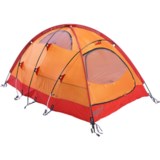 Closeouts. A bomber shelter for serious storm camping and winter mountaineering adventures, Marmot's Midgard 2 tent has plentiful internal space for two adults, top cross vents that help prevent condensation and an extremely sturdy pole design.
Average Rating based on
36
reviews
4.861111
0
5
Verified Buyer

Reviewed by J from GA on Sunday, May 27, 2018

It's a very nice tent for the money, and the tent appears to be well made. It has eight pockets to keep personal items in. The tent also has a place to hang a gear loft to keep additional items in. I have an MSR gear loft for the tent, and the MSR gear loft fits the tent perfectly. The tent has a hook to hang a lantern (either electric or candle) from, but it states on the tag not to use fire in the tent, so a candle lantern might not be the best choice. I have an electric lantern from Goal Zero, and l like Goal Zero products because they are made well. I set the tent up in the living room and everything fit together nicely! It took me two times to figure out how to assemble the tent. There could be better instructions... The tent has very brief instructions attached to the inside of the stuff sack. Also, the seams inside the tent could be taped... I believe a Thor tent footprint (Marmot) will fit the tent nicely. The tent has a bathtub style floor. I believe for the money that it's a very nice four season tent!

Reviewed by Jigme Sheltso from Texas on Friday, January 5, 2018

I've read the other reviews and agree that this is a very good tent. It may be ok for two small people, but for me, 5'11', 195#, it is a one person tent. Two people of my size could fit, but no gear to speak of in the tent, and very difficult to undress/ dress. One significant concern is with the fly. I used the tent as a base for two 11 day trips to Big Bend. During the night of the second trip there was an extended period of 40 MPH wind. The plastic window of the fly became detached, and the velcro straps which hold the fly to the poles became detached from the inside of the fly (they are not sewn in place but rather attached by adhesive). This was not a serious problem, and Sierra Trading Post replaced the entire tent. If I could not have obtained a replacement, I would have had the window replaced with sewn-in fabric, and the straps sewn in place and seam sealed. By the way, I leave the tent set up during the day and cover it with a plastic tarp.UV rays can be very destructive to the tent fabric. If you intent to backpack, this is definitely your base camp tent

Reviewed by Jackson Long from Alaska on Friday, December 22, 2017

This tent is the best that I have ever owned I spent three nights in it with my friend and were 100% dry every night. I would not suggest taking this and sharing it with anyone that you are not close to because your will be a bit crammed.

Verified Buyer

Reviewed by Backpacker from New York on Thursday, November 23, 2017

Just came back from a two night excursion to the Adirondacks in NY. When I arrived there it was already snowing, so I had to rush towards my campsite in the mountains. Three miles later, I started erecting my tent. While it has many poles, it's not hard at all and it took me about three minutes to erect. staking the tent and finalize the position took a few more minutes but that was after it was up with its cover.
One important thing is that I highly recommend adding a footprint. it's dry and very secure. It can hold snow loads and winds. I wasn't in blizzard conditions but I'm very confident being in it.
It's a great four season tent for a third of the price of comparable tents.


Reviewed by All Seasons from MA on Wednesday, November 22, 2017

This tent is an excellent value; study, well made, and a good design with excellent totally adjustable ventilation. It really is a 4 season tent in that it is comfortable in summer as well as in winter. Also very good in cold windy rain, which is the hardest camping environment. I used it on a ten day spring sea kayaking trip in Alaska where then temps ranged from 40 deg F with blowing rain to 90 deg hot sun and I was always dry and comfortable. Everyone else got soaked and baked.
Why only 4 stars? Well, it is heavy and bulky to pack compared to premium tents, and it is rather slow and complicated to set up. (about 12 min for one person, less for 2) The mesh fabric doesn't seem quite as durable as some other tents, and has gotten a couple small holes for no apparent reason, although these were easily repaired. Although it is technically freestanding, it really isn't because the vestibule has to be staked out. It is a little cramped for 2 people, although doable. I would not want to use it above treeline in a very strong wind because of the slow setup issue, although once up it is totally bomber. So it is not in my opinion the ideal winter camping tent because of this. But if you don't mind the weight you will have a nice bombproof sturdy shelter once it is up. And it is one of the few winter tents that works equally well in summer. I LOVE it for all season sea kayaking/canoe trips because I am always comfortable no matter the weather. Overall a very good all season tent and for the money I haven't found better.

Reviewed by Goesseck from Portland on Saturday, August 26, 2017

This tent is awesome, 5 stars all the way. We had a fair amount of wind in over 10,000 foot elevation and the Midgard stood strong! There is plenty of space inside for two people and setting it up was easy.

Reviewed by inua from Massachusetts on Monday, July 17, 2017

I bought this tent to go to Oceti Sakowin Camp in late November, on the high plains of North Dakota. I set it up to make sure I could navigate the process effectively- and ended up setting this up in the dark just fine. I did not use all of the guy lines (horses were checking me out) and woke up to snow the next day.
I found this tent to be perfect for myself, and all of my gear. I can't imagine two people. There is plenty of features that make this a comfortable little home- stowaway pockets and ventilation. I warmed the tent each night for 10-15 minutes with a little candle (not recommended for most people!) and had little condensation frost in the morning inside the tent. I could have played with the ventilation a little more prevent this from happening. The vestibules were ample, but made for a low crawl to get in and out. Also pretty heavy considering the size, but to be expected.
A good purchase!

Verified Buyer

Reviewed by bony from Nagano japan on Friday, July 14, 2017

A wonderful tent 2900 meters mountain made me feel very comfortable Thank you for your safety and safety

Verified Buyer

Reviewed by Javier from NYC on Sunday, June 4, 2017

This tent is designed for serious conditions. I've use it under heavy rain and winds up to 70 km per hour and it feels great. I love it, you should buy it if your looking for a great 4 seasons tent.

Verified Buyer

Reviewed by awlareau from Boulder, CO on Wednesday, March 22, 2017

This is my first 4 season tent, and I couldn't be happier! Myself (180lbs 5'11") and my gf (130lbs 5'7") fit comfortably inside with most of our gear :). The vestibule is good enough for the stuff that won't fit inside. Real good quality materials. Not difficult to set up after a couple of times (do at home first). Some advice: put the two cross poles in through the sleeves first then once both are through put them through the grommets of the tent then do the other poles in whatever order you like. Tons of guy points and also internal guy system if really needed. Seems like so many guy points it's overkill haha. Had used some of the guy points in 40mph gusts and the tent didn't even budge at all. Only got down to about 23 degrees F with wind chills around 10, but no breeze inside the tent and with the two side windows cracked a tad for ventilation there was zero condensation on the walls just a little in the corners on the ground probably due to the proximity to the cold snow underneath. This tent is bombproof and with that comes size and weight, but I highly recommend it for anyone doing any serious winter camping even summit camping 14ers I'd feel safe in it.