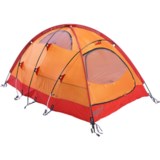 Closeouts. A bomber shelter for serious storm camping and winter mountaineering adventures, Marmot's Midgard 2 tent has plentiful internal space for two adults, top cross vents that help prevent condensation and an extremely sturdy pole design.
Average Rating based on
31
reviews
4.903225
0
5
Reviewed by Goesseck from Portland on Saturday, August 26, 2017

This tent is awesome, 5 stars all the way. We had a fair amount of wind in over 10,000 foot elevation and the Midgard stood strong! There is plenty of space inside for two people and setting it up was easy.

Reviewed by Inua from Massachusetts on Monday, July 17, 2017

I bought this tent to go to Oceti Sakowin Camp in late November, on the high plains of North Dakota. I set it up to make sure I could navigate the process effectively- and ended up setting this up in the dark just fine. I did not use all of the guy lines (horses were checking me out) and woke up to snow the next day.
I found this tent to be perfect for myself, and all of my gear. I can't imagine two people. There is plenty of features that make this a comfortable little home- stowaway pockets and ventilation. I warmed the tent each night for 10-15 minutes with a little candle (not recommended for most people!) and had little condensation frost in the morning inside the tent. I could have played with the ventilation a little more prevent this from happening. The vestibules were ample, but made for a low crawl to get in and out. Also pretty heavy considering the size, but to be expected.
A good purchase!

Verified Buyer

Reviewed by bony from Nagano japan on Friday, July 14, 2017

A wonderful tent 2900 meters mountain made me feel very comfortable Thank you for your safety and safety

Verified Buyer

Reviewed by Mene the Alpinist from NYC on Sunday, June 4, 2017

This tent is designed for serious conditions. I've use it under heavy rain and winds up to 70 km per hour and it feels great. I love it, you should buy it if your looking for a great 4 seasons tent.

Verified Buyer

Reviewed by awlareau from Boulder, CO on Wednesday, March 22, 2017

This is my first 4 season tent, and I couldn't be happier! Myself (180lbs 5'11") and my gf (130lbs 5'7") fit comfortably inside with most of our gear :). The vestibule is good enough for the stuff that won't fit inside. Real good quality materials. Not difficult to set up after a couple of times (do at home first). Some advice: put the two cross poles in through the sleeves first then once both are through put them through the grommets of the tent then do the other poles in whatever order you like. Tons of guy points and also internal guy system if really needed. Seems like so many guy points it's overkill haha. Had used some of the guy points in 40mph gusts and the tent didn't even budge at all. Only got down to about 23 degrees F with wind chills around 10, but no breeze inside the tent and with the two side windows cracked a tad for ventilation there was zero condensation on the walls just a little in the corners on the ground probably due to the proximity to the cold snow underneath. This tent is bombproof and with that comes size and weight, but I highly recommend it for anyone doing any serious winter camping even summit camping 14ers I'd feel safe in it.

Verified Buyer

Reviewed by KJ from Montana on Monday, October 3, 2016

Like the tent. Haven't got to use it yet in the weather. Had to order the footprint from Trekkinn.com a co. located inn Spain. Haven't received it yet.

Verified Buyer

Reviewed by Tahoe Happy from Tahoe, NV on Thursday, May 19, 2016

On opening the shipping box and inspecting the contents, my impressions are:
1. The tent is well made and the DAC poles appear to be strong enough to withstand high winds.
2. There are two different tent pegs shipped with the tent. This is a pleasant surprise: I was expecting to have to buy snow pegs.
3. The footprint does not ship with the product. I contacted Marmot and was advised that the Milgard model is also the Thor model, It took some searching on the web, but eventually I found a source for the Thor 2P 4S tent footprint. This tent is no longer made by Marmot, so if a footprint is important for your planned use, then make sure you have a source located via the web.
4. The tent, as I expected, is quite heavy, but I plan to share the load with my wife and use the tent as a base camp. i am more comfortable with a "double skin" tent in bad weather than with the light weight "single skin" variety.
5. I live at 7,200 feet above Lake Tahoe. I plan to set the tent up this weekend and leave it up for a few days to see how it performs in the variable weather conditions and temperatures we experience at this time of year. I'll update this review then.
6. Overall impression so far: quality product and a steal at the price I paid.


Verified Buyer

Reviewed by oldmanadrift from Colorado on Tuesday, April 26, 2016

Midgard P2 Tent
Heavy duty all around! built to handle snow wind and rain (when fully guyed out). The floor is heavier duty than my other 4 tents. I set it up in my yard the day before a very heavy, wet spring snow. When I shoveled the walks it was the heaviest, wettest snow I had ever seen in Denver CO. Five inches of that snow pushed the rain-fly down a little but the tent still stood proud and was dry inside.
My personal experience is that the number of people a manufacture says a tent should house must be divided by two! So I find the Midgard to be a perfect one-person tent. It is tight for 2 people.
The 10 stakes that are required for the tent floor plus 2 more for the front and 1 for the rear vestibules are provided as the minimum number to erect the tent. An additional 16 stakes (not provided by Marmot) are required to fully guy out the fly. Marmot only provides 4 additional guy stakes and they are throwaway aluminum wire stakes, totally inadequate for the task.
In warm weather you could use the tent without the rain-fly but only if no moisture is expected because the fabric above the floor is not at all water resistant!
This is a heavy tent that is large to pack which will put off some backpackers. Since I camp from of a 17 foot sea kayak, the weight and size of the Midgard P2 is not a big concern. These tents are on closeout and may not be available for long, better get one soon.


Verified Buyer

Reviewed by Campin'4Fun from California Central Coast on Tuesday, April 5, 2016

I bought this tent to use when conditions are too harsh for my lightweight 3-season tent. I took it out last weekend for a test.
It's easy to set up--I could do it myself (a 60+ female who is not particularly athletic) after practicing once at home.
It's a comfortable size for 2 people (5'6" and 6' tall).
It's very well made--the seams are quite sturdy. The wind came up during the night and it felt very solid.
The tri-lobed stakes that came with the tent are much stronger than the aluminum hooks I used on previous tents.
It wasn't particularly cold out but it was quite easy to adjust the ventilation inside the tent. There are two doors with adjustable screen openings plus two roof vents. The two roof vents correspond to vents in the fly that can be adjusted from the inside.
It's a bit heavy for me to carry as a backpacking tent, but split between 2 people it wouldn't be bad.
I wasn't able to find a footprint for this tent (aka the Marmot Thor 2P). I wrote to Marmot and they're not making them but sent me a link on how to make a footprint out of tyvek. While I was thinking about this, I found a smoking' deal on a footprint for a Thor 3P, so I bought it. It's about 18" wider than the 2P but I just tuck the excess under the tent. Other than the extra width, the configuration of the straps appears to be the same as the 2P.
This tent was a great buy at STP and I expect that I will be using it for a long time!

Verified Buyer

Reviewed by Chris from Keene, NY on Sunday, January 10, 2016

When buying a winter tent you have to make a choice between lightweight single-wall tents that don't breath well and the standard double tent and fly set up found on most 3-season tents. Having made the decision to go double wall this tent is fantastic.

First off the Midgard 2 is a similar weight to competing double-wall winter tents if it seems to heavy try a single wall or if conditions are mild stick with a 3-season. Split up the weight with your companion (2-person tent) and it packs down fine.

The tent itself is built to withstand just about anything with 6 poles in total, loads of guy-line points, and sturdy sleeves for the poles. We tested it in the Adirondack Mountains around 20F, 20-40mph winds, and 4-6" of snow overnight. It performed beautifully and the ventilation was superb. There was a thin film of ice on the inside of the fly which could expected but the tent itself was great. Perhaps my favorite feature is the ability to adjust the ventilation at the top of the tent from inside during a storm. There was also plenty of space for my 5'10" frame along with my 5'8" wife plus some gear. We had extra room at our feet and a couple inches to each side in width.