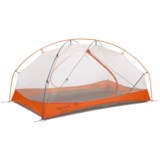 Closeouts. Functional, weatherproof and a breeze to set up, Marmot's Aura 2 tent brings positive vibes to your next backcountry trip. The mesh upper area has two doors and vestibules, and the hubbed pole configuration is strong, stable and lightweight.
Average Rating based on
12
reviews
4.416666
0
5
Verified Buyer

Reviewed by Hiker-Ed from Texas/Colorado on Thursday, July 14, 2016

I've had this on the trail 3 of the last 4 weeks...it's a great tent! I wish it would have come with a footprint and upper gear storage, but otherwise, no complaints!

Reviewed by Becky from Wisconsin on Thursday, June 30, 2016

The bent poles allow more useable space than a standard pole because the walls are more upright. The setup is pretty easy once you figure it out the first time. The webbing loops across the top are color-coded to the poles. The webbing on the fly shows you which corner it goes to. This is necessary because the tent is not symmetrical. One door is smaller and has a smaller vestibule. The good: It held up well in a strong, windy rainstorm even without the guy lines. There are no pre-cut guy lines, just one long, very cheap piece of nylon cord and a few very cheap plastic sliders. The door/fly combination is awkward. They only partially overlap, so getting a small, low cot in and out was a pain. Getting myself in and out usually resulted in a back full of dew. The fly flaps cannot be tied back/untied from within the tent unless your whole torso is hanging outside. Meanwhile, bugs and rain get in. The all-mesh top would allow good ventilation if you left the fly off, but ventilation is poor with it on due to the design of the fly. Other than the unnecessary guy lines, the tent seems well made. It is certainly light. Not too happy I bought it, but not unhappy enough to return it. (This is an update to an earlier review before I had camped in it. If there's an easy way to update past reviews, I haven't found it.)


Verified Buyer

Reviewed by lious from shcn on Friday, June 17, 2016

I just erected it once indoor,the quality of fabric, poles and ground nail are all in high class under this discounted price.
but the instruction is too simple to make it difference for me,the volume when they are folded is much bigger than my expectation.

Verified Buyer

Reviewed by Becky from Wisconsin on Thursday, May 26, 2016

The light weight and higher sidewalls attracted me to this tent. I am replacing an A-frame Eureka Timberline 2 (a workhorse design that hasn't changed much in decades), so I am mostly comparing this tent to that tent. The setup is a bit awkward because all the poles are connected together and long. One person can set it up, but it would work better with two, especially if it's windy. The directions have no pictures. They could be clearer. For example, the orange pole goes into the orange webbing loops. I kept looking at the webbing loops in the corners, but they meant the loops higher up. Once you have set it up once at home, it should be fine in the field. The bent poles increase the usable space (vs. an A-frame). The vestibules are not generous, but are adequate. I haven't used it outside yet. The floor looks delicate. I plan to use it for car camping and will bring a tarp. If you're backpacking, and don't usually bring a tarp, that may be an issue.

Verified Buyer

Reviewed by Melissa from New York on Monday, April 25, 2016

W e only set it up in the living room, but intend to back pack with it into the Grand Canyon. It's super light, appears to be well made and easy to set up. I will circle back to review again after we use it!

Verified Buyer

Reviewed by Daniel Dawson from Oklahoma on Wednesday, December 16, 2015

This is an awesome tent. Easy to set up, very sturdy and excellent ventilation. I would definitely purchase this tent or one similar again.

Verified Buyer

Reviewed by JT from Indiana on Tuesday, April 14, 2015

I've been looking for something light and comfortable. This tent features two doors and plenty of living space with room enough to sit up on both ends, and for two men to sleep comfortably head-to-toe. The best I could find, really, at any price point, for considering both weight and practical use. Upgrading the tent stakes makes it even easier to carry. I watched a youtube video the first time to figure out how to put it up, and now it's a cinch.



Reviewed by gman80918 from colorado on Wednesday, January 14, 2015

Awkward to get in an out due to the positioning of the zipper and fly door. On the first model, the fly door opened on the right side, not the left. You can see on the picture I attached that the zipper stops almost right in the middle of the doorway opening. Really wanted to like this tent but sent it back and ended up getting the Aeros 3 tent that we like a lot. The Aura 2 is well made....typical Marmot quality and attention to detail. Loved the length and the head room...a good amount of space for two people. Others have given this tent great ratings so I would say the door is NOT a back breaker for most....just did not work for me. It is a good tent at a great STP price.

Verified Buyer

Reviewed by westy75cal from Utah on Monday, October 20, 2014

peculiar pole set-up, but assembles quickly right out of the bag. super sturdy in windy conditions - which was surprising given peak height. the vestibules are different sizes. that info. isn't provided on the web-page, so that was a bit of a bummer.

Verified Buyer

Reviewed by Aaron from Arizona on Wednesday, October 15, 2014

Great tent. Easy to set up, lightweight perfect backpacking tent.