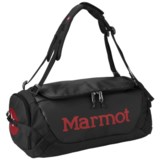 Closeouts. Ultra-durable and spacious, Marmot's Long Hauler duffel bag features an ultra-durable, easy-to-load design for world travels and outdoor adventures.
Average Rating based on
7
reviews
4.285714
0
5
Verified Buyer

Reviewed by Phoenix Mountain from California on Monday, November 7, 2016

Well made and great for weekend trips.

Reviewed by Davey Crockett from Tennessee, California on Monday, February 8, 2016

Extremely well made and excellent quality materials. 1680 denier ballistic nylon? Impeccable workmanship? Dig the inner pocket organization. What's not to love? Well, I'll tell you...

- The water(proof?)-resistant material on the top is great for shielding rain, but puzzled about why the material isn't used on the bottom when you need to set it down in the same wet conditions?

- Awkward top opening. Main compartment zips from back, along the side, then zip-dipping toward the front—all the while trying to avoid the straps in the middle along the way. Ditto for the side pocket zipper, needing to pass underneath a strap.

- Amorphous blobby shape unless packed tight full of something like clothing. Collapses under it's own weight. No reinforced edges to help keep its shape/ support.

- And then, of course, are the straps. Intended for flexible (a) hand carry or (b) backpack or (c) shoulder. The straps are awkward getting in the way of everything, mainly the zippers. The bag is overall just very, er, strappy. The strap design, trying to be all three things, is frankly not very good at any of those three things. Backpack mode—straps fall off your shoulders. Hand carry—it's OK, but too many straps to choose from, needing to connect via Velcro keeper. Shoulder—probably the most stable, and easiest to not mess up from a design standpoint.

Bottom line, I don't want to work that hard to pack, zip, and unzip. Mostly I really don't want to configure complex straps—or avoid straps while zipping and unzipping. Love the materials. Love the inner organization. You may love all the extra time and energy to deal with this bag's ergonomic shortcomings, too. But this one is heading back for exchange.

Verified Buyer

Reviewed by Mr. Ross from San Diego on Monday, October 12, 2015

The bag is the right size for Airline carry-on (the small). It is as tough and rugged as any bag but not made in China like the north face bag is. It is as good as any patagonia black hole bag, but 20% less in cost.

Verified Buyer

Reviewed by longhuntr74 from North Carolina on Wednesday, February 11, 2015

I bought this duffel bag along with its two larger brothers (medium and large). They are all fantastically made of very durable materials, including this version. Here's the rub...this bag is rather small. I planned to replace my gym bag with this one...but it's barely big enough for even a gym bag (I'm military so I tend to require a bit more space for clothes/boots in my gym bag). Because it's so small, the design features (specifically the shoulder straps that are modeled after its larger siblings) seem a bit awkward and unnecessary. I guarantee I will never use this bag in backpack carry configuration, because it's not big enough to put enough weight in it that would require that. As such, I'd prefer it they had modified the design of this particular bag to have a hand carry handle on top, and a standard single shoulder strap (like similar gym bags of this size).

Verified Buyer

Reviewed by Joe from Maryland on Thursday, January 22, 2015

I use this as my commuting bag. It is tough and handsome, and the 3 pockets hold quite a lot although the internal gray pocket will probably not hold a pair of shoes unless you have tiny feet. The external side pocket has an extra mesh interior zip pocket and will hold a 20 oz+ drink container. It's definitely water resistant and the zippers seem bomb proof.

I did have a problem with the shoulder straps. I need the straps adjusted to their longest length and one of the straps slipped out and detached from the clip. That wouldn't do, so I folded the end of all the straps and sewed them together so that they cannot slip out. This means I have to use this strap exclusively as a shoulder strap, but that's okay. I can always cut the stitches if necessary.

The bag is made in Vietnam and was quite a bargain here on this website.


Reviewed by LALanie from Los Angeles, CA on Thursday, October 9, 2014

I originally ordered both the small & the medium Marmot Long Hauler Duffel Bags in the Slate/Black color which has a little orange trim when you open the bag. I ended up returning these, but re-ordered the same medium bag in a different color (I'm a girl) along with a Timbuk-2 bag made for women which measured out smaller than the Marmot small duffel since the Marmot small duffle in the color I chose was sold out. I would say the small bag is bigger than you'd expect it to be, although not too big and that with the side handles that seem quite sturdy, you would probably use the bag a lot without the somewhat weighty shoulder strap. The smalll & medium bags in the Marmot Long Hauler Duffel had the same great well made features including a zip outside pocket on one end and a good size zippered pocket inside. It also features double zippers which is fantastic & would give a peace of mind on any potential zipper problems. I "measured" the small & medium bags by stuffing good size blanket throws inside each one. The small held 3 blankets with spare room for pair of pants, socks, possibly more. The medium would hold minimum 4 if not 5 throw blankets, with additional space for pair of jeans, etc. Quite roomy bags.

Reviewed by jd from TN on Monday, August 11, 2014

After spending a fortune on Patagonia gear over the years, I'm kicking myself for only recently discovering Marmot. I think their gear is every bit as well made, and this duffel is no exception. The material is tough as nails and the construction is solid - this bag will stand up to many years travel.