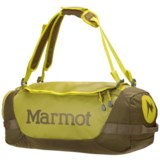 Closeouts. Ultra-durable and spacious, Marmot's Long Hauler duffel bag features an ultra-durable, easy-to-load design for world travels and outdoor adventures.
Average Rating based on
14
reviews
4.428571
0
5
Verified Buyer

Reviewed by Gary from Georgia on Saturday, March 24, 2018

Great small bag, well made and designed!

Verified Buyer

Reviewed by likes quality from Yakima on Wednesday, March 14, 2018

Great bag - perfect size for gym or small trips. But mine came without the stuff sack.

Verified Buyer

Reviewed by Mi2CaMatt from San Luis Obispo on Friday, March 2, 2018

"Small" size is actually perfect for a weekend duffel ... also ships in a reusable tote that I am now storing my shell jacket in ... I bought the "Mini Hauler" toiletries bag on here too and it makes for a really great little combo. The backpack straps are very functional as well. Killer deal ...

Verified Buyer

Reviewed by Bogie01 from Seattle on Sunday, February 25, 2018

Using this for my gym bag, just the right size. This bag is nice and well made.

Verified Buyer

Reviewed by Devin the dude from Boston on Wednesday, February 14, 2018

Bag is highest quality materials, zippers rock, plenty of pockets (2 in the main part, 1 mesh in the side pocket). The reason I chose this bag was because of the straps. No other bag, Patagonia, north face, Gregory have Only 2 straps, they All have 4. Basically the other bags have 2 non-removable straps with a Velcro for a handle, and 2 straps that are removable for a backpack/over the shoulder with Velcro. Marmot only has 2 non removable with velcro. they can be used all three ways (backpack, shoulder, and handles). I chose it because I dont want extra straps and have to remove and store them. But there is one CON that I found when I got it.

I velcro them together, loosing the straps all the way and toss the bag over my shoulder. Because the bag is small, it's never heavy, so it stays tight against my back and doesn't slide down. The CON is that The short length of the straps mean it can't dangle by your side. So that's why it's gotta go behind you or else it's right under your armpit which ain't gunna work. But I prefer it behind me. Backpack mode sucks cuz the straps fall off your shoulders.

It's nice to have the length to be able to throw it over your shoulder and dangle it by your side. But it's small so I either hold it in my hands or throw it over my shoulder and slide it behind me and it stays nicely as I walk. That way my hands and front are free and I just forget about it.

That's my only piece of advice. If I got a bigger duffel i'd Go with a bag with a dedicated shoulder strap bc I might need to dangle it by my side. But I'm glad I got this one over other brands because others are so strap heavy.

Hope this helps.

Verified Buyer

Reviewed by Annette from Colorado from Colorado on Tuesday, February 13, 2018

My daughter has the North Face small duffel. I used it on a trip to Texas. It is slightly bigger than this bag but I find them very similar. It is super convenient, holds enough for a 3-4 day trip including shoes and fits really well in the overhead compartment of an airplane. My husband loved this bag and I do too. I am now considering ordering the medium for longer trips.

Verified Buyer

Reviewed by Spike from Chicago on Monday, January 29, 2018

I love duffel bags and this is my favorite duffel. Marmot makes a great product with durable materials, quality zippers, and strong construction. While not waterproof I have found this to be very, very water resistant. Some people have problems with the straps but I believe they are a good compromise and are much better than North Face or Osprey. The one I just bought is headed to India in 3 days. I highly recommend this product, especially at the great STP price.

Verified Buyer

Reviewed by Phoenix Mountain from California on Monday, November 7, 2016

Well made and great for weekend trips.

Reviewed by Davey Crockett from Tennessee, California on Monday, February 8, 2016

Extremely well made and excellent quality materials. 1680 denier ballistic nylon? Impeccable workmanship? Dig the inner pocket organization. What's not to love? Well, I'll tell you...

- The water(proof?)-resistant material on the top is great for shielding rain, but puzzled about why the material isn't used on the bottom when you need to set it down in the same wet conditions?

- Awkward top opening. Main compartment zips from back, along the side, then zip-dipping toward the front—all the while trying to avoid the straps in the middle along the way. Ditto for the side pocket zipper, needing to pass underneath a strap.

- Amorphous blobby shape unless packed tight full of something like clothing. Collapses under it's own weight. No reinforced edges to help keep its shape/ support.

- And then, of course, are the straps. Intended for flexible (a) hand carry or (b) backpack or (c) shoulder. The straps are awkward getting in the way of everything, mainly the zippers. The bag is overall just very, er, strappy. The strap design, trying to be all three things, is frankly not very good at any of those three things. Backpack mode—straps fall off your shoulders. Hand carry—it's OK, but too many straps to choose from, needing to connect via Velcro keeper. Shoulder—probably the most stable, and easiest to not mess up from a design standpoint.

Bottom line, I don't want to work that hard to pack, zip, and unzip. Mostly I really don't want to configure complex straps—or avoid straps while zipping and unzipping. Love the materials. Love the inner organization. You may love all the extra time and energy to deal with this bag's ergonomic shortcomings, too. But this one is heading back for exchange.

Verified Buyer

Reviewed by Mr. Ross from San Diego on Monday, October 12, 2015

The bag is the right size for Airline carry-on (the small). It is as tough and rugged as any bag but not made in China like the north face bag is. It is as good as any patagonia black hole bag, but 20% less in cost.