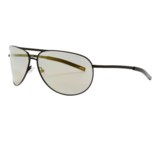 Closeouts. Whether you're watching for corruption or just driving into the sunset, Smith Optics Serpico sunglasses protect your eyes with a sleek, aviator-style frame and glare-reducing polarized lenses.
Average Rating based on
10
reviews
4.700000
0
5
Reviewed by Pumpkinbird from Wheaton, IL on Saturday, April 30, 2016

Frame was crooked. Overall finish looked cheap. I am sure the lens are fine, and serves its purpose. I thought Smith does better job than these. Not worth keeping them for me.

Verified Buyer

Reviewed by tony the shoe from chicago on Monday, October 26, 2015

for $50 you cant go wrong. fit is good, light, if anything they are a bit dark but better than the ran ban equivelant. lighter and better fit/quality.

Verified Buyer

Reviewed by tony the shoe from chicago on Tuesday, October 20, 2015

nice glasses for $50

Verified Buyer

Reviewed by Momof3ontherun from Illinois on Saturday, October 17, 2015

I have a relatively small face and many sunglasses look ridiculous on me. These are perfect due to the slight wrap-around style (don't worry, it's not as dramatic as it looks in the photo). They're lightweight, comfortable, and so far seem to stay put whether on my face or on top of my head. I did invest in a hard case to offer them better protection (hint: you can pick one up for 5 bucks at Wal-Mart) so have not experienced any durability issues. So far a winner and I might even buy another pair to keep as a backup!

Verified Buyer

Reviewed by Mountain Weekender from Montana on Friday, October 16, 2015

Great pair of sunglasses - lenses are more reflective than they look in the picture.

Verified Buyer

Reviewed by Marianofly from Miami on Tuesday, September 22, 2015

Beautiful polarized lenses. Ideal for fishing and for all days wear.

Verified Buyer

Reviewed by SemperFly from New England on Monday, May 26, 2014

I've never owned a product from Smith Optics that did not completely satisfy. These glasses continue that run: I wanted polarized, lightweight sunglasses for driving. The polycarbonate lenses make these glasses float on my nose, and the aviator style means I have nothing interfering with my peripheral vision. I got the "gold" tint which is fine for blocking glare while driving without excessive darkening; and in a pinch I can use them fishing on those overcast days when traditional tints are too dark.

Verified Buyer

Reviewed by jmorrow from Ohio on Thursday, April 10, 2014

Bought these to use on cloudy/overcast days while I'm fly fishing. My other polarized glasses were too dark and made me feel like I was fishing at midnight during overcast days. The tint on these is just right for the overcast days. I still use my others when it's sunny. Not terribly stylish in my opinion, but they get the job done from a utilitarian standpoint. Well-made too.

Reviewed by MrBill from South Carolina on Saturday, November 2, 2013

My wife is the one who wears these and she likes them very much. The large, curved lenses provide ample coverage though the tint on this pair is fairly light. They are best, she says, for partly sunny days but not so much for extremely bright sunshine. She likes the fact they are lightweight. Time will tell
as to their durability, but they were a good value coming from STP.

Reviewed by Amir from Saint Louis, MO on Friday, August 16, 2013

these are well made, great optics and great fit. They are reflective but not fully, you can still see behind them. These gold ones are more like gray when looking through them and they are great for indirect sunlight, somewhat cloudy days. I think these are least tinted sunglasses from Serpico line so if you have lot of direct sunlight you might want to up the tint. I bought these for fly fishing and driving. While driving they are really really good, probably best tint for driving. As for fly fishing I haven't tried it yet.. I hope they perform well.