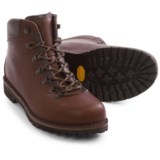 Closeouts Artisan-crafed in the Dolomite mountains of Italy, Alico's Tahoe hiking boots embrace classic leather functionality and durability. The glove leather collar and lugged Vibram® outsole will provide the dedicated outdoors enthusiast years of dependable wear.
Average Rating based on
622
reviews
4.530546
0
5
Verified Buyer

Reviewed by KaptSlow from SoCal on Sunday, July 9, 2017

I work as a Park Ranger in the southern Mojave desert. These boots are just the ticket for this environment. Not too heavy, yet provide excellent support for long days on the trail with a light pack. The stock insoles are a joke, which is why I rated them 4 stars instead of 5. I replaced them with a set of Trex insoles and am very pleased. They run true to size. I normally wear a 46 in boots. These were 11.5 regulars and fit perfectly with medium weight wool blend socks.

Verified Buyer

Reviewed by Bamabww from Alabama on Tuesday, June 27, 2017

Back in the 70's and 80's when all leather hiking boots were the standard, "Backpacker Magazine" did a report on leather hiking boots and the ones that were made in Italy graded really well. The Vasque Sundowner boot did exceptionally well and the article closed with the statement "if you can find a pair of Vasque Sundowners that fit, buy them."
I did, in fact I bought 4 pair for my family as well. We were very pleased with them. As the years went by, the Vasque moved from Italy to China and now Viet Nam I believe. Still good boots but not the quality or durability of the original Italian made boots.
These Alico boots are of the same quality as the original Vasque Sundowners. The craftsmanship is excellent and mine fit well right out of the box. I wear a size 11 wide and that's what I ordered. I replaced the original insoles with a better grade insole and have no complaints. I have only wore them around the farm so far so I haven't tested them in the backcountry yet. When I do I'll update my review.

Verified Buyer

Reviewed by Marco from California on Monday, June 26, 2017

Great boots so far

Verified Buyer

Reviewed by Geobackpacker from Colorado on Friday, June 23, 2017

Nice mid range hiking boots. Not the same quality as summit but a nice lite weight hiker.

Reviewed by Happy Camper from Michigan on Wednesday, June 21, 2017

This company knows how to make a great pair of boots! These are light, durable, breathable, and comfortable immediately. I know already I am going to put years on these boots!

Reviewed by JT from Chicago on Monday, June 19, 2017

I wanted to love these. According to all the reviews , you didn't need to size up , so I didn't . I ordered my usual shoe size and D width. I then purchased inserts for $40 at REI. From the midfoot to the toe box they are very big on me. Even with the insert my heel slides up and down about 1 1/2 inch . The craftsmanship is beautiful ; they remind me of my old Italian made Vasque Sundowners. They'll be returned.

Verified Buyer

Reviewed by Rick from New York on Monday, June 19, 2017

I was hesitant about buying boots online but was reassured by friends who had purchased boots from Sierra Trading Post in the past about their liberal return policy. I was pleasantly surprised with how well the boots fit when they arrived and after a brief break in period with how comfortable they are. They appear very durable and are indeed waterproof. As I bought them as closeouts they were a great value.

Verified Buyer

Reviewed by Jenny from New Hampshire on Monday, June 19, 2017

I stumbled on this brand 15 years ago and this is my third pair. I maintain trails for the Forest Service for a living. They are extremely well made and the only boot of it's type that I have found to be hikable out of the box. I have wide feet so I always buy men's boots and these are absolutely fantastic, durable, comfortable, waterproof not via goretex but via construction. Keep them waxed and they will serve you for 7 years hard labor, or a lifetime of hiking. And they look sharp too.

Verified Buyer

Reviewed by Black Rat from West coast on Saturday, June 10, 2017

Bought this boot solely for its soles, have bought about 6 boots in last 3 years, I am totally exasperated over high end backpacking boots with molded soft gummy rubber soles that ware out in a little more than a year of light use. I originally bought the Alico Summit Hiking boots, after getting them I later saw these and grab up a pair, to replace a pair of REI that I have had about 1 1/2 year with worn out soles & falling apart in the toe from poor stitching. These Alico boots run large so buy a 1/2 size smaller, but they have hard rubber soles. I have a pair of Raichle boots I bought 25 years ago & have literally backpacked a couple of hundred miles in them, soles worn but still in the hard rubber, been looking for a pair of boots like these for the past 10 years...fully leather lined boots; the Alico boots are the closest to this that I have been able to find HARD RUBBER SOLES & leather lined...this model is gortex lined but it is the first smooth (slippery) gortex lining I have seen. Either your sock slips in the shoe or your sock slips against your foot giving you blisters, regardless of the grade or quality of your sock. I do not like blisters on long hikes or on a 12 day backpack trip.

Verified Buyer

Reviewed by desertrat from California on Friday, May 26, 2017

If you are looking for a high quality traditional all leather hiking boot these are a great option. I have a wide foot with a high arch and these are one of the only shoes or boots I have found that fit, these or sandals. I have worn out at least a dozen pairs over the last decade, they hold up well but I walk a lot and wear these most of the time. I highly recommend them.