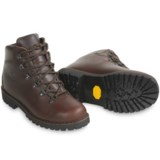 Closeouts These beautiful leather Alico Tahoe hiking boots are true classics. They are made of top quality leather and are crafted by a small factory of artisans located in the Italian Dolomites.
Average Rating based on
98
reviews
4.540816
0
5
Verified Buyer

Reviewed by Alli from Missouri on Saturday, January 27, 2018

These boots are very high quality plus they look super cute! I'd order a size up if you like really thick socks. They repel water really well and keep my feet warm

Verified Buyer

Reviewed by Vanessa M. B. from Norway on Tuesday, December 5, 2017

I have now used them for a week now in snow and in -11 celsius and they are still warm and dry. Good quality on the leather. I first ordered a size 7,5 but they were way too small, I'm a europeen size 38, so I ordered a size 8,5 and they fit perfectly with room for some thicker socks if I want that. The shoes is a bit stiff and the heel has a gap wich makes it a bit wierd to walk on flat sufaces, but thats not what these are for, and I guess they will soften a bit with time.

Verified Buyer

Reviewed by Lucinda from Adelaide, Australia on Monday, November 13, 2017

I'm from Australia and we don't having anything of such quality in our stores! These are the only boots I found made from one piece of leather that can be resoled. For sizing I used the cm measurement to try and be as accurate as possible, not wanting to suffer the return shipping fee. I ordered a 9.5/25.4cm and they fit perfectly with hiking socks. I have only worn them to mow the lawn so far but had no issue with hot spots. The soles are stiff which is to be expected, and aren't as heavy as they sound! Highly recommend these boots to anyone wanting quality old school hikers.

Verified Buyer

Reviewed by Miami Mama from Florida on Wednesday, November 8, 2017

I have borrowed my mother's (same boots) for a trip to the Patagonia and fell in love with them. Nice looking, completely waterproof, great support and perfect in every way.

Verified Buyer

Reviewed by MP Chicago from Chicago on Thursday, September 28, 2017

The quality of these boots seems great, although i have not tested them on a hike yet. My feet are on the wide side, 8.5 is my normal boot size, and they fit great. Plenty of room in toe box.

Verified Buyer

Reviewed by Greendragonfli from South Carolina on Thursday, August 17, 2017

I tried on and returned 3 pairs of made-in-China hiking boots and was just disgusted by the quality. So glad I found these! Made in Italy and the soles will be easily replaced once worn out. I wear a 7.5 dress shoe and 8 boot. I got the 8 and they fit true to size.

Reviewed by Twin Dad from Colorado on Monday, June 26, 2017

There are a lot of reviews of these and I think they paint a pretty accurate picture.
The workmanship is impeccable and these have a nice utilitarian look to them.
Based on some of the reviews, I was kind of expecting heavy leather mountaineering boots, flexible as iron and just as heavy.
They aren't.
They're boots. They're heavy. But they're not noticeably heavy or cumbersome. They feel a little clunky - I wouldn't want to wear them around small children drawing on the floor out of fear of stepping on small fingers. I have a pair of winter hunting boots that are much, much heavier. These feel fine strolling around the house.
I agree that there's A TON of room in the toe-box. I usually wear an 11 to 11.5. I got the 11s and they feel fine but my toes were swimming a bit. I got a pair of Pedag Viva insoles from Amazon and they snugged things up perfectly.


Verified Buyer

Reviewed by Joe the hiker from Charlotte on Tuesday, April 11, 2017

True to size and not too heavy.

Verified Buyer

Reviewed by Lisa from Seattle on Wednesday, March 29, 2017

These boots are amazing!! I bought these boots in preparation for a month long Eurotrip, hiking in the Alps, and many long days of walking cobblestoned streets. In my hunt for boots before the trip, I knew I needed a good, supportive hiking boot, but was also hoping to find something somewhat cute to wear! I scoured REI and other outdoor stores and I either found very functional (but ugly!!) hiking shoes/boots, or very cute and fashionable boots that I knew would do me no good. Thankfully my search led me here and I found these perfect boots! They are stylish with a classic look, but give you everything a good hiking boot should. So supportive! I also am very prone to foot troubles, pain and blisters, and I amazingly avoided any problems during our entire trip! Thanks to these amazing boots. I cannot wait to do more hiking and exploring in them!!

I usually wear a 7 and ordered 7.5 knowing that I need to wear some special supports and padding for my feet, and they fit perfectly! For a normal person planning to wear just one pair of good socks, they would be true to size!

I did replace the insoles with my own custom insoles. The insoles they came with are very flat. They came right out and made for an easy switch! Everyone has different feet, so needing to put in your own insoles, especially for a good hiking boot, should almost be expected!

I cannot tell you how much I love these boots and am so thankful I found them!!! You will love them!

Verified Buyer

Reviewed by PuddleSplasherPDX from Portland, Oregon on Monday, March 13, 2017

I really wanted to love these boots. I ordered them after weeks of researching. Unfortunately, my semi-narrow foot felt like I was swimming from mid-foot to the toe. I usually wear a 9-9 1/2. I ordered the 9 1/2, but just found it just too big. After wearing around the house a bit I also was concerned with how it was hitting the front of my ankle. I think the ankle would've broken in, the toe box though was something I decided wasn't quite for me. The quality, workmanship, and materials were all great!