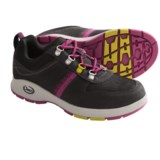 Closeouts. Casual sneaker style with a rugged, backcountry-approved design, Chaco's Verona shoes feature a super-sturdy polyurethane-coated upper with an amply cushioned collar and a seriously grippy rubber outsole.
Average Rating based on
36
reviews
4.277777
0
5
Verified Buyer

Reviewed by Azmystic from AZ on Friday, September 25, 2015

Cute shoes. Plenty of room in the toe box. A little large in the heel. Put heel pads in and that fixed the problem. Will be wearing these a lot.

Verified Buyer

Reviewed by Devon from Utah on Wednesday, August 19, 2015

I have a very high arches, several surgeries in my right foot, which led to plantar fasciitis and arthritis in my foot. Other than Danskos, these shoes are the first shoes I have been able to put on and wear all day. The arches are very high. And a firm arch. The toe box is very wide, pros and cons to that. The heel cup is also very wide. And the shoes also run big. My left foot is a size 7, my right is 7.5 because of the surgeries. I ordered the size 7.5, too big. Gave them to my mother who is a size 8, she thought they were big for a size 8, but kept them because she loves the arch. I reordered the size 7, and love it. But, it is still big for a size 7, it could be because they run wide. But I can slip my foot in and out without untying the laces. Regardless of sizing confusion, they shoe is remarkable due to the arch, and the cost.

Verified Buyer

Reviewed by Fashionably Comfortable from Michigan on Monday, July 27, 2015

This is a well fitting shoe with a great Chaco's arch. It's a deep shoe, so be aware of that. In fact, they are a bit deep for me but I'm keeping them anyway. Cute and stylish in a clunky chunky kind of way. Glad I bought them.

Reviewed by NatureTatMotherof2 from South Carolina on Tuesday, June 2, 2015

Ordered these in a size 7 because that's what I am and that is what was left in the color I wanted. I was a little worried they might run a bit small via some reviews, but they were perfect! Wore them to work straight out of the box and now I can't wear any of my other tennis shoes because they don't compare. I love the arch in these, and I can't wait to get more.

Verified Buyer

Reviewed by Patzy from MN on Wednesday, May 20, 2015

I usually have problems breaking in shoes (narrow heel & boney feet). I put this shoe on and wore it all day with no problems. I ordered a size 7 and they fit perfect. I am very happy with this brand and will purchase more in the future. I would recommend them to my friends.

Verified Buyer

Reviewed by Granny Hiker from Idaho on Tuesday, May 19, 2015

These shoes are kind of ugly but felt good when I first put them on so I thought I would keep them. After wearing for a few hours, my feet were killing me. They felt tight around the top of my foot and it felt so good to get them off. They are going back.

Verified Buyer

Reviewed by Nancy from West Virginia on Friday, February 6, 2015

this brand of shoes fits my feet perfectly and I was excited to see them at STP prices. I got them for a trip to Jordan, and have been walking to get them broken in. They didn't need to be broken in. Did a 2 mile walk the first day I put them on.

Verified Buyer

Reviewed by EL from Central AZ on Thursday, February 5, 2015

Bought my first pair for mountain biking. They performed far better than I expected! My feet are a bit wide and I love that these have lots of room in the toe box - no squished toes!

The good/ amazing: On my first ride with these shoes we explored some sand washes here in central AZ. Trying to maneuver around some rocks I stepped on some sand that I learned was quick sand as soon as my foot was submerged nearly to the laces. Oops! Pulled my foot out before it sank further and I was shocked that my feet stayed completely dry!

Later on the ride I didn't see a nasty little teddy bear cholla cactus hiding in a tuft of dry grass. To my horror I full on kicked the cactus as I was pedaling. Expecting a foot full of cactus needles - only two of the needles stuck, and just barely, to the front of the shoes. Again I was absolutely shocked. If you have seen those evil little plants you know how cool this is. For those of you that haven't - Google it. They are no joke. These shoes saved me twice that day!

The not so good:
Otherwise, I noticed they tend to slip off a little at the heel. I don't notice it while I am wearing them, but after a long ride or all day walking around I find some skin has rubbed off the back of my heel. Oddly where the skin has rubbed it doesn't hurt, I just notice it later in the shower - not while riding or walking. I also think there is so much room in the toe box my feet are able to move around a lot and causes a little rubbing at the widest part of my foot, which again doesn't hurt.

My synopsis: great shoes!

Lots of room, yet my feet feel secure and supported (I have high arches). They are bit stiff. At first the tongue dug into the front of my foot but after a good ride the tongue softened. The low cut area around the ankle toward the heel does let dirt and small rocks in while riding, not so much while walking.

Found that I didn't want to take them off after riding - that is a really good sign. Riding really beats the [...] out of my shoes, so I bought another pair that will look nice when I want to wear them out and about.

Verified Buyer

Reviewed by kathy from Washington on Saturday, January 17, 2015

I wear a custom insert and it works well in this shoe, Very stable shoe,

Verified Buyer

Reviewed by Ann from Kerrville, TX on Monday, January 12, 2015

This was a gift for a nurse who lives on a farm. Comfortable and practical. What Chaco does best. I'm also finding that Chaco means well made. Their shoes last.