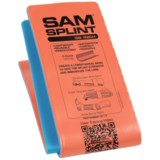 Closeouts. The SAM splint immobilizes fractured limbs with adjustable aluminum strips covered in closed-cell foam. A safety essential for first aid kits and backcountry travel.
Average Rating based on
10
reviews
4.800000
0
5
Verified Buyer

Reviewed by Turbo from Ca on Tuesday, July 4, 2017

Always wanted one to add to my first aid kit and this was posted for a great price so I stocked up

Reviewed by stefan the skier from Pittsburgh on Thursday, February 16, 2017

small, easy to apply and take hardly any space in my backbag

Verified Buyer

Reviewed by Big Jer from Directly over the center of the earth! on Wednesday, December 23, 2015

Required item for IFAK. Kits requires 2.

Verified Buyer

Reviewed by Nori from Montana on Tuesday, December 15, 2015

SAM splints are standard equipment for a trauma kit. I carry 4 now. Adaptable for support of sprains and fractures in lower leg, ankle, upper and lower arm, wrist. WAY better than almost any improvised splint.

Verified Buyer

Reviewed by Big Jer from Directly over the center of the earth! on Wednesday, December 9, 2015

For anyone who is involved as a medic at any level. The real deal. Have used dozens over the decades. Your kit must have several of these. In a few years I will ask you why you didn't carry the SAM SPLINT!!!

Verified Buyer

Reviewed by Little Timmy from Fort Worth on Friday, July 17, 2015

With a new product like this, I think it imperative it be experimented at home before tossing it in a backpack or trunk with the false assurance that it will serve its purpose. It appears to be the right combination of stiffness and conforming ability, not super light but not obnoxiously heavy.
I'm going to test it with bandanas and a shirt or microfiber towel first . . . to see what I can do for common fractures with only what comes with us on a hiking trip. I'm sure an orthopedist would baulk at using it for a major fracture—we have to remind him or her it's for out in the woods, and I think if necessary, this product would help a lot with holding the traditional sticks and branches for more support.


Verified Buyer

Reviewed by az338 from Arizona on Tuesday, May 5, 2015

Have not needed to use them yet thankfully, but wanted to have them in my backpack first aid kit. Gave four stars because I have not actually used them.

Verified Buyer

Reviewed by Les from Lodi, CA on Tuesday, December 16, 2014

Anyone spending time away from immediately available care would do well to pack one or more of these in their first aid kit. Sure, you can improvise splints out of found objects, but a sam splint is light, compact, and right at hand if you pack it with you.


Verified Buyer

Reviewed by didee99 from Colorado on Sunday, July 6, 2014

I purchased this for another first aid kit. Having taken a Wilderness First Responder class, we used these in practice so I like to have a first aid kit that covers the bases...just hope I don't need to use it.

Reviewed by Nate from Boston, MA on Thursday, June 5, 2014

I worked for 3 years as an EMT in Vermont, and the SAM splint was standard issue for everyone's first-response kit. These are one of the most versatile and lightweight first aid items you can have in your pack - I recommend everyone have one, and receive training on how to use it. I've used a SAM splint dozens of times on other people, from splinting broken wrists to fractured legs. I once sprained my own ankle on a solo hike, molded the SAM splint around my ankle like an air cast, and was able to hike out with stability other makeshift splints wouldn't have afforded.
One tip - I have removed the internal frame from my own pack, and slid this item in instead. They are very lightweight.
Please don't take this review as medical advice - go to your local rescue squad and ask for some training with a SAM splint - they will know how these are used. Take an EMT course, learn more about first aid, and keep a SAM splint in your first aid kit.