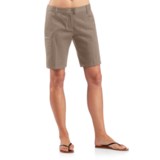 Discontinued. Icebreaker's Vista shorts offer a twill-texture, flat-front design that looks nice enough to pair with your summer button down at a BBQ, but sport a serious performance edge with wicking, temp-regulating merino wool and UPF 50+ -- perfect for when the trail starts calling.
Average Rating based on
17
reviews
3.764705
0
5
Verified Buyer

Reviewed by Anonymous from Wisconsin on Tuesday, July 25, 2017

Size issue. I have two pairs of these shorts already sz 27 and 28 in lt. gray and charcoal. I ordered the sz 28 in these shorts and it was at least two sizes too small. Had to ship them back. Was disappointed as I love these shorts and was excited to get them for such a low

Verified Buyer

Reviewed by CheeryCana from Michigan on Wednesday, October 12, 2016

The fabric looks weird (a mix between denim & twill with a poor dye job) and the fit is terrible (they have a very defined waist with a straight, almost flared out leg). Do yourself a favor and save money---don't buy these shorts, you'll regret it.

Verified Buyer

Reviewed by Jan100 from California on Tuesday, September 20, 2016

I like the fit, but the fabric is a little itchy. I'm hoping after washing a wearing a few times the fabric relaxes a bit and the itch goes away.

Verified Buyer

Reviewed by Constance from Berlin on Monday, September 19, 2016

I own four pairs of the Icebreaker Vista Shorts - the best color as it matches everything is the gray. Beautifully tailored, perfect fit.

Verified Buyer

Reviewed by Karl from Somerville on Thursday, September 1, 2016

Bought these for my wife. One of the seams ripped open on the second day. They fit well, were of okay quality (icebreaker does not make high-quality wool garments, no matter what they tell you) and would've been well worth the price if they hadn't ripped. The seam wasn't under stress, nor was the fit tight. Just looks like a manufacturing defect. Will be returning.

Verified Buyer

Reviewed by keds1 from South Dakota on Wednesday, August 10, 2016

Love the fabric on these, but I echo some of the other reviews. The fit is a little odd, pockets "stick out" on the sides—but I think it's because they're made for people like the model in the photo. If you have any meat on your bones in the midsection, the low rise and sizing of the waistband just don't sit well and the shorts are just not comfortable to move around in. Too bad, because they're really quite cool. I tried two sizes and sent them both back.

Verified Buyer

Reviewed by Allie Walker from Alabama on Wednesday, August 3, 2016

These were a little longer than I expected (they hit just above the knee for me), but cute. The shorts are a classic or slim cut, and the fabric looks similar to tweed, so they're great "dressy" shorts where a modest length is desired. Even though the fabric looks "dressy", the cabin color is casual enough for hiking and such. I'm 5'3", 115 lbs, with a natural waist size 26"-27". I often wear jeans with a size 29 waist, but for these shorts, the size 27 fit the best.

Verified Buyer

Reviewed by Jersey Girl from nj on Monday, April 4, 2016

I am 5'6 and 115 pounds and ordered the size 27. The rise was too short and the fabric wasn't as nice as I thought it would be. I sent these shorts back.

Reviewed by Deejay from Greater Boston on Tuesday, January 19, 2016

I can't wait to wear these when spring and warm weather return to New England. The combination of merino wool and cotton add up to a weighty fabric that will keep me comfortable hiking on the trail and stand up to the abuse I subject my clothing to in an active lifestyle. Good pockets, with a secure side zip pocket that I can stash my phone in. What I also like is that these are good-looking enough so that I could look presentable with a nice top, which makes it a versatile choice for travel. I got the jet heather/black which looks more like a dark gray and is sophisticated looking (and won't show stains, a big bonus!). These fit true to size - I'm a true size 28 in women's pants and shorts, and I took a 28 in these. For reference, I'm 5'4", 125 lbs. These are well made and worth getting with the coupon I was able to use to buy these.

Verified Buyer

Reviewed by Leila from Miami Beach Fl on Tuesday, November 24, 2015

Go ahead and get it you will not regret.