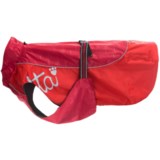 Closeouts. Protection for your pooch in cold, windy conditions. Hurtta's Waterproof Raincoat is designed to protect your dog's major muscle groups and sensitive abdomen area. Backed in fleece, its adjustable buckle is at the back for easy on-off.
Average Rating based on
46
reviews
4.652173
0
5
Verified Buyer

Reviewed by Igottagoride from Sugarloaf PA on Saturday, December 9, 2017

Hurtta is one of the very BEST dog coat makers. I was even surprised to find it at SIERRA and then the sale price was just amazing. These are very expensive dog clothes. I wasn't sure about the size but knew I would find a special dog it would fit. I love this and so very well made. Should last a long, long time.

Verified Buyer

Reviewed by Fashionably Grey from Chicago on Monday, December 4, 2017

Easy to get on and off..Good fit as well.

Reviewed by Simo from New Jersey on Saturday, August 12, 2017

6 months old mini dachshund, 10 1/2 lbs bought size 13 and it's a good fit (it will surely fit when he will be fully grown). Easy to put on, belly protection, adjustable waist strap. I am sure even a size 12 would work for a mini dachshund (the brand recommends size 17 for a mini but I don't see how that would work)

Reviewed by Leti from Pa on Friday, August 11, 2017

These are so cute on our dogs. They fit well and are easy to put on and off. Good price here but the list price seems ridiculous.

Verified Buyer

Reviewed by Mmrr from California on Monday, July 3, 2017

This is a very reputable company that makes well-designed,long lasting products. They do tend to run a bit large: I got a small for my MinPin, and it is a bit long-but totally usable.

Verified Buyer

Reviewed by Miniaussie from WA on Thursday, December 22, 2016

I have two smaller dogs and have a Hurtta raincoat and winter coat for each of them. I have been reasonably happy with the coats. I wanted to make hoods for their coats but did not want to risk damaging them, so decided to order a second set. The price was certainly right, just $9 each plus about $6 shipping. Ordered sizes 14 and 17. The 14 was as expected. The other was tagged 17 but was really 15, just 1" longer than the 14. The neck was so small (diameter) that I could barely get it over my Aussie's head, and could not get it even close to the base of her neck. This left 6-7" of her back exposed. The buckle was messed up. Only one of the two tines caught and the lock did not work.

The problems I described are not the issue. I realized STP deals in seconds, overstock, closeouts, etc. so it is just part of buying from them. When something renders an item unusable it is not a second, it is defective. I called STP and explained the problem, that I would like to return the defective coat for a replacement. I was told there were no more, but I could return it for a refund and would not be charged return shipping. I just had to make note of the defects.

I circled the item number on the invoice, noted that it was defective and described the three problems. Made a copy of the invoice, placed it in the box with the coat and made the trip to UPS. Keep in mine that TSP gives no consideration for the time, effort and expense one must go through to return a defective item.

After STP received the coat I received an email that indicated the reason for the return was DISLIKED/CHANGED MIND. There was a $6.95 return service charge and a refund to me of $2.83, including tax. Keep in mind that this brings my shipping charges to about $12.90 ($5.95 + $6.95) for an item that weighs 4.375 oz. I called and spoke with Manager "Bill". Explained the problem to which he tried to make out it was my fault because I did not describe the defects. I certainly did. He also told me the size was just a matter of it being the wrong size. I guess he thinks this is my mistake too. I ordered a 17, they ship a 15 that is tagged as a 17. Sure, everything is my fault.

Bill refunded the $6.95 return service charge. This isn't the bottom line. There are bigger issues than a couple bucks. STP did not believe me. Rather than doing a little research to verify the described defects, they assumed I was trying to return an unwanted item and avoiding the $6.95 service charge. They assumed I was lying. Why did they not just tell me that on the refund email. I will never understand why STP would not shoot me an email and ask me give more detailed descriptions to the defects.

You can make some good deals with STP. Just be prepared for some frustration when things go wrong.



Verified Buyer

Reviewed by Joe's Wife from Pacific NW on Wednesday, October 19, 2016

Funny there was NO listing for sizes for the beagle. I took a guess and ordered a Medium/14???
I love the blue color and the fit is nice for both my 13 inch standard and 15 inch sport beagle.
I love that these are also reflective. We walk in the (extremely) early morning and there is enough reflective material that you can see my dogs!!!
The toggle neck isn't that easy or convenient - I wish there was a better head/neck cover - but overall - these are great jackets and I would HIGHLY recommend.
The construction is nice, the fabric is nice and the fit is good, too!

Verified Buyer

Reviewed by Kayas mom from Cape Cod on Tuesday, August 23, 2016

The best part of this coat is it covers the belly. When my little dog wit short legs goes out in the rain her belly gets soaked. It has rear leg loops to keep it in position. High quality lightweight, ripstop nylon and a light mesh lining. The fabric also had reflective highlights.

Verified Buyer

Reviewed by Jetsetter from Miami on Monday, June 20, 2016

I never actually got to use this product because it turned out to be too small for my dog and I had to return it.. But it looked to be a well made product and the reflective stripes are great. It comes with a little hanger for storage. The fabric did seem a bit on the light side so if your dog is rough, it may tear the fabric. But bear in mind I didn't actually use the product; sadly, my dog's size was not available.

Verified Buyer

Reviewed by Kate from Florida on Wednesday, May 4, 2016

I needed rain coats for my three small dogs that wasn't bulky or insulated as I live in Florida. This coat was exactly what I was looking for. They are Chinese Cresteds and have a body shape similar to Italian Greyhounds, so they can be hard to fit. I took their topline measurement and two of them were 14" from base of neck to base of tail. I ordered the 14 for them and it was too big. The size 12 fit perfectly. I attribute this to the fact that they are hairless and have a slender build and, therefore, don't take up a lot of the coat on the sides. I ordered the 11 for my dog whose topline measured 12" and it fits well, too.