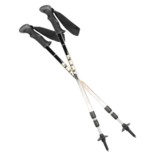 Discontinued or prior year model. Adjusting the length of LEKI's Trail trekking poles is incredibly easy, and anti-shock technology absorbs impacts along the trail to reduce stress on joints.
Average Rating based on
27
reviews
4.259259
0
5
Verified Buyer

Reviewed by LabCruiser from Tennessee on Tuesday, March 6, 2018

As expected. Have used these on rough terrain with no problems. LEKI Quality & Guarantee at an excellent Sierra Trading Post Price.

Verified Buyer

Reviewed by Sharon from Catskills on Saturday, August 5, 2017

On my first time to use these one of them broke--the bottom section wouldn't stay locked. As I was on the way down a mountain in a raging thunderstorm, this was really bad timing. And so sad as this was my first hike with them. On the way up I had been very pleased with them.

Verified Buyer

Reviewed by Six Horse Stew from Alabama on Wednesday, November 23, 2016

I am familiar with Leki products in that I own a Leki cane to help take the weight off my left knee when I walk. The poles have the same type locking mechanism as my cane and the system has never failed. I am going to use them for walks over uneven terrain to help take some of the weight off of my well used knees.

They do not come with rubber tips so you will have to order those if you need them. The carbide tips alone don't work well for me smooth concrete, tile, or smooth rock surfaces.

Verified Buyer

Reviewed by S Hall from California on Saturday, September 24, 2016

I used these on a hunting trip and they worked great for hiking in the rocks, etc. nice and light and they shrink down pretty small too

Verified Buyer

Reviewed by x from USA on Wednesday, August 31, 2016

Pros:
* Leki product
Cons:
* Takes too long to adjust
* Handle and strap not comfortable

I wish I paid $10 more to get the Leki Cristallo Anti-Shock or when it was available.

Verified Buyer

Reviewed by Daily Mountain Hiker from Colorado on Tuesday, August 2, 2016

The only problem I have with these poles is that the instructions for adjusting the length are confusing, And, when I do adjust the length, it's hard to tighten them enough that they don't shorten from impact after hiking awhile.

Verified Buyer

Reviewed by JKE from Colorado on Tuesday, July 26, 2016

Effective, easy to adjust, and good looking. These make my steep daily 2,000 ft trek up to my field sites at 13,000 ft much easier, and take a lot of pressure off my knees on the way down. The fact that they are not made in a third world country is a huge plus (wouldn't have bought a set that were).

Verified Buyer

Reviewed by Mary from OH on Saturday, June 25, 2016

Have taken these out only once so far, but know Leki is a good brand, so am excited to use these more! Perfect for first trip out!

Verified Buyer

Reviewed by Mikster CT from CT on Sunday, May 29, 2016

We like the poles, but if you frequently adjust the length of your poles to adjust to ups and downs, these are not the poles for you. Good grips, sturdy, anti-shock - all good. But you have to give it about 6 twists to loosen - then adjust - then 6 twists to tighten. that just doesn't get it done if you want to change length often. If you are a "set length and forget it" person, then these are 5 star poles

Verified Buyer

Reviewed by Happy Footslogger from Appalachian mountains, NC on Tuesday, February 16, 2016

I have used a similar pair ( the Makalu ) for prob twenty years and they have been bulletproof. The current rating of the Trail anti-shock poles is by my wife. On several Appalachian mountain hikes with some pretty tricky footing and significant grades, my wife quickly found the poles essential.
She profited both from their stabilizing assist and in their help with a little extra horsepower while climbing. Prior to the Leki Trails she refused to use anything other than a hiking stick. As she now says " the Leki's are part of my new reality" she has had no problems with grips, straps, and adjustments, and thinks she is appreciating some of the anti-shock feature.