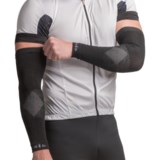 2nds. Made from the same performance-ready, wicking fibers as your favorite SmartWool socks, SmartWool's PhD knit arm warmers keep your hard-working guns in soft, itch-free comfort when the temps drop and that T-shirt is a tad too chilly.
Average Rating based on
80
reviews
4.262500
0
5
Verified Buyer

Reviewed by Mo from Maryland on Wednesday, November 1, 2017

I have a health/medical problem with my forearms painfully itching-- quite uncontrollably at times. The SmartWool PhD Arm Warmers are perfect in my situation for two reasons: 1) I can slather my moisturizing cream on my arms and then put on these arm warmers to ensure the cream gets absorbed into my skin, and 2) The warmth gained through wearing the arm warmers helps (for whatever reason) to abate the itching. I highly recommend this product. --I cannot tell it is a 2nds.

Verified Buyer

Reviewed by Nina from Central Illinois on Saturday, October 28, 2017

Based on reviews I got the XL, even though I'm a skinny-armed woman. They are plenty snug just the same, and still shorter than I'd prefer. But they're a good deal and worth having on hand for colder rides.

Verified Buyer

Reviewed by PalmTree from midwest on Friday, October 6, 2017

I read some reviews that said these were too tight. I'm not a small woman, but they are fine on my arms. Snug enough to stay up without being too tight. I ordered another set for my 6'4" son because I believe the L/XL will be long enough for him also.

Verified Buyer

Reviewed by LWing15 from Colorado on Monday, September 4, 2017

I ordered the XL and the size wasn't even close. There is no way they would fit the beefy armed guy in the photo either. I gave them to my 115 lb. daughter and they fit her.

Verified Buyer

Reviewed by scb from chicago on Saturday, August 26, 2017

*pro: material very soft
*con: too long and too wide at the larger end for a 5'2" woman

I actually prefer to use the calf compression sleeves for arm warmers. The material is significantly thicker than that used in the arm warmers. They also feet more snugly even on lower arms.

I would have returned except that shipping charge cost more than the arm warmers. I suppose I will find a use for them one day.

Verified Buyer

Reviewed by Florida biker from Florida on Thursday, August 17, 2017

Even though irregular, these are well made and would offer a good breathable alternative to most arm warmers. The problem is size. Sleeve is a tube & too small for anybody with arms.
They might work for medium sized guy or gal.

Verified Buyer

Reviewed by keny from nj on Friday, July 21, 2017

These are the best arm warmers

Verified Buyer

Reviewed by Chris from MD on Saturday, July 15, 2017

They are a little tight. Even the L/XL are a little tight for me & I' 6', 160# with not large arms.
Wish they were a higher % of wool. I think they will do OK.

Verified Buyer

Reviewed by Chris from MD on Monday, July 3, 2017

These are nice arm warmers but even the large/Xlarge is a little snug for me. I am 6'0" and weigh 165# and my arm size is
about normal for that size-not big. Also, it would be nicer if they extended over the hands and had a thumb hole.

Verified Buyer

Reviewed by Hillwalker from Colorado on Monday, June 12, 2017

Being new to cycling I have never used arm warmers and wasn't sure whether I would use them, so the low sale price on these made my purchasing decision easy. I think they would be too small for a man with big arms, and they are not very long. But, they were comfortable and warm for me.