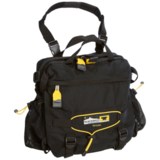 Closeouts. An iconic, functional design with multiple pockets and attachment options, Mountainsmith's Day lumbar pack is a hiker and traveler's best friend.
Average Rating based on
15
reviews
4.600000
0
5
Verified Buyer

Reviewed by charliesoutdoorlife from Colorado on Thursday, November 16, 2017

Perfect for all your small pack jobs. Bulletproof construction. All time no.1!!!

Verified Buyer

Reviewed by forgeanvil from Atlanta, GA on Monday, July 3, 2017

Things become icons because they fill enduring needs. This pack pretty much defines the term. I have had the Tour version for a couple of decades. It transitions from woods to a few days in DC with ease. Now I have enough room to leave the check in at home. A tablet, my camera, a spare power source, and various cords all leave me with tons of room for efficiently packed overnight stuff. I've used it several times in the woods now and my camera fits safely and conveniently in the front water bottle pocket. I can be attached to the Mountainsmith monopod and shooting in under 45 seconds. Slow but usually enough to catch the wildlife I commonly shoot. Sorry guys, but you won't be seeing me back for another for many years. The Tour is still in perfect shape!

Verified Buyer

Reviewed by japiopian from Calumet, Michigan on Monday, May 8, 2017

Comfortable, high-quality daypack.

Verified Buyer

Reviewed by nilejam from Washington on Friday, April 14, 2017

Bought primary fro travel and flying. Holds Ipad and other items wanted on a plane without taking up too much room under the seat. BIg enough to replace a day pack at the destination when working or sightseeing.

Verified Buyer

Reviewed by Abel from Costa Rica on Sunday, October 2, 2016

I had a smaller size lumbar pack before that lasted for 18 years. I wanted the same one and then I found this one where everything I wanted to fit in my old one does now fit... I thought it was too much but with a pair of strapettes is absolutely comfortable

Verified Buyer

Reviewed by Pamela Jane from Western NY on Tuesday, June 28, 2016

I purchased this and the Mountainsmith Tour pack at the same time. The Tour was too big, so I didn't even take this one out of the box knowing it was even bigger. All the Mountainsmith packs were high quality materials and well made. And of course Sierra Trading Post price could not be beat. Wish they had worked for me, but the LowePro Inversion 100 from another retailer fit me and my camera equipment better.

Verified Buyer

Reviewed by Larry from Longview, WA on Wednesday, March 23, 2016

This was a great product at a great price. The pack is just spacious enough for most day hikes. I can carry enough water and essentials to keep myself safe and comfortable for most any day outings with the optional shoulder straps, which I also bought with this pack.
I found a video online that simply showed me how to attach the shoulder straps as that initially had me stumped. It is really quite simple once you see how to do it on the video.
Overall I'm very satisfied with this purchase.

Verified Buyer

Reviewed by Joseph from WA on Monday, November 9, 2015

This is a good waist pack. It fits nicely, and it is comfortable to use. This is perfect for my day hikes.

Verified Buyer

Reviewed by Thomas from Kentucky on Wednesday, September 9, 2015

he pack allowed me to carry a (very light) load without being constricted, held the water bottles in an easily accessible location. It was easily put on, taken off and the adjustments needed to "make the pack uniquely mine" were unbelievably quick. I used less than 1/3 of the available space, so this pack is a perfect size for day hikes, going to a flea market or anywhere a medium sized pack would be of help. The strapettes took the load from the lower back and distributed it across my torso. As hot as the temps were, the back never felt like it was adding to the heat.

Verified Buyer

Reviewed by NordicNorm from California on Tuesday, July 28, 2015

Best day pack sized lumbar pack. All but useless without the (not included) Strapettes which for another $20 provide the necessary shoulder strap mounting. Unless you're tiny, the included single shoulder strap is too short to wear except messenger style, and does not allow positioning the meager pad where it might do the most good (on clavicle). Of course wearing it messenger style conflicts with the decent waist belt, so if you're carrying any kind of weight, you'll need both waist belt and strapettes.