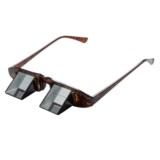 Closeouts. Belay Shades' rock climbing belay glasses help reduce the dreaded belayer's neck that comes from staring up the rock face for long periods of time. By using prisms in the lenses, the belayer is able to see the climber while looking straight ahead.
Average Rating based on
24
reviews
4.208333
0
5
Verified Buyer

Reviewed by Andrew from Carbondale IL on Thursday, August 24, 2017

These glasses do away with the neck pain that comes with belaying, especially on longer routes. They take a little bit to get used to, but once you get used to them they'll be of immense help. The fit is nice and snug and you're able to see your hands, belay device and rope under the lenses. An essential tool for any belay slave.

Verified Buyer

Reviewed by B.Lowe from Utah on Tuesday, June 27, 2017

These are good, entry level, belay glasses. There are nicer and more expensive glasses on the market, but for the money, you can't beat the utility and quality of these belay glasses.

Verified Buyer

Reviewed by Lee the Climber from Denver, Colorado on Sunday, January 29, 2017

If you're serious about maximizing climb time for your partner and efficiency for yourself when on belay, nothing will prove a greater tool and asset then these Belay Shades. Lightweight and simple construction of these wide rectangular reflective lenses make it easier than ever to maintain constant eye contact with your climbing partner. No more straining your neck for hours on end staring up at your partner, or vis versa, as you climb. With Belay Shades, you can maintain good posture and good eye contact while effectively belaying your partner. I would recommend these Belay Shades to anyone looking to save some cash and looking to get climbing quickly, Sierra Trading Post was very quick and efficent!

Reviewed by Ryan from Pittsburgh on Thursday, November 10, 2016

I ordered these after having a transformative experience using my friend's Belaggles, but balking at the price of the Belaggles ($90). These definitely help. But the prisms are small, and framed all around. So the range of vision is pretty small, which means that after your climber moves beyond 35 ft or so, you have to start tilting your head back, even with the glasses. This was not the case with the Belaggles, which had a much wider angle of view. I have now used this pair for maybe a total of 10 hours of actual belaying, and my neck still gets belayer's neck, though much more slowly than without the glasses. I'm writing this review because I've decided to upgrade to a better pair.

Verified Buyer

Reviewed by Julia from Colorado on Monday, October 17, 2016

Great for belaying. Take a bit to get used to and definitely be careful with them on uneven ground. The cord that is supposed to keep them around your neck when not in use though sucks. Invest in an upgrade.

Verified Buyer

Reviewed by scottyclimbs from chattanooga on Wednesday, August 17, 2016

Heavy, and prisms too low angle for steep routes. Still found myself craning my neck to look up. Cool tortoise shell frames, though.

Verified Buyer

Reviewed by Elizabeth from New Mexico on Monday, June 27, 2016

Love using theses belay glasses, after the first few times of getting used to them. We use them at our indoor climbing gym (45' tall walls) and for sport climbing outside.

Verified Buyer

Reviewed by Keith from OR on Saturday, January 9, 2016

Take a little getting used to, especially when you are lowering a climber. But they really do work great. Clear, and magnifying. I work at a climbing wall, and it is nice to be able to rest my neck instead of straining. Can't wait to try them outside on longer climbs.

Verified Buyer

Reviewed by Duncan from Vermont on Tuesday, December 22, 2015

Very happy with Belay Shades. They work better than a friend's pair I have been using, they are more comfortable to wear, and they stay in place better. The protective case is also easier to use. And they were less than half the price. I'm totally pleased.

Verified Buyer

Reviewed by dean from WA on Wednesday, November 25, 2015

A bit bulky.. will take getting use to.