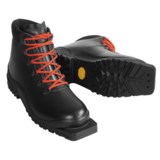 Closeouts. Made in Italy of sturdy leather, Alico Backcountry Touring nordic ski boots support your feet with every kick and glide.
Average Rating based on
66
reviews
3.757575
0
5
Reviewed by PDX Skier from Portland OR on Saturday, March 18, 2017

Buyer beware! This item description omits an important piece of information. These boots have the thicker "telemark norm" duckbill. Depending on your skis, they won't fit your 75mm 3-pin bindings, as they did not fit mine. This is not mentioned in the binding compatibility and the description is likely misleading, with no reference to telemark and direct reference to touring and nordic. Bummed because I really like to style and level of stiffness of these boots (much lighter and more streamlined than the White Woods 3-pin boots - which is exactly what I'm looking for. Bummed to be out the shipping dollars to learn this the hard way. Adding this review to help others avoid the same mistake (amplifying the info I only now have noticed is also mentioned in other reviews and customer Q&A).

Verified Buyer

Reviewed by High Country Hunter from Colorado on Saturday, January 7, 2017

I have only had time to wear boots on one ski trip but the quality and performance left me happy with the purchase. I would recommend especially at the STP price.

Verified Buyer

Reviewed by Karen, the Exec Assistant from Seattle on Friday, December 30, 2016

These boots do have the 3-pin toes for those older bindings; however, they are made for telemarking or back-country skiing, and the sole is too think to fit in our older cross-country ski bindings. They also have the higher ankle protection and slot in the heel like a telemarking boot - made for skiing downhill with bindings that hold the heel to the ski.

Verified Buyer

Reviewed by pt from VT on Friday, December 23, 2016

75 mm 3 pin is the best for xc touring, off trail with hills. Boots are 75mm BC, work well with Voile 3 pin bindings. Nice boots, seem well made, probably take some time to break in.. but thats to be expected.

Verified Buyer

Reviewed by Curious Dukes from Chicago, IL on Tuesday, December 20, 2016

These are stiff and strong ski boots. I'm still breaking them in, and the right boot still pinches painfully, but it's getting better with use, and the last time I took them out, I skied for 2 hours without significant pain. Note, the bills are for "backcountry" not touring bindings. I found I'd made a mistake, but I was able to shave a little rubber off to make them fit my touring bindings. NOTE: They run a FULL size large. The first ones I ordered were 10.5 (my normal size for boots) and way too large. I returned for 9.5 and they prove a good fit.

Verified Buyer

Reviewed by Utah Skier from Utah on Friday, July 31, 2015

Nice all leather boots. Made in Italy. I haven't been skiing in them yet (July in Utah), but just walking around in them, I can say the fit is true to size.

They will definitely take some breaking in, as is the case with most leather boots. They only have one seam on the entire outer boot, so I think they should hold up well.

The toes fit well in my Voile 3-pin bindings.

Looking forward to trying these out!

Verified Buyer

Reviewed by jb from Catskill Mts. on Thursday, April 9, 2015

Great boot, well built, comfortable, stable. Good back country boots. They do require a BC 3 pin binding. The pair I bought were at least 1-2 sizes larger than labeled. Had to return them.

Verified Buyer

Reviewed by Oddjob from Western Ohio on Tuesday, August 26, 2014

I like the looks and feel of these boots. They go well with some older skis that I am using. The are a good balance between keeping my feet warm, providing support and not being too heavy.

Reviewed by Pat from Canada on Thursday, March 13, 2014

After 6km (2x 3km) of classic X-C skiing, I can't tell how good the boots will be. They are not completely comfortable yet and still hurt my feet a bit. It seems promising though. The insulation is good enough for a dry -20, but it seems to thin for colder temperature or even warmer but humid wheater.

Talking about shipping, it is another story !

1- STP took two weeks to actually ship the boots.

2- STP ship their stuff through UPS. After many negative experiences with UPS over the years, there is one thing I can say : they offer a consistent service, no surprise, always the same. They loose the parcel, they can't copy and paste the address the shipper gave them without doing a mistake, they send the parcel back to the shipper whitout notifying the receiver... think of something and it can happen ! They have nice representative on the phone but that's it. Looks like that company is to big to get it together at this point.

So thinking of buying from STP ?
Think about their shipping method, and avoid them if you can ! Took 5 weeks to get the boots to Canada from the States when 2 weeks are enough to get a parcel from France or England !

Reviewed by MTJohn from Montana on Monday, March 10, 2014

3-pin x-country ski bindings are going the way of the dinosaur and decent boots are becoming more difficult to find. I had worn out a pair of Alico boots and, when these appeared in my size at Sierra Trading Post, I immediately placed my order. I was very satisfied with my previous pair and I expect that the new boots will serve me as well. There have been a few minor design changes, but it is essentially the same boot. The boots are comfortable and provide great support.

The boots run true to size, if anything, a little large.

The principle design change from my previous pair is the sole. In the old design, the boot was sewn to the sole and leather formed the top layer of the sole, including the toe. That ensured that, with use, the boot would not separate from the sole. I think that the leather also reinforced the toe. But, with several seasons of use, the leather on the toe started to wear through and, eventually the toe cracked (even good boots don't last forever!)

I will be curious to see how well this new pair holds up - only time will tell. There are two possible issues. In the new model, the boot appears to be glued to the sole. But, as can be seen in the photo, the boot is held in a cup in the sole and appears to be a design feature intended to mitigate the risk of separation. The sole also appears to be constructed in two layers, presumably a design intended to prolong the life of the sole because cracking of the toe is always a risk with 3-pin boots.

The boots appear to be designed and constructed to provide several seasons of use.