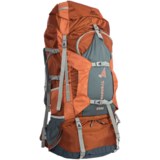 Closeouts. Extremely supportive with two aluminum stays, the ALPS Mountaineering Transcend 5500 backpack is a great value in a spacious backpack suitable for multi-day expeditions or extended travel.
Average Rating based on
28
reviews
4.321428
0
5
Reviewed by rfinch from Alabama on Thursday, September 8, 2016

I used to own the first version of this pack, called the Denali 5500. It was a great pack that served me well on a 3 month trip around the world, it actually outlasted my friend's "superior" brand pack. After about 5 years that pack finally ripped at the seams so I decided to get the newer version. So far, I love it. At first I missed a few of the pockets and accessories that the Denali had but after using this on the trail last weekend I must say I like this pack even better. It's got more even more room (how that's possible I don't know) and better features at the same value as the older version. I love the elastic pocket on the outside, and it handles the trail pretty comfortably (not an avid backpacker so I can't say for sure it's the most comfortable pack out there). Highly recommend this pack and this brand based on overall value and the apparent quality of the pack. I rarely write reviews but felt compelled to in this instance, so that says something...

Reviewed by Mark from Wyoming on Sunday, July 24, 2016

I have used this pack on several high mountain backpacking trips. If anything it is a little too large which only encourages you to bring more stuff than you may actually need. Very adjustable unless you are small waisted, in which case you may have a hard time getting the waist belt snug enough to properly place the weight on your hips, which we all know is key in long hikes. But the features are superb. I just ordered a second one for my 17 year old son. One of my favorite features is that the top comes off and easily converts into a fanny/day pack with its own waist belt. We like to set up a base camp from which to do several day hikes and the top is perfect for that. Also very important to me is the separate sleeping bag compartment on the bottom. We all know how annoying it can be to have to empty your entire pack to get to your sleeping bag. With this pack that is not a problem as the bottom compartment holds my sleeping bag, bag liner, beenie and rain jacket.

Verified Buyer

Reviewed by 4 Seasons Hiking Group on Meetup.com from New England on Saturday, June 25, 2016

I run a hiking group of over 5000 members and I have seen many packs and have a lot of so called experts amongst them .. I decided to let a few tell me why I made a mistake buying this pack and none of them could find a reason why everyone felt it was well made and well thought out in its design with that said I would highly recommend this pack over any pack in this class with NO exceptions ! Buy it be impressed !

Reviewed by Dalwon Kim from South Korea on Sunday, May 1, 2016

Top of this pack pushes my backhead.
Still great value regarding STP price, pack volume, technical features, and quality.

Verified Buyer

Reviewed by Cheri from Washington on Monday, April 25, 2016

I bought this pack for my son. We are very impressed with all the room it has. Lots of pockets and extendable straps. The shoulder and waist are padded very nicely for comfort.

Reviewed by BenR from Tennessee on Friday, April 8, 2016

I purchased this pack a few months ago for winter hikes that require extra room for more clothes and my larger winter sleeping bag. Initially I liked the design and the price was excellent so I bought it. At first glance, I had some skepticism simply because of the low price and the materials seemed a bit 'light duty' but after using this pack I must say I'm thoroughly impressed.

I recently traveled to New Zealand and this was my checked bag for the trip. I'm happy to report the bag handled 6 total flights without any wear. While in NZ, I hiked the Kepler Track, which in and of itself was amazing, and after the multi day 60+ km trek, the pack really did a great job. I'm 6'3 and 185lbs with a 32inch waist and the large frame fit me great. I will caution; however, that anyone with a waist smaller than mine shouldn't opt for the large because the wait straps may not fit, but that's pretty standard with all pack sizing. The pack felt great carrying under the load and there are many pockets outside for easy access to food or whatever you wish to put out there without going into the main compartment. The rain cover did ok, but towards the top where the cover loses its steep angle, water did penetrate to the top lid; however, this is also standard with my other packs as well. But it's an easy fix if you wear a puncho in downpours, simply put it on with and over the top part of the pack and everything will be fine. The water opening also worked great and my water bladder fit nicely in the inner pouch with the velcro clip. Lastly and back to the materials, I am still skeptical of the thin materials for really long term use, but then again it makes the pack lightweight for its size, so there is always a trade off and to be fair, since I haven't used it that much or long, I cannot comment as to its longevity. But I can say during my multi day hike I was very comfortable and the bag did great.

So for those of you like me who had rather save a few bucks on a pack in lieu of gas or an airplane ticket to make a journey, I recommend this as a really great deal on what appears to be a really nice pack.

Happy hiking and cheers!

Verified Buyer

Reviewed by Hphiker from Phx az on Wednesday, March 9, 2016

I have a concern of long term durability bc the fabric doesn't seem the strongest but I think it will be a great bag for my large frame boyfriend. Fits the bigger boys. Lots of storage room and pockets. Looks like it will be a comfy pack to carry the load.
The bag is too big for me at 5'4".

Verified Buyer

Reviewed by Shannon from Va on Wednesday, March 2, 2016

This is a gift for my brother. Just from looking at the pack it looks like a good strong pack

Reviewed by Elizabeth Silva from California on Tuesday, September 29, 2015

This pack is great for tall people but there ain't no way it is going to fit a female frame any shorter than 5'6'. It dwarfed me. Also, the plastic back curves and arches away from the body which feels odd and adds strain to the shoulder pads.
This is not a one size fits all pack.

Verified Buyer

Reviewed by Creed from Texas on Tuesday, July 28, 2015

Great pack! Has all the features i need and at deal like that, i couldnt pass it up! Cant wait to take it in the trail and try it out!