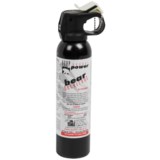 Closeouts. Be prepared for aggressive mama bears in the backcountry with UDAP's Magnum bear spray. The 9.2 fl.oz. spray bottle of pepper spray comes with a glow in the dark safety clip and nylon chest holster.
Average Rating based on
7
reviews
4.571428
0
5
Reviewed by rxflyfisher from Delaware USA on Monday, September 5, 2016

I too have traveled into bear country a number of times and always carry one of these. Notice - you are not allowed to carry these on an airplane - make sure you are even allowed to put in your checked baggage. I did not see an expiration date on this product offered here. Best to have one that is not expired. You can always give it to your fishing guide as a part of your "tip" but don't short-change them. Otherwise, try to sell it to another tourist in Alaska (bear country) before you go home. The best advice another gave is to learn about bear behavior and be very cautious in bear country. If you are in a group, never run from a bear (unless you can run faster than everyone else and don't care if they get eaten). That is a joke!

Verified Buyer

Reviewed by Fathomthat from Central IL on Monday, June 13, 2016

Chest strap is removable and can be carried on sternum strap or shoulder strap of backpack. Purchased for 3 week trip to Alaska and hope it won't be needed.



Reviewed by Lamont Cranston from Nothern CA on Thursday, December 31, 2015

If you are thinking about buying bear spray, either you already have experience around bears and are just buying fresh dated spray, or you are about to travel in bear country and have got some fears about doing it. I have never had to use mine. I can't say that I'm an a bear expert. I have lived and hiked around brown and black bears for 50 years. I do know folks who have had to use their bear spray as a deterrent. The stuff is not a magic wand. When you are somewhere that bears live, carrying bear spray is a good idea, but an even better idea is to understand a bit about avoiding the encounter in the first place. Bears will not always just leave after getting sprayed. Sometimes they will return after being sprayed. Because of that I carry two cans of spray. UDAP is one of 4 USEPA approved brands, which means that you can take it into Canada legally, from the U.S.. (not by airplane).

Verified Buyer

Reviewed by Texas Gma from Texas on Monday, August 31, 2015

We can't guarantee the spray works but it is a nice price when you want the extra security while in bear country. It's one of those items we can't rate until we use it and we hope to never have to use it!

Verified Buyer

Reviewed by bill from folsom, ca on Monday, August 31, 2015

since i have not used this i have no idea if it will work or not. it is big and heavy - sort of like a small fire extinguisher. it looks to be the real deal.
a 44 magnum pistol might be a good back up. i have heard a shot through the ear will kill a grizzly. no idea how you manage to do that.

Verified Buyer

Reviewed by Reg from Livingston, MT on Wednesday, October 29, 2014

Nice and simple adjustable harness that can be worn either direction. Wore it the first time for hunting while carrying a large pack and rifle...nice not to have an item hanging on the pack and never noticed it while sighting through the rifle.

Verified Buyer

Reviewed by Dr. WHO from Califronia and Sawtooth Wilderness of Idaho on Monday, July 28, 2014

It is hard for me to rate this product as I have yet to be attacked by a bear. But who is to say that doesn't mean it isn't an effective deterent...if you get my drift.... So I give it four stars. BTW, I am ex- US Army and it was used on me in training. The active ingrediants are VERY effective on people. TRUST ME!