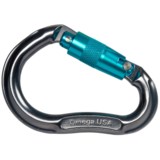 Closeouts. Omega Pacific's Jake Quik-Lok carabiner features ISO cold-forged aluminum construction and has a spring-loaded autolock for easy one-handed operation.
Average Rating based on
13
reviews
4.307692
0
5
Verified Buyer

Reviewed by Climber joe from Pennsylvania on Monday, December 26, 2016

These are one of NY favorite locking biners because they just work do easily. I do dislike ST's convoluted discount coder schemes.

Verified Buyer

Reviewed by rockman from seoul on Tuesday, September 20, 2016

quality good and cheap

Verified Buyer

Reviewed by Capt Bob from Medina, OH on Wednesday, April 13, 2016

As a technical rescue professional, I have found a multitude of uses for this unit. The side swinging gate adds capacity and the size enables its use in many systems.

Verified Buyer

Reviewed by Captain Dann from Georgia on Tuesday, March 15, 2016

You cant go wrong with the Omega Jake Carabiner. These things are tough, well-made and easy to use. the Quik-Lok feature is solid and smooth, and the 'ring' is big enough for the biggest jobs...no wimpy carabiner here !! Buy a dozen of them, you'll be glad you did !

Verified Buyer

Reviewed by gda from NorCal on Thursday, January 21, 2016

Well made, easy to use, works smoothly.

Verified Buyer

Reviewed by Tripster from NY on Monday, March 9, 2015

Really sturdy and feels strong.

Verified Buyer

Reviewed by Uriel from Bogota on Wednesday, January 21, 2015

The locking system is ok, but you cant pass it completly through a grigri 2.

Reviewed by RMS from Virginia on Monday, December 22, 2014

I'll be a wet blanket here and say I am not so impressed with these biners. Because of the price, I bought several, but after a single rappel, these biners showed a groove wearing in, and this was the case with each I tried. It makes me uneasy. Now I use these for anchors or for clipping backup knots when solo climbing, not for having rope move through. On the plus side, they are very easy to use, and, as others have mentioned, I really came to like the opening angle after getting used to it.

Verified Buyer

Reviewed by Anonymous from Nashville, TN on Sunday, November 30, 2014

Solid Easy Opening Mechanism. It can be used with a Gri Gri 2 unlike mentioned in an earlier review. It just won't spin all the way around, but who needs that anyway? I use it all the time with mine. Have several I use for ATC, Prussik, etc.

Reviewed by Pat the Volunteer Firedude from Wisconsin on Tuesday, November 4, 2014

This carabiner is my absolute favorite that I have tried and purchased to keep with my firefighting bunker gear. While most people here are using it for different situations than I am, I figured I'd still post my thoughts for incase it might help others.

Pros: The Quik-Lok is very easy to operate while wearing gloves (especially big gloves). Since it is only a quarter turn and spring loaded, it saves valuable time when in dangerous environments compared to screw locking carabiners, more secure than the basic straight gate style, and there isno complicated locking mechanism (bal lock) that can't be felt with gloves. The larger size, while might be a con for many uses, is a huge pro for firefighting as it makes it easy to loop through an escape/ladder belt D-ring, rescue webbing, bailout bag, around tools or anchor points, etc. The lock mechanism can also hold the gate open when all the way back and then can be pushed closed with a little force and auto locks. The gate opens back and slightly to the side which allows larger objects to be captured compared to a straight back carabiner with the same dimensions.

Cons: The only drawback that I have noticed so far is that it is harder to use with your left hand compared to the right hand due to the direction that the lock needs to be twisted and the way the gate slightly angles to the side.

Derailed has the cheapest price on this carabiner that I have seen so far.