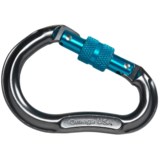 Closeouts. Omega Pacific's Jake Screw-Lok carabiner features ISO cold-forged aluminum construction and has a reliable screw lock.
Average Rating based on
15
reviews
4.733333
0
5
Verified Buyer

Reviewed by Dusty from Pittsburgh on Wednesday, September 28, 2016

Ok... so they are screw-locking 'biners, but these don't screw around. They're heavy-duty, I used four of them for setting up an anchor last weekend and they worked great. They're big, really thick, and the gate feels very secure. My only issue was they got pretty scratched up, but I guess there's not much helping that.

Verified Buyer

Reviewed by TimSBer from Ohio on Wednesday, May 11, 2016

Purchased the carabiners for a climbing instructor course. They work very well and light weight. You have a choice between the screw-lok or quick-lok. Both are rated the same by Omega Pacific. My personal choice was to have the screw-lok so that I can see that it was closed. Either model is a good carabiner. Highly recommend both.

Verified Buyer

Reviewed by syed from Utah on Monday, May 9, 2016

Works great gate opens at a slight angle to open without hitting the spine. Make it easier to use. I love it!

Verified Buyer

Reviewed by Old Goat from Alabama on Tuesday, April 19, 2016

Simple, a little heavy vs others, easy to use

Verified Buyer

Reviewed by didee99 from Colorado on Wednesday, April 13, 2016

Opens at an angle so there is more clearance- pretty cool feature! Solid 'biner so not the lightest but should hold up well.

Verified Buyer

Reviewed by Capt Bob from Medina, OH on Tuesday, December 15, 2015

You know what they are and what they are used for. I use them for any number of uses in technical rescue and sport climbing. The side swinging gate increases throat capacity. Top quality.

Verified Buyer

Reviewed by MT from Mn on Tuesday, December 8, 2015

Good quality. Nice build. Buy em.

Verified Buyer

Reviewed by Davekstone from Ann Arbor, MI on Friday, November 6, 2015

True to title, big, locking biner. Use it to belay primarily, too big for a GriGri to pass over middle.

Verified Buyer

Reviewed by Climbingbum from Pennsylvania on Tuesday, November 25, 2014

I've been buying this style of locking biner for years from Omega Pacific. This biner is large, opens offset to fit when you need it to, and has good smooth gate action. The only downside these biners have is the screw lock is very easy to move and will often screw upward when you are trying to close the gate which requires you to screw the lock back down and then close the gate. It's not a big deal, but you need to be cognizant of whether or not the biner has fully closed and locked. Overall, this is an amazing deal and you should stock up!

Verified Buyer

Reviewed by Mom in the rain from Oregon on Friday, September 19, 2014

A great big locking carabiner -- bigger than average. Hefty, but good solid construction. Overall I like this and will keep one on my belay device and one on my personal pro... I hope they get more in stock soon!