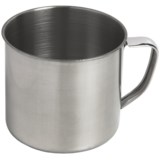 2nds. A must-have camp essential, this Jacob Bromwell stainless steel cup holds a whopping 28 fl.oz., making it just as perfect for holding a big helping of soup as it is for your morning cup of joe.
Average Rating based on
232
reviews
3.913793
0
5
Verified Buyer

Reviewed by Ed B from Colorado on Sunday, November 12, 2017

A very lightweight and thin gauge aluminum cup.

Verified Buyer

Reviewed by NEIL from NY on Thursday, October 12, 2017

I purchased 4 of these for use as coffee and soup cups. They're great. The stainless steel isn't 1810 gauge but they are seamless mugs with a sturdy handle. They are a bit thin but if you want a large cup to hold some of your grandma's chicken soyp or a hot cup of coffee these are the ticket. They are large diameter so they won't spill also. So here's a toast to your new cup, you've found it.

Verified Buyer

Reviewed by Walt36078 from Alabama on Monday, July 31, 2017

The size and light weight of this 28 oz cup is perfect for drinking water or heating food on a backpacker stove. My blended gas canister fits nicely inside the cup for compact packing. As for durability, I can't say yet, but the stainless steel is thin and the spot welds for the handle are visable on the inside of the cup. Also the fixed handle gets very hot when using on a stove! All in all it has performed well so far.

Reviewed by Scoutmaster from PA on Tuesday, July 18, 2017

Tried and found true to description. Wide and low profile allows easy eating. Cooked in it over hot coals and stove, hot pad needed of course. So light and easy to carabiner or pack.

Verified Buyer

Reviewed by Megafuera from NC on Sunday, June 25, 2017

This is a very large mug which is nice, but definitely something you'd want for car camping, not backpacking. Can't see it holding up for long with the flexibility of the sides. Nice and lightweight, but wouldn't hold up to my use so I sent it back.

Verified Buyer

Reviewed by iggy1216 from Bucks County, PA on Monday, June 19, 2017

My ceramic mugs only hold about 10-14 oz. This is now my go- to mug for everyday use since it holds so much. Great for any liquids or meals -hot and cold

Verified Buyer

Reviewed by Car camper from Seattle on Sunday, June 18, 2017

Great quality mugs, have replaced the bowls in my cook set.

Verified Buyer

Reviewed by Scoutmaster from PA on Monday, May 29, 2017

I like the weight and size for our trail cooker, yes metal gets hot, and there are heavier cups but for our backpacking trips this cup is easy to clean, cooking and drinking sized, and durable enough to satisfy.

Verified Buyer

Reviewed by Bobby Mac from Pine Tree State on Tuesday, April 18, 2017

Thin and cheap piece of junk. BUT, I didn't pay but pennies for it. If I had paid full price, I would have sent it back. I make firestarters out of Blue tipped wooden matches, tied together and dipped into wax that I melt. Old boy scout trick. This container is perfect for just that. So I'm keeping it.

Verified Buyer

Reviewed by Mark from Mass on Sunday, April 16, 2017

Kind of thin metal. Not sure it's going to stand-up.