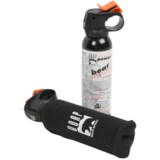 Closeouts. Smart hikers always protect themselves in bear country with UDAP's bear spray. The 7.9 fl.oz. canister deploys a powerful blast of highly concentrated pepper spray in a dense 30-foot fog.
Average Rating based on
11
reviews
4.818181
0
5
Verified Buyer

Reviewed by Sandy from washington state on Tuesday, September 20, 2016

have not used these, thank goodness. But they did arrive on time and in excellent condition.

Verified Buyer

Reviewed by Laurelete from California on Friday, July 1, 2016

We have a whole collection of bear spray. Feel much more safe and secure knowing they are around.

Verified Buyer

Reviewed by Dave from Georgia (GA) on Sunday, October 4, 2015

Fortunately I have not had the opportunity to test this product, but it will provide some additional peace of mind when hiking in bear country. Since this was a "twin pack" it's good to know that I have a spare should the need arise. Also came with a handy holster. Compared to prices I have seen for single units from other vendors, this was a great value!

Verified Buyer

Reviewed by Nevada Hunter from Nevada on Monday, September 21, 2015

I bought this in a 2 pack for Wyoming archery elk, 1 for my friend and luckily did not have to use them. The expiration date was 5 years from purchase reading the instructions was easy operation. The neoprene holder was adequate but did get in the way a little on my belt. I saw the same exact product at a big box sporting good store for an extra $20.

Verified Buyer

Reviewed by David from Seattle on Wednesday, September 2, 2015

I was told that these are not allowed on commercial airlines (even in checked baggage) - had sent to where I was staying in WY. The areas we were hiking had abundant evidence of bear- prints, scat. These were light to carry - put on the waist strap of our backpacks and worked fine. I did deploy an old expired canister that we had prior to the trip. Still worked well - putting out a foggy spray around 20ft or so. Some of the fog drifted back at me - unpleasant, but that's what it supposed to do. In WY - these guys are more than twice what they cost of STP (and deal flyer even better). I also ended up shipping it back home via ground transport. Even with that, still cheaper than buying in WY. Someone in our party said they rented one out of the car rental place at the Jackson airport. Didn't ask how much, but that was another option.

Verified Buyer

Reviewed by Colorado mountain Man from Drnver on Friday, May 22, 2015

Purchased for a hiking trip in Yellowstone. I never had yo use it but research says it is more effective then a gun and the bear and I are alive.

Verified Buyer

Reviewed by HikingWombat from Missouri on Monday, April 6, 2015

All I can say about Bear Spray is it makes me feel better knowing that the Grizzly won't have to eat an unseasoned meal. Pretty confident this will work against black bears, but I'd sure like to hear from someone that has used it against a grizzly or brown bear.

Four stars as we didn't actually test the product.

Will be buying another canister as I had to leave mine in Montana.

Reviewed by PA Jim from Olympic Peninsula, WA on Tuesday, November 4, 2014

Came with 2 holsters

Verified Buyer

Reviewed by Dale from Maine on Wednesday, October 22, 2014

I bought these more for dog protection than for bears, A lot of trail systems don't allow carrying of firearms and we have some dogs in the neighborhood that are questionable.

Verified Buyer

Reviewed by PA Jim from Olympic Peninsula, WA on Thursday, July 3, 2014

Convenient size and nice holster. Hope I never have to use it, and in all likelihood I won't, unless I venture into grizzly territory. But even in black bear areas it feels good to know I've got something to use on any threatening wildlife if needed. A mountain goat gored and killed a hiker in our area - this might have saved him.