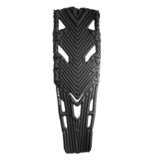 Closeouts. The Klymit Inertia XL sleeping pad is a wider and more supportive pad that suits more body shapes and sizes. The unique cutout design reduces weight in your pack and allows the insulation in your sleeping bag to remain lofted and for improved warmth during nights in the backcountry.
Average Rating based on
12
reviews
3.916666
0
5
Reviewed by Hiking fool from Colorado on Friday, April 15, 2016

I'm laying on this pad now actually, super comfortable, warm, and when placed inside your sleeping bag even warmer, it's insane how well this fits your body, 100% would recommend and buy again

Verified Buyer

Reviewed by Sean from Indiana on Wednesday, February 10, 2016

This is my second Klymit sleeping pad. The other one I have is very comfortable and packs small. With this design and the cut outs in particular I am afraid of the durability of the product. The cutouts create lots of sharp angles that seem to get caught up when folding and rolling. This pad also have an additional inflation nozzle and a rubber bulb to inflate. This is one more protrusion and my forearm got to tired pumping the bulb and I gave up and blew it up with my mouth in no time. i don't understand why a mat that is specifically designed to reduce the weight as much as possible would include this superfluous bulb and nozzle. I will not be packing the bulb and hence will never used the additional connection point. I think I would have been better off getting another of the standard Klymit V design which I love.

Verified Buyer

Reviewed by fba33 from miami on Friday, December 11, 2015

super light, i had no problem sleeping sideways is actually very comfortable.

Verified Buyer

Reviewed by Lost Dutchman from Superstition Mountains on Thursday, December 3, 2015

Wider? More supportive? Unique cutout design? I was taken it by this hype! This pad stinks. It is totally uncomfortable and did not keep me off the ground. The pump was a joke. After pumping it up and suffering while I laid on it, I deflated it and tried to pack it into the pack size advertised. It was a frustrating nightmare. I can't imagine trying to rely on this piece of.....useless equipment in the backcountry. This one went right back.

Reviewed by Cavebird from Gainesville, GA on Wednesday, November 18, 2015

The only time I have been cold is when had to sleep on the snow, but I slept. I did have to return it for a leak at the high pressure pump port, and it was returned repaired and with caps to stop any leakage. I do tend to pump it up to a higher pressure to keep my 215 lb. 6'3" side sleeping body off the ground. Only take 4 breaths to get it primarily inflated. I have used it a lot, and still like how small it gets for my pack, and the weight/comfort ratio is great.

Verified Buyer

Reviewed by PacNW Hiker from Washington State on Monday, August 17, 2015

On first inflate, seems a bit minimalist, but was plenty comfortable and offered a great nights sleep. Although thinner than typical air mattresses, the smaller tube design distributes weight well with no "bottoming-out" (5'8', 175lb male). I especially like that my arms had room to rest on the mattress and weren't "hanging over" like on most air mattresses. Added bene is it packs small and is light weight, so I highly recommend it for backpacking or bike camping.

Verified Buyer

Reviewed by Coco from Yellowstone on Wednesday, August 13, 2014

Compact but full coverage when inflated. Plenty firm and no leaks.

Reviewed by Rich from Melbourne on Tuesday, June 17, 2014

Used this a few times over summer and great for space-saving weight weenies.
Really comfortable and fits over 6'. Has a pillow area and comes with a repair kit and higher pressure pump thing. Would have given 55 stars but you feel the cold rising from the ground in the colder months.

Verified Buyer

Reviewed by Zuoqi from Beijing on Thursday, May 8, 2014

Not buy for myself but my friend, the item has good weight, but not sure what temperature will be the best.

Reviewed by Bustedgristle from San Francisco on Sunday, February 9, 2014

Comfortable, light, great value @ sale price. I got the extra long (only size available) and was 'worried' it would not fit or be too heavy but, it works great. Easy to inflate/deflate, packs small. Material seems puncture resistant enough when used in a tent or on a tarp. Would not put this directly on the ground.