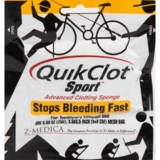 Closeouts. Adventure Medical Kits' QuikClot® Sport clotting sponge is an excellent addition to any first aid kit. Made of chemically inert material that speeds blood coagulation, QuikClot® beads are securely contained in a sterile, non-adherent mesh bag for easy application.
Average Rating based on
20
reviews
4.200000
0
5
Verified Buyer

Reviewed by bk from WV on Tuesday, November 21, 2017

Haven't used it yet and hope to never use it but worth the weight if you need it.

Reviewed by Camper/Scouter from Texas on Tuesday, September 19, 2017

Prior Reviews listed expired Expiration Date or soon to expire Expiration Dates and I assumed this problem was fixed. It is not fixed and ask for expiration date prior to ordering. The use of expired Quick Clot could easy become a liability issue

Verified Buyer

Reviewed by Supernova02 from Bellingham WA on Tuesday, August 15, 2017

Hopefully I don't ever have to use this but I'm glad I have it at the ready now. I have 2 of these added to my "Adventure Medical Kits Trail Hiker First Aid Kit" that I purchased on STP. This goes in my day hike backpack with my 10 essentials. I also use this kit when I go to the shooting range. Best to always be prepared for accidents you pray never happen. I will also be purchasing a few more of these for my bug out bag and 7-day emergency supply kit. For the PNW, earthquakes, trail dangers, wind storms, who knows what we may encounter...but let's hope it's none of them!

Reviewed by Bob from Illinois on Thursday, April 20, 2017

Got 2 of these for an upcoming trip, but they were both expired. They had no replacements that were not expired?! Thought they would have checked before shipping. Good product and Sierra refunded the me without any hassle though.

Verified Buyer

Reviewed by Hike Safe from Arizona on Wednesday, April 12, 2017

The date shows these are expired. Not willing to take the risk if ever needed to use these.

Reviewed by Spooler from Tennessee on Thursday, March 23, 2017

I ordered 3 sponges in the middle of March and received them a few days later. They were well packaged and just as advertised and a good price. However, 2 of the sponges have expiration dates of November and the other is April. This would be fine if I had someone on my floor bleeding out when I placed the order but I bought these to keep in my range bag in case of emergency. I do not typically rotate my trauma supplies every thirty days. It'd be worth checking into the expiration date before ordering these from STP.

Verified Buyer

Reviewed by Happy To Chat from Western New York on Tuesday, March 14, 2017

A well stocked first aid kit is a must and these look like a wise addition.

Verified Buyer

Reviewed by PSUBiker1 from Vermont on Monday, March 13, 2017

I'm on a blood thinner medication, so if I'm cut or bleeding, I need something that will immediately help.

Verified Buyer

Reviewed by Logan from Asheville on Wednesday, February 8, 2017

Got this to add to my first aid kit. I thought it was more than 1 for the price. Seems a little expensive for 1.

Verified Buyer

Reviewed by Ralph from Ohio on Sunday, October 11, 2015

I have not needed to use it yet. Buy that while notion is why I have a job. I work EMS . I do a lot of hiking, camping, tree work, yard work, house renovations, and tinker a lot with sharp objects. Having the Quik Clot in my Jeep and home toolbox is great insurance for the " what it's". Nobody plans on needing EMS, but we are there. I don't plan on needing the Quik Clot, but its there..