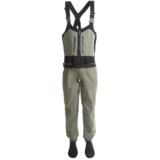 Closeouts. Redington's Sonic-Pro waders are constructed of VersiDri® four-layer waterproof breathable fabric with a full-zip front. They deliver the perfect balance of technical performance and a comfortable, women-specific fit.
Average Rating based on
17
reviews
4.352941
0
5
Verified Buyer

Reviewed by Ed from NC on Monday, February 20, 2017

I never thought waders could be folded so compactly. Bought my wife a pair for our next trip to Alaska from the east coast. Can't wait to give them the ultimate test.

Verified Buyer

Reviewed by kkh from Denver on Monday, June 27, 2016

I don't understand the fit on these at all. I am a fly fishing guide, and have several pairs of waders from different brands. These have the strangest fit of any of them. They are VERY low-waisted. The belts loops are completely and totally useless. They are basically around my booty. I will be using my stretchy Patagonia belt and not using the belt loops. But I have a hard time believing how ANYONE would be able to use these belt loops unless the have the world's longest waist and shortest legs. They are just.....WEIRD. If they weren't such a good deal price-wise, I would probably send them back. I will go ahead and keep them for back ups, but they certainly aren't going to be used very often.

Verified Buyer

Reviewed by tangotails from Italy on Tuesday, September 1, 2015

Wader design and fit are perfect. Redington waders have not disappointed me in the past, and I have had 2 pairs, this being the 3rd purchased. The zipper option is wonderful at an unbelievably low price. Bought for a friend, not myself. Checked all seams & they seem flawless - only used once, so far, so good. Time will really rate the water tight integrity & seam tape on the neoprene booties, which seam to come unglued on most waders, except for SIMMS waders. Will give more feedback if possible in about a year. At this price, who can argue about anything concerning these waders...

Verified Buyer

Reviewed by Lisa from Santa Fe on Monday, July 6, 2015

I liked the look and general design idea of these waders, and the quality seemed good, but the fit was really off. The belt hit around my low hip, barely above my legs. Overall the waders were quite short, especially in the torso. I'm 5'7" and normally don't need tall sizes.

Verified Buyer

Reviewed by Barb from Wyoming on Wednesday, July 1, 2015

I am 5'8, 130 lbs with size 10 feet. I had to order size L which is big in the top but has the correct leg length and foot size. The feet are even a little big but fit Ok I into my wading boots. The zippered pockets in the vest part of the waders are handy. Since I wear a fishing vest, they are not really necessary. On a warm day the top of the waders can be worn unzipped. I fish in a float tube quite often and these are comfortable to sit in and have kept me totally dry. The gravel guards have very strong elastic and a clip that attaches to your shoelaces at the toe. There is a belt which hits me more at hip level than waist but it is not really a problem. Overall, I am impressed with the quality of these waders and they fit much better than the men's waders that I have had to buy in the past. A great STP price made them a great buy.

Reviewed by LeaM83 from Pullman, WA on Friday, May 22, 2015

I haven't had a chance to use these yet, so I'll stick to reviewing the fit for now.

I'm 5'10" and 180lbs. I generally wear a size 10 or 12 tall and have a 33/34" inseam. I'm not heavyset, just muscular and have some curves.

I'm generally extremely frustrated with how things fit. Shopping for pants off the rack is a joke. "Tall" pants are generally so short it is truly laughable. So I was skeptical, to say the least, that these would fit. But I'm extremely pleased. The inseam is adequate (could be half an inch longer to be truly perfect, but is fine as is). The cut is roomy enough for pants, but not baggy. The booties are pretty big on me and I wear a size 11 shoe. The suspenders could be slightly longer. If they were I think the pants would fit a bit better. But then the top may be awkwardly low. I'd still like the option to wear it that way, though.

There are 4 smaller zippered pockets that will come in handy. And the material is extremely lightweight. I think these will be a great purchase and will update my review when I get them out on the water.

Reviewed by Roadbase from Utah on Thursday, May 14, 2015

I am brand new to fly fishing so I wanted to find a pair of waders that was nice but not too expensive. With shipping and tax, minus a rebate and a big STP coupon, the price of these normally expensive waders became affordable for me. That said, I haven't had a chance to test them out in an actual river so I'll have to update this in the future.

That said, they seem really well made and they're definitely light. I like the front zipper although it's more stiff than I expected. That's probably good, though, since we want it to be water proof. And it definitely makes it easier to get in and out of these.

I love the stretchy band around the top and the big arm holes -- the combination will make for a lot of upper body movement and they also don't gape out around and away from my body.

These have a total of 4 pockets -- one pair on the front which claim to be waterproof and a pair behind those that zip closed (water resistant, I think) and have one side lined with micro fleece. I don't know why they didn't put the fleece on the side closest to your body but maybe it was in an effort to keep them breathable. Anyways, I was hoping to have a pocket inside the waders too but it doesn't really work with this design.

The fit is okay. I am not a small person -- about 5'9" and at my heaviest (like, now), I'm about 190 or 200. I have hips. I have long legs, a long torso, and narrow feet. Anyways, I hunted high and low to find a size chart for these because they're a few seasons old. I found one that had more numbers than the usual "size", "inseam", and "foot size". Here's where I found it:

http://flyfishingv.com/gear/2012/11/15/first-impressions-redington-womens-sonic-pro-zip-front-waders-fit/

I took my measurements (16, 43, 46, 33, 8.5-9) and judged that I needed an extra large. The only size I was a little worried about was the inseam. However, I've received them and I have to say that they feel a little tight around my hips. I don't know if this is the size of my hips or actually a result of needing a longer inseam. Why there's no XL tall, I have no idea! Anyways, these definitely fit more like jeans than huge men's waders but it's only an issue when I'm at a full bend-over or deep, deep lunge and my fishing doesn't require that kind of activity yet.

Like I said, I can't tell if they aren't big enough around or if they're just a little too short. I do know that they came with the suspenders all the way loosened and I feel like if there were 2 or 3 inches for me to play with, these would be less binding so maybe a slightly longer inseam would help too?

My plan is, at this price, to keep them and use them a few times -- I'm not at the point of stressing the seams too much, they're just a little snug. I think if I could lose about 10 pounds, these would fit a lot better. If it doesn't improve, I'll just sell them used and someone will get a great deal like me!

The belt is low, across my hips instead of at my waist. Personally, I like the look and feel of it but it's definitely different than other waders out there.

The boots are, as always with waders, WAY too big. I often wear a size 9 street shoe and I'm swimming in these. Not as bad as with men's waders, but still pretty big. It'll be good, though, if I wear thick, comfy socks because I'll still have a lot of room for circulation.

I'd like to mention that the suspender clips are reversed, so you can pop the suspenders off and clip them together around your waist if you get too hot for the top part of the waders.

Finally, they came with a little patch of fabric for repairs but everything I've heard about these is that they are pretty beefy.

I'm not sure what else you'd need to know about waders; these are definitely more flattering and less bulky on a woman than on a man and I appreciated the very detailed and differing sizes. I'll respond to questions if you have them.

Really excited to get these out on the river!!

Verified Buyer

Reviewed by Mountain loving mom from Colorado on Saturday, April 25, 2015

Like many woman I looked for waders for months and was kinda skeptical eyeing these at STP for weeks. Locally I tried many different ones and apparently some 2015 models may not be available until mid-summer. After testing these out I am glad I got these!
I am a more curvy 50+ Yr old active woman whom after kids no longer wears a sz 7.
These lightweight durable (4 layers of breathable fabric) waders are incredibly well made and fit like a loose pair of jeans with plenty of room to layer for cooler fall/ spring wading. I love the rugged zipper design that let me get in and out of these easily and offers flexibility to roll down on warm days.

I bought a sz XL and the neoprene booty seem to run 1-2 sizes big so I even bought a size smaller to see if the booty would fit my foot better ( it did) ;but they did not pass my full squat/lunge test and I did not think I would hike and scramble stream banks/rocks comfortably.
A local guide encouraged me to try the news Simms Vapor boot in a SZ. 10 to accommodate the bigger booty despite me wearing a 9 -91/2 in most shoes. This was a great fit especially in the water wading our local canyon creek and I HAD the rugged stability I needed for sure footing on the trail, bank and rocky creek. I had NO seam irritation!!
The articulated knees are great and despite the awkward low wader belt at the hip vs the waist, I loved these comfortable well fit waders.
I layered my feet with my favorite Merino wool Kirkland hiking sock which also help the booty fit and I was warm and comfortable recently fishing after a Colorado spring snow .The muddy scuffs easily washed off with my hose and after laying them out overnight they were dry by mid morning the next day.
Do not wonder or hesitate about these any longer ... Buy them before they are gone and successfully fish on!


Verified Buyer

Reviewed by Sue from Washington on Saturday, April 4, 2015

Overall, excellent quality. Much stronger than my cheaper pair which had holes from falling on rocks. Size seems to fit accordingly and the design allows for the curves of a women's body - finally! The belt does not sit at the waist - my only complaint so far but I have long legs so I suspect that is part of the issue. The zipper is stout and looks like it will hold up well.

These will get tested in the water next week!

Verified Buyer

Reviewed by Kmills from Oregon on Tuesday, March 24, 2015

My biggest strife with buying any outdoor apparel is length--as a 6'1" slender female, it's really tough to get the technical gear in the right size. A lot of the time I end up ordering Men's to just be able to meet my inseam needs, which leads to some awkward fits and very low rises. Thank you Redington and STP. These waders are not only long enough (I normally wear a 35 or 36" inseam)--they''re tough enough to withstand thorny, overgrown Oregon riverbanks. The belt is a shade low on my hips, but it's manageable.