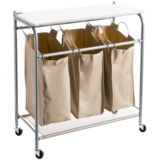 Overstock. A compact laundry solution for sorting clothes and pressing out wrinkles, the neatfreak!® everfresh® Deluxe triple laundry sorter with ironing board is treated with environmentally friendly enzymes that continually reduce odor.
Average Rating based on
12
reviews
4.000000
0
5
Verified Buyer

Reviewed by Katz from Tennesee on Wednesday, May 4, 2016

The bags could do a better job of staying on, but this is easy to assemble and a good use of space.

Verified Buyer

Reviewed by KT from Georgia on Thursday, April 28, 2016

This is a good idea, but does not work well. The bins are too small and if left empty the hooks fall off the pole if you even move them in the slightest little bit. When one falls off, they all do. It is very frustrating. I have another neatfreak hamper with the same system except without the ironing board on top and I love it. The hooks have rubber on the ends preventing the bins from falling off the pole and the bins are much larger which holds a lot of laundry. I will be looking for more of that version of this laundry hamper. I ordered 3 of these hampers and will be returning 2 of them. I would return all 3 but I put one together already and will just keep it.

Verified Buyer

Reviewed by KC Derby from CA on Sunday, November 29, 2015

Easy to assemble, holds 3 loads. I labeled so family can sort. The only thing that I can criticize is bags come off easy if you try to pull clothes out (rather than taking the bag to the washer). Love that it's on wheels, and the ironing board keeps your clothes out of site. Bought 2, and glad I did!

Verified Buyer

Reviewed by runsalot from Colorado on Saturday, November 14, 2015

Hard to get excited about a laundry sorter but this does the job, fits the space. I like that it screws together and not the plastic pipe press fit type that keeps coming apart. The cloth bags don't hold as much as some others. Not sure if the ironing board feature is worthwhile.

Verified Buyer

Reviewed by Anonymous from WI on Sunday, August 30, 2015

This is a very sturdy laundry sorter. Not really an ironing board. The only thing I find inconvenient is the bags coming off the rails when I pull things out. I could probably solve this by pinching the hook that goes over the rails.

Verified Buyer

Reviewed by RJ from Los Angeles on Wednesday, July 22, 2015

Like the fact that you can lift the board up from one side for easy access to take out the laundry bags.
I've been using for over a month now and all parts stay together so far. Only minor complaint is that it's a bit hard to have the hoops stay on the rods when removing/putting them back - but it doesn't effective the usefulness of this product.

Verified Buyer

Reviewed by Michelle from KY on Wednesday, September 24, 2014

Biggest complaint is that the holes were not all pre-drilled.open in the metal so it took some drilling and man-handling to get some of the pieces to screw into place. The final product however is functional and nicer than the previous plastic and cloth sorter I was using. It's convenient to be able to lift out the individual bags when doing laundry.

Verified Buyer

Reviewed by lisa from Tennessee on Tuesday, September 16, 2014

Easy to put together. Love the ironing board on top for a quick iron. Glad I bought it.

Reviewed by Jayne from East Coast, US on Thursday, July 24, 2014

Bought this for my daughter's first apartment. I put it together in about 15 minutes (EAAAAASSSSSYYYY!) and it is extremely sturdy. I read several reviews that the wheels come out easily. You need to use a rubber mallet to lightly tap them into place. When you do this, they are VERY TIGHT...will not come out. (directions do not say to do this but there is a "catch mechanism" in the tubes).
The lid does stay up and unit only needs to be 1/2 inch from wall to raise lid. Daughter said "it's actually pretty cool!." Wish I had ordered two at this price.

Verified Buyer

Reviewed by Mom who plays outdoors from Ct on Tuesday, April 15, 2014

Sturdy and attractive. Very happy so far. Only complaint is that it's top heavy but with care it shouldn't be a problem.