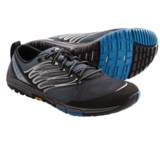 Closeouts. Merrell Barefoot Trail Run Ascend Glove running shoes offer a balance of protection and feel for technical terrain. The Motion Mesh engineering encourages a natural stride with a minimalist profile.
Average Rating based on
9
reviews
4.555555
0
5
Verified Buyer

Reviewed by Sr Biker from NC on Wednesday, August 20, 2014

First time for this type of shoe and I'm a convert. There is just enough padding in the sole to make these a good all purpose shoe. They are light weight and fit like a glove.

Verified Buyer

Reviewed by jayhawker from KS on Thursday, June 12, 2014

Will buy another pair soon.

Verified Buyer

Reviewed by craig the worker from jackson, mi on Saturday, June 7, 2014

these shoes are very comfy to wear , nice and light on your feet, this is the first pair of barefoot shoes that I have purchased, and I really like them , I would recommend these to anybody they are very nice!!!

Verified Buyer

Reviewed by Jeff (trail runner) from central Pennsylvania on Monday, May 5, 2014

First, I really want to like these shoes, just as I really wanted to like the original Trail Gloves. Like the originals, these are well-made, and I think they will stand up to some heavy trail miles. But just like the originals, they fall a little short of being a perfect trail shoe for me.

Pros:
- Traction. This was a major weak point in the originals, and these are better. They're still not a good mud shoe, but they are better.
- Cushion/protection. If you see that as a good thing, these have more, while still being zero drop.

Cons:
- Cushion/protection. The downside of the extra build-up is a loss of feel for the trail.
- Fit. These fit larger than the Trail Gloves, and they don't cinch up around your insole as nicely as the originals.

Even though these are not my ideal trail shoes, they are a solid product that will last well and that will perform well on good trail conditions, and at this price you probably can't go wrong with them.

Verified Buyer

Reviewed by Mitchhiker from Maine on Friday, May 2, 2014

Nice pair of running shoes, but they have a seam under your big toe, If I don't get used to them soon I'm sending them back.


Verified Buyer

Reviewed by Ann on the court from Becket MA on Monday, April 28, 2014

I wear all day. Very comfortable. I have had several merrel minimalist shoes before. This pair is cooler and will be great to keep my feet cool in the summer. Since wearing the minimalist shoe my posture has improved

Verified Buyer

Reviewed by Christian in Austin from Austin on Saturday, April 26, 2014

This shoe has more protection than the trail glove, but fits just as nicely (even better, actually, because the sole doesn't have high relief areas that would bruise my foot with the trail glove). With that protection on the sole, you don't lose the minimalist feel, dexterity, or zero-drop that we love, but instead we just get a grippier, safer sole. I use it for trail running, cross-fit and the occasional road run. I'm also finding I keep going back to it for an all-around casual shoe now too. I wear a 10 in most athletic shoes. Scaled down to 9.5 in these and could probably even press down to a 9, but I didn't want to risk toe blisters. As they are, I have plenty of room for toe splay while the glove holds my foot comfortably with no slip. I do recognize that since they're gloves, they might not fit every foot. I have a narrow foot and these are great. Wider feet, ymmv. If merrells do fit your feet and you love to run trails, just get these. Better protection than the New Balance and just as lightweight.

Verified Buyer

Reviewed by Isaac from Maine on Wednesday, April 23, 2014

I love the more minimalist barefoots and wear them a lot, but they tend to be very slippery on wet terrain. These have most of the flexibility but are just a little more padded and have better grip. For a minimalist-style running shoe or in my case just daily use they're excellent.

Some minimalist shoes tend to run a little tight, but I've found the Merrell's (I've owned several styles) were true to size for me and they stood up VERY well.

Reviewed by Ambiguous from Florida on Sunday, April 13, 2014

I made the switch to Minimalist style footwear nearly two years ago, and I cannot go back to standard style shoes ever again. I have more agility, flexibility, and feel better overall after wearing such shoes. I work as a pool operator and often walk 4-6 miles a day on all sorts of terrain: sand, dirt, pavement, and concrete pool decks most of all. I started with Vibram Five Fingers, and they were okay but I needed something with a bit more ground clearance and more resistance to water. I then got the Merrell Sonic Glove, which was exceptional. It took me about 7 or 8 months of nearly daily use before I wore out the soles, which is good in my opinion, as most shoes rarely hold up for more than 6 months. I next tried out the Merrell Trail Glove and I fell in love with it as well. I believe it has an almost identical sole as the Sonic Glove, which was okay, but it too wore out pretty quickly. I recently purchased the Ascend Glove, and I believe I have found the perfect minimalist shoe for me. The sole is indeed a bit thicker, which I prefer, as it is more durable, but there is still plenty of ground feeling and sensation. I also like the feel of these shoes, as they certainly do fit nice and snug like a glove, and my feel feel happy to walk about in them. I've probably only got about 30 miles on my new pair, but I believe they will hold up a bit longer than the other shoes I have tried and I believe I will definitely be ordering another pair soon. I hope this helps.