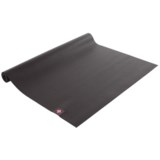 Closeouts. Whether you use it as an extra layer on your regular mat or by itself while you're on the road, Manduka's eKO Superlite Travel Mat is super-grippy, thin, and lightweight to fit effortlessly into your practice.
Average Rating based on
17
reviews
4.176470
0
5
Verified Buyer

Reviewed by MR from Seattle on Sunday, May 27, 2018

Great quality. Packs up relatively small; it is a bit heavier than Gaiam's foldable 2mm mat but I prefer this one as it is grippier. Smell not an issue for me, although some smell is present (not bad nor too strong, in my view). Great buy overall.

Reviewed by Christian B from Colorado on Tuesday, March 20, 2018

The main redeeming feature here is that it's easy to fold and very light. Otherwise it's not all that special. I slide all over this mat, and it is still off-gassing even after hanging it out and letting it get direct sunshine for a few weeks. I washed it with water and vinegar (as recommended) three times but the gloss still hasn't come off. Had to practice on the bottom side a few times so I wouldn't slide out of downward facing dog onto my head, which did not turn out well as the top side slid on the floor. Not impressed with this mat.

Verified Buyer

Reviewed by annie w. from boston on Sunday, February 18, 2018

these are the thinnest yoga mats i own. i had one in purple and when it mysteriously disappeared, helped myself to the teal and green. they're foldable, they're incredibly light, and very minimalist. don't look here for cushioning. you want a nonslip barrier between you and the floor? this will do. hot yoga? for sure. i'm a fan.

Verified Buyer

Reviewed by Martha yoga teacher from Philadelphia suburbs on Wednesday, February 7, 2018

I am very pleased with this Manduka Travel Mat! I have been wishing to have a lighter mat I could take with me more easily for travel, training away and yoga conferences. This mat is very light and portable but also has great traction. I am SUPER pleased with this Manduka mat!


Verified Buyer

Reviewed by Maria from Poolesville, MD on Monday, January 1, 2018

The Manduka Eko line is my favorite, and I have the mats in several thicknesses. This one is not for every day, but is perfect for travel.

Verified Buyer

Reviewed by Julie from FL on Thursday, December 21, 2017

I haven't opened it yet, because I want it to stay wrapped for easy travel to Cambodia. However, I looked up previous reviews, on multiple sources before ordering. It IS lightweight, so I am looking forward to traveling with a decent yoga mat.

Verified Buyer

Reviewed by Traveler lady from Kentucky on Monday, November 27, 2017

Sticky, lightweight, affordable, doesn't smell toxic (!) -- what I was looking for to bring with me on my travels.

Verified Buyer

Reviewed by minnie5460 from Shanghai on Wednesday, January 13, 2016

Extreme thin, light, easy for one to carry, slippy resistent

Verified Buyer

Reviewed by DBT from OREGON on Thursday, December 24, 2015

So far, I'm happy with the mat. I look forward to seeing how it travels. It is super light and "grippy".

Verified Buyer

Reviewed by Dayna from Georgia on Thursday, September 10, 2015

This mat lives up to its intentions. It's lightweight and easy to pack, and super grippy for a stable, grounded practice. Great purchase; worth more than the money spent. My ideal mat is a little bigger and has more cushion, so this isn't for everyday practice - but it is perfect for travel!