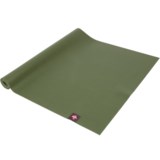 Closeouts. Whether you use it as an extra layer on your regular mat or by itself while you're on the road, Manduka's eKO Superlite Travel Mat is super-grippy, thin, and lightweight to fit effortlessly into your practice.
Average Rating based on
10
reviews
3.900000
0
5
Verified Buyer

Reviewed by minnie5460 from Shanghai on Wednesday, January 13, 2016

Extreme thin, light, easy for one to carry, slippy resistent

Verified Buyer

Reviewed by DBT from OREGON on Thursday, December 24, 2015

So far, I'm happy with the mat. I look forward to seeing how it travels. It is super light and "grippy".

Verified Buyer

Reviewed by Dayna from Georgia on Thursday, September 10, 2015

This mat lives up to its intentions. It's lightweight and easy to pack, and super grippy for a stable, grounded practice. Great purchase; worth more than the money spent. My ideal mat is a little bigger and has more cushion, so this isn't for everyday practice - but it is perfect for travel!

Verified Buyer

Reviewed by nava yogini from KY on Tuesday, August 18, 2015

this mat is perfect for travel it however it is quite thin so it is better for hotel rooms with carpet. That was my intent for
obtaining this mat and for beach use. It is perfect the grippy feel of this mat is fantastic, you know how a yoga teacher might say, allow your legs to be in grounded into the earth well this mat allow rooting cause you are not slipping. Got one for me and my husband, and glad I did.. would recommend it for a yogini who travel and is in a hotel room. for me it is too thin for class would need blanket for knees then it would be ok too hope this helps

Verified Buyer

Reviewed by HeidiPacific from San Diego on Saturday, May 2, 2015

Great for travel as it is compact, robust, and lightweight. And after a 6 hour flight you HAVE to do yoga! And I am not a proponent for using a stinky hotel gym mat, or asana-ing around my hotel floor all over HEAVENS knows what. Having said that, I skip around this thing as is typical with my volume of sweatiness and how I perform on Manduka mats. I slip on all the mata of this brand. So this mat is no different. But it's better than the above-mentioned alternatives... And last I checked, Lululemon doesn't have a super lite travel mat. So it's a keeper. Albeit not great; it is a good item in my suitcase. Namaste

Verified Buyer

Reviewed by Kelli from WV on Friday, August 29, 2014

I have two mats that I love for my home and studio practices, but they're a little difficult to travel with. I decided to give this one a try, and it is great! While it is a little too thin to use every day, it will be perfect for travel and the grip is exceptional. My hands tend to sweat and slip in downward facing dog, but with this mat I didn't have that problem!

Verified Buyer

Reviewed by jln62 from colorado on Thursday, August 21, 2014

I have tried other manduka mats as well as several other brands. I always slip unless I use chalk. This is a great light weight and portable mat that keeps you in place!

Verified Buyer

Reviewed by SC gal from South Carolina on Thursday, June 26, 2014

This mat is thin so it wouldn't be good on a wood floor unless you are standing the whole time. I use it for Bikram Yoga, which is on carpet, with the Manduka mat towel. Others have commented on the smell of the mat. The instructions say to wash it and leave it outside in the shade for a few hours to get ride of the smell. I did that and most of the smell is gone.

Reviewed by adobe goddess from NM on Thursday, May 22, 2014

This mat smells so bad. I am giving it to a friend. It smells bad even rolled up. It is not of use to me.

Reviewed by Roadwarrioress from Colorado on Sunday, April 27, 2014

I have this in the blue and I used it once and the mat started to break down and discolor in one corner near the tag. Manduka only provides a warranty for their higher end mats. I travel a great deal and thought this would be perfect for the road. I am disappointed as it provides little to no cushion in studio and should really only be used on your hotel room carpet or to place over a rental mat at a studio. I have started traveling with my Manduka Eko 3mm mat along with my Prana Synergy yoga mat towel for hot yoga.