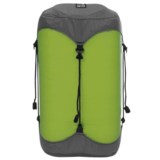 Closeouts. Designed to compress and protect bulky items from getting wet, Granite Gear's eVent® compression dry sack is crafted of durable, lightweight and waterproof Sil-Nylon Cordura® with an eVent® air-purging bottom panel.
Average Rating based on
11
reviews
3.909090
0
5
Verified Buyer

Reviewed by Azuressa from Oregon on Saturday, July 1, 2017

In all honesty, it's lighter than the other brands of compressible, dry sacks that we own and half the price on Sierra.

Verified Buyer

Reviewed by MesaGuy from Costa Mesa on Monday, June 26, 2017

The unit is Sil nylon, and came as advertised. It is light. It uses cord based compression "straps" rather than webbing based strapping (probably for weight). I have to admit that I don't really like the cord. I find it more difficult to release than webbing. Compressing is about the same. But, if you are counting every single 1/2 ounce, this bag might be for you. Personally, I think I would pay the 1/2 ounce and have the webbing for ease of use in releasing the compression. I am also skeptical now that I have used it 3 times how well the cords are going to hold up under repeated use. So far they are fine, but the cord outer cover seems like it is going to separate eventually. Not a fan of the cord.

Verified Buyer

Reviewed by Brendan from Portland on Tuesday, March 7, 2017

Good stuff sack. Used for a down bag snow caving. Cords are not as easy as straps but weigh less. Vents air easily for max compression. STP great price.

Verified Buyer

Reviewed by Anonymous from SLC on Monday, June 27, 2016

I do love this compression sack. however one small but irritating defect is making me crazy. the ends of the rope which much be pulled to create the compression, keep popping off. it's irritating enough that I'll be sending the sack back.

Verified Buyer

Reviewed by B-Jiggy from Central PA on Wednesday, June 15, 2016

Great bags and a great deal... Arrived in time for our weekend backpacking trip. Worked as intended, solid construction, light weight and allowed me to compress lots of bulk down and keep it waterproof to boot. Will also be valuable on yakpacking trips. No more garbage bag pack liners for us :)

Can be a bit hard on the hand getting max compression with the draw strings vs straps, but easily resolved using a toggle to wrap the cord around.

Verified Buyer

Reviewed by fishguy from Arkansas on Tuesday, January 12, 2016

Good ol' waterproof compression sack. Thin, lightweight, and purges air on its own. Don't know that I'd throw it around a canoe like a traditional dry sack, but it will be great for the sleeping bag on hikes and in the hull of my kayak. Probably find some other good uses for it too. Can't go wrong for the price. My buddy just bought a similar one for 50!

Verified Buyer

Reviewed by sticklady from New England on Sunday, January 10, 2016

It's made well and is lightweight, easy to use. Just what I was looking for.

Verified Buyer

Reviewed by Dale from Maine on Wednesday, October 22, 2014

lightweight waterproof sac for the sleeping bag

Verified Buyer

Reviewed by RandT from TN on Thursday, October 16, 2014

I haven't had a chance to use this sack so Im not sure if it will keep things dry but appears to be OK.

Verified Buyer

Reviewed by tangara from eastern PA on Wednesday, September 10, 2014

Great product. I'm using it on the river inside another drysack for extra protection, and also on trips where there is a lot of rain to protect gear inside my pack. I haven't had them through any extreme conditions yet, but they've provided the protection I've expected so far. Material seems sturdy but lightweight and the stitching and other details of construction are well done. The only complaint would be the price, but since I got a good deal from STP, it was a bit easier on the wallet than it could have been.