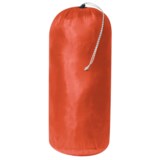 Closeouts. Granite Gear's Air Bag is a superlight and highly water-resistant way to keep gear inside your pack organized. The partially see-through fabric makes identifying contents without opening the bag a cinch.
Average Rating based on
6
reviews
4.500000
0
5
Verified Buyer

Reviewed by GottaBeMe from New York on Thursday, November 16, 2017

Love this bag so far. It is very light and is exactly the right size for what I intended. It is also very easy to use. I haven't had it out on the trail yet so I can't speak to durability but it seems to be strong so I'm not worried about it holding up.

Verified Buyer

Reviewed by bill from folsom, ca on Wednesday, February 15, 2017

strong and light

Verified Buyer

Reviewed by Colin from Pennsylvania on Tuesday, October 18, 2016

This does not appear to be a 5 L bag, but maybe a 1-2 L? Possibly they sent me the wrong item. The quality of the material is strong though, have not been able to test the durability or water resistance of it yet.

Verified Buyer

Reviewed by didee99 from Colorado on Saturday, October 15, 2016

I have quite a few of these bags (in varying sizes) and know that they are well made, lightweight and long lasting. Granite gear makes high quality products from my experience with these bags and other zip bags they make out of the same material.

Verified Buyer

Reviewed by Michael, Wilderness Explorer from Texas on Monday, April 25, 2016

I really like this bag. I bough both the toughsack and the air bag to compare and determine what works best for me.
I still don't know. Both are great.

Both are light and both are tougher than you might think.

The toughsack has a white liner that makes it easy to see the contents in the bottom. This is more important than you might think.
The Air Bag is somewhat see through so you can see the bottom with ease since light penetrates the bag.

Really it comes down to if you want a Super lightweight bag that is pretty tough (Air Bag)
OR
You want a Super tough bag that is pretty lightweight (Toughsack).

The difference in weight is well balanced with the difference in strength.
Both are Great. Both are light. Both are Tough.
I will use both and recommend both.

Which will I buy in the future if they both cost the same?
I hesitantly say I will buy the Air bag line if they cost the same. I like them both but I don't plan on being hard enough on the bags to make either break and the TINY bit of weight savings puts the Air bag line ahead for me. However, If I was to spend time in climbing situation or an extended trip situation in deep brush. I would pick the Toughsack line.

Both are great and I recommend both.

I hope this helps.

Verified Buyer

Reviewed by bill from folsom, ca on Saturday, June 6, 2015

light bag, no way to know if it will last, but so far so good.