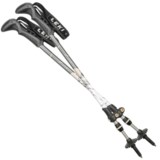 Discontinued or prior year model. LEKI Jannu Anti-Shock trekking poles ease stress on joints in technical terrain. The Soft Anti-Shock system is smooth and quiet, and the scratch-resistant aluminum shafts adjust easily.
Average Rating based on
10
reviews
3.700000
0
5
Verified Buyer

Reviewed by Go Long from Missouri on Monday, September 26, 2016

These arrived 2 days before a trip to a National Park. Before tucking them in my luggage the poles locking mechanism worked. When I took them out of my pack to use - one pole's lower lock just spun and never locked. I had to go the weekend with one pole. I WAS HACKED. So I shot Leki an email and here's the fix:
Super Lock Expander Instructions (The expanders will be Black, Blue or Green): (This was mine)
1.) Pull out the section that's not locking until part of the expander piece is exposed.
2.) Give the section a few twists to the right.
3.) Set the section at your desired length and tighten from there.

Classic Expander Instructions (The expanders will be Red or Orange):
1.) Collapse the section that is not locking completely closed.
2.) Give the section a few twists to the right.
3.) Set the section at your desired length and tighten from there.

Verified Buyer

Reviewed by cg from colorado on Friday, August 5, 2016

The anti shock feature is wonderful on the arm joints

Verified Buyer

Reviewed by Fresh Roots Humboldt from Humboldt County, CA on Thursday, July 7, 2016

I have hiked over 2000 miles with LEKI poles and my biggest complaint was that the twist lock would stop locking and twist endlessly. This happen on the AT. So I bought these believing that the speed lock design was how they fixed the problem. The trouble is that unlike the men's pair that my partner bought, the speed lock is only on the top knuckle and it is still twist lock on the bottom. Praying they had finally fixed their issues, I took them up into the Marble Mountain Wilderness in the Klamath National Forest and within 15 miles the twist part collapsed and never locked again. I used my partners poles, and he used my one to finish the rest of our miles. Within 1/2 an hour the one good pole he was using collapsed as well. The price was too good to be true and they are going back!

Reviewed by Hiker four from California on Tuesday, July 5, 2016

I am an experienced hiker and have been using poles for the past 25 years. I bought these Leki trekking poles based on past experience and the customer reviews of this model. I happily adjusted them for my height and set out. During the first hike, I noticed that they were not as stable or solid as they hit the ground, which I put down to the type of anti-shock system. Unfortunately, one of the broke in half on the second outing! Fortunately, I was not injured. I will be purchasing Tom Rutlin's Exerstriders for my next pair.

Verified Buyer

Reviewed by D from Idaho on Monday, June 27, 2016

Love these hiking poles...Great value

Verified Buyer

Reviewed by mauikitz from Maui, Hawaii on Wednesday, June 22, 2016

I had a pair of the old style Leki Jannu Trekking Poles, and they served me well. I have a bad back and so I use it instead of a cane. I had lost one a while back, and accidentally left the other one next to the dumpster, and the rubbish man must have thought it was to be thrown out. Anyway, so I purchase the new ones, and absolutely LOVE the new Anti-Shock poles. It says they are a discontinued or prior year model, but I could not be happier!!!! Sierra Trading Post shipped them super fast, and I am back on the road again.

Verified Buyer

Reviewed by Mary the Hiker from San Diego on Wednesday, June 1, 2016

Used these poles on an intense all day hike and these poles made the the trip so easy. The anti-shock system helped with my wrist issues. This is the 1st time I used poles and I don't know why I waited so long. I really like the design of Leki's palm grip on top (very comfortable to place hand on top of handle). It took me just a few times to understand the screw lock down for the bottom section of pole.

Verified Buyer

Reviewed by Mary the hiker from Utah on Thursday, May 12, 2016

I really like the anti-shock feature of these poles--sponge-like on hard surfaces. These are comfortable poles to use, and they easily compress into my pack if I don't need them. Not sure why these say "for women," as poles are poles. Maybe the graphics are feminine?

Verified Buyer

Reviewed by Skeeper from Colorful Colorado on Sunday, October 19, 2014

These are super lightweight, but sturdy, poles for hiking/trekking. They are easy to pack into a suitcase if you are traveling to hike.

Verified Buyer

Reviewed by sun dog from Missouri Ozarks on Saturday, October 18, 2014

These poles are really strong, a little heavy, but quite sturdy--which came in really handy earlier today as I tried to get up a soft soil slide between two cliffs! I made it! Hooray!