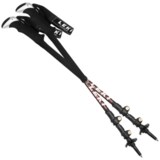 Discontinued or prior year model. LEKI Carbon TI trekking poles combine lightweight durability and the reliable Speed Lock® adjustment system in a compact, three-section design. The extended Aergon Thermo grip offers secure hold and a variety of gripping options.
Average Rating based on
11
reviews
4.818181
0
5
Verified Buyer

Reviewed by TJM from Michigan on Tuesday, May 8, 2018

After severe knee pain during my last hiking adventure I knew I needed to make a change or stop hiking. After researching various trekking poles I decided to spend the "big bucks" and go for the LEKIs. I had no idea what a difference poles would make and these poles were extremely light and durable. Adjusting was easy. Only one time did the pole slip and I had to tighten the clamp mechanism in order to keep it secure. No big deal....Hiked 8.5 miles some flat ground but quite a bit of elevation as well. I cant wait to hike again with these poles!!!

Verified Buyer

Reviewed by Zinc from NY on Tuesday, April 3, 2018

Great lightweight trekking poles!

Verified Buyer

Reviewed by Jim the Isle Royale Backpacker from Michigan on Monday, August 14, 2017

I bought these LEKI trekkiing poles in preparation for a backpacking trip in Isle Royale National Park. I'm glad I did! They are delightfully light weight for packing and carrying, the grip is just right, and I'm sure they kept from falling on rocks and roots many times. The locking mechanism did need to be tightened once, but that was easy with a little spoon that served as a screw driver. I look forward to using these poles for years of hiking and backpacking!

Verified Buyer

Reviewed by Jumar from Atlanta on Monday, July 31, 2017

Compact and light, but they feel sturdy.

Verified Buyer

Reviewed by Koert from Ventura on Tuesday, May 23, 2017

These poles have good reviews in terms of their usability and the function of the adjustment locks, which are a big problem for lots of poles. But, I didn't notice that buried deep in the description, it said that colors may vary.

If these were $30 poles, I wouldn't be so fussy. But at this price, I want a pair of poles that don't look like they came from Walmart.

Verified Buyer

Reviewed by MH from Oregon on Monday, April 3, 2017

I ordered the Leki Carbon TI trekking poles after reading a number of favorable reviews and I have not been disappointed. They are well made and designed. I am looking forward to many years of long hikes!

Reviewed by Malamute Rescuer from Idaho on Friday, November 18, 2016

I am partial to Leki - I think they are so well made. These are very lightweight yet durable and I love the speed lock adjustments. I have no complaints so far!

Verified Buyer

Reviewed by Rickyrockrat from Carson City, NV on Tuesday, April 19, 2016

These Leki poles have about everything I was looking for. They are carbon fiber and extremely light and the poles lock with a compression clamp instead of the internal twist lock.

Verified Buyer

Reviewed by outsider from Virginia on Sunday, January 17, 2016

http://www.outdoorgearlab.com/Trekking-Poles-Reviews/Leki-Carbon-Ti

Verified Buyer

Reviewed by JW from Ohio on Friday, July 25, 2014

I used these poles on a 10 day, 100 mile trek at Philmont. They are lightweight and comfortable, and performed flawlessly the whole time. I highly recommend this product.