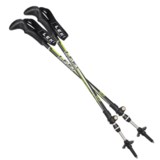 Discontinued prior year model. Save your knees and improve stability on long, technical hikes with LEKI Cristallo anti-shock trekking poles. Made of aluminum alloy, they boast Speed Lock adjustment convenience on the upper shaft and a built-in anti-shock system with minimal rebound.
Average Rating based on
9
reviews
3.666666
0
5
Verified Buyer

Reviewed by NGuyen Th from Califoria on Thursday, May 10, 2018

It is great for price and production. I did the hiking yesterday and fell comfortable than Cristallo without anti-shock. It is solid material and easy to adjust.

Verified Buyer

Reviewed by Tom Master from New York on Thursday, May 3, 2018

I'm no bigtime hiker, but I have a couple other pairs of poles. These are top notch.

Verified Buyer

Reviewed by Camino Bound from Florida on Thursday, April 12, 2018

Great poles except twist-lock gives way on one if them from time to time, otherwise I would have given 5 stars.

Reviewed by Power Walker from Vegas and Mexico on Tuesday, April 10, 2018

I'm used to the Distance Z poles from Black Diamond so these Cristallos from Leki seemed heavier and more supportive. These Leki poles also have a much better grip for palming and comfort and much better straps. I like the smaller and lighter size of the Black Diamonds but these Lekis are clearly more supportive and the anti-shocking helps to make it even more so. I'd love to get a pair of sticks to combines the best of both of these but I have only seen such a combo in the $200 range so for now, this will have to do. I'd highly recommend these Cristallos for someone who doesn't often compress them to the smallest size. Its kind of annoying to open and close them but maybe I'm just spoiled by the Black Diamonds.

Verified Buyer

Reviewed by Nick from New Mexico on Thursday, September 15, 2016

I like the poles a lot - especially the speed locks. A problem that has been noted by others is that they break. Mine broke on a reasonably minor stress, and the break was with the plastic inside the anti-shock section. Hopefully the replacement poles are better.

Verified Buyer

Reviewed by Nick from New Mexico on Wednesday, July 20, 2016

My last poles bent on a strenuous descent, so I sprung for the LEKI poles. I'm very pleased so far. Easy to collapse for storage, and good anti-shock. I was particularly pleased with the quick release for the poles. Since the mountains in New Mexico are rugged, moving quickly from shrinking the pole for ascending, and lengthening them for descending is a real plus.

Reviewed by BJS from North Georgia on Tuesday, September 1, 2015

One of the poles broke after only 3-4 hikes, but Leki said they have a lifetime warranty; so they are very well covered. I have an occasional problem with being unable to tighten the lower section. I keep twisting and twisting, but it won't catch. I've figured out how to overcome it, but it is very annoying. The graphics on the poles are great and the handles are very nice, but I wish I had a different model, albeit still Leki though.

Reviewed by Nery from Tennessee on Friday, July 17, 2015

Gift for mi novio and one pole broke on the first hike, very disappointed and embarrassed!

Verified Buyer

Reviewed by ratdog from Illinois on Saturday, July 5, 2014

Need a new pair of trekking poles after my 13 year old pair met their end in a fall. I have not used the Cristallo's yet, but they have three things going for them, Leki quality, they are light and got a great price on them at Sierra Trading Post. I should get many years of use out of them.