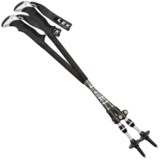 Discontinued or prior year model. LEKI Thermolite XL Anti-Shock trekking poles support and reduce the inherent stresses of uphill and downhill walking, trekking and hiking. They provide stability and increase balance in difficult terrain, and the anti-shock mechanism reduces upper-body stress.
Average Rating based on
18
reviews
4.611111
0
5
Verified Buyer

Reviewed by littlewhootsie from Santa Cruz, CA on Monday, June 19, 2017

I had some Komperdell's that I really liked, but I wanted total anti-shocking, so I got these. On my first try, I didn't feel any difference, in fact, I stated to my hiking partner, that I liked the Komperdell's better. Then I just kept using them. My partner said he saw the anti-shock in effect. These poles stay "intact" better than the Komperdell's did and are easier to use. They will, however, just sort of "unravel" themselves, not at the "clip" part but at the bottom "swivel" part. This hasn't happened a lot to me, but it has happened. I like Komperdell's handle grips better than these (and i wear padded biking gloves when using the poles). These grips haven't left full-on blisters, but it's felt like if I had walked further, that they would. especially on a hot day : (
I'm a woman who has spinal issues (cervical on down to sacrum) and I can't walk over a block w/out my back beginning to hurt, and these will allow me to go both up and down hills as well as on flat land for 5+ miles. I put the pads on the bottom to walk on concrete or other hard surfaces. The Komperdell's that I have (bought here at Sierra) also were/are good for me, but these seem overall to be a bit "better". I feel so grateful to have found walking sticks in general, as I couldn't get out on the trails before knowing about them. Thanks to Sierra for providing them at great prices, too.

Reviewed by Indydi from Tennessee on Thursday, June 8, 2017

We got these for my husband in March 2017. We were shipped the older version with the original Speedlocks. Those locks are only marginally okay. He was unable to tighten them enough by hand, and had to use a tool. They still slip sometimes.

But the real problem was the bottom joint on both poles. Despite how strong he is, he couldn't get it tightened enough to hold consistently. They were constantly slipping, and sometimes the bottom section would just fall out on the trail. On our last hike, the bottom slipped, pulled out almost all the way, and snapped the internal mechanism. There was no way to reinsert it. We're also just over the 90 days, and the product was well used anyway, so we couldn't return it to STP and are pursuing the Leki warranty. We would not buy these poles again.

Other notes: the antishock on this older version is pretty obvious. You can see it compress and retract. This is not at all visible or palpable on my Leki Carbonlite XL's, which have different joints. Also, the hand straps are not the thick nylon ones as pictured. They are the newer, thinner (and probably more comfortable) type.

We're still big Leki fans, but this pole has some issues.

Reviewed by Bigronbowski from Indiana on Wednesday, May 24, 2017

All the features I was looking for at a good price. They are light and comfortable to use. The set I received may have been defective. Once adjusted the cam locks never failed. The lower twist locks are garbage. Even if you crank them down, they would loosen after a quarter mile or so, and slide down under load. The trail I was on was mixed use and muddy. One of the poles stuck in the mud, the lower joint let loose, pulled out, and snapped off. Gorilla tape made it useable but not adjustable. Sierra customer service is great and is sending a new pair. Additionally, the anti-shock mechanism is rather loud. I thought I sounded a little like tigger boing, boing, boinging down the trail.

Verified Buyer

Reviewed by Jim from Ohio on Monday, May 15, 2017

This is my second set of Leki's and they work as expected. These poles are rated for 300# which gives me a little more assurance while carrying a loaded pack from those unplanned slips and trips. The description doesn't list it but these do come with the Speed Lock 2 system.

Verified Buyer

Reviewed by Hiking with Hank from Ct. on Friday, April 28, 2017

light and sturdy

Verified Buyer

Reviewed by Alex from Colorado on Wednesday, March 8, 2017

Troubles with the bottom twist locks needing to be "Hulk" cranked to stay locked and even then, was not a guarantee. May have been defective and Sierra Trading Post was A+++ on customer service and had them replaced almost before I hung the phone up. See how the new pair pans out

Verified Buyer

Reviewed by PT from Washington DC on Saturday, February 25, 2017

Just hiked 20 miles on AT with new Lexi poles. Saved from a million tumbles and twisted ankles. These are my new best friends, easy to adjust

Verified Buyer

Reviewed by Laura from NC on Saturday, February 18, 2017

Bought two sets of these. One for my husband and one for myself. They are very easy to adjust. They work well for us both even though we are very different heights.

Verified Buyer

Reviewed by Dave from Atlanta on Wednesday, November 2, 2016

These are a must have if you plan to do any serious trekking. On rocky and uneven ground balance can be an issue, but these trekking poles improve stability and provide an added level of safety.

Verified Buyer

Reviewed by Diane from Washington on Tuesday, August 2, 2016

This is the first pair of Leki poles I have bought. They were pricey but on the first hike I took them on they worked great. I love the light weight and the anti-shock is a great feature. I am going hiking again soon.