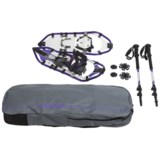 Closeouts. With Yukon Charlie's Pro II snowshoe kit, which includes aluminum snowshoes, adjustable trekking poles and a durable carry bag, you get everything you need for a snow-covered adventure.
Average Rating based on
10
reviews
4.300000
0
5
Verified Buyer

Reviewed by Lesley from Colorado on Monday, January 19, 2015

I love my new snowshoes. I've taken them out three times and plan for many, many more adventures. I chose this kit because it got good reviews, came with poles that I can also use for summer hiking and the carrying case, which is very helpful. I also picked up a pair of Yukon Charlie's gaiters. So for less than $130 I'm set for what I hope, is many more snowshoeing days. These shoes seem adequately durable for the price paid. More expensive ones that I've looked at definitely seem a bit sturdier, but I'm confident if something goes awry with these, the Yukon Charlie company will be helpful in repairs. I've enjoyed their website and the helpful videos they have for adjusting the snowshoes and setting everything up. The quick release and tighten pull work very well and I can get in and out of the shoes in less than ten seconds. The first day, I did have them on the wrong feet (the tightening pull goes to the inside, the quick release on the outside...) but once that was figured out, the shoes were comfortable, light and easy to walk in. I do wish some sort of instruction book had been included, as not everyone would go searching for a help video like myself :) I can't speak on their longevity and durability as they are new to me. Overall, great shoes and I wouldn't hesitate to purchase them again or recommend.

Verified Buyer

Reviewed by windy from utah on Wednesday, November 5, 2014

Order arrived quickly. Good quality snowshoes. Easy to put on & take off. Can't wait to try them out on snow!

Reviewed by Cook from Michigan on Saturday, March 15, 2014

Bag had stains on it and pole handle was broken otherwise snowshoes were nice

Reviewed by Pam B from Michigan on Friday, March 14, 2014

First pair of snowshoes I have ever owned and they are very easy to use.

Reviewed by New snowshoer from WNY on Saturday, March 8, 2014

Have used these twice so far and loved them each time. Would recommend them but would have like some instruction on how to put them on etc.

Reviewed by Vicky the Traveler from Connecticut on Tuesday, March 4, 2014

These are great! Lightweight, super easy to put on and lock in place.
Love that the poles and shoes both fit in the bag and that the bag
doubles as a back pack. Really a smart design.

Reviewed by Lisa from Michigan on Thursday, February 27, 2014

Even without instructions for use/ adjustment included, I was able to get going right away. We've had a challenging winter in MI with LOTS of snow, so it's very deep with a hard crust. I've been delighted with traction and ability to break trail (for my dogs). The few complaints would be that the "flanges" on the poles easily pop off and can be lost in these conditions. Additionally one pole entirely BROKE when I putting a flange back on!!! So I've resorted to using an old pair of Xcountry poles that I already had. One of the plastic clips that holds down the toe strap when secured also broke. However I have not had the snowshoes loosen (yet) despite this. All around, I wish I had these sooner in the season!

Reviewed by ADKDani from NY on Thursday, February 27, 2014

I will have to use these again on non-groomed rolling terrain to make a better judgement but.. this is a wicked deal. I'd vouch for this starter kit in a heartbeat. Didn't need the poles yet, but when steeper terrains are tackled they will be the much welcome addition to the carry bag.

Reviewed by Allison from Michigan on Tuesday, February 25, 2014

These are my very first set of snowshoes, I got them to take my dogs trekking through the snow during the 'Polar Vortex' of 2014.

The bag seems to be of good quality & should hold up well; the poles are great in that you can set them to whatever length you'd like, & the snowshoes fit snugly. The only down side is that they didn't come with clear instructions on how to strap them on, so that was a bit of a struggle the very first time I put them on, but very minor.

Overall, I'm very happy with my purchases thus far.

Reviewed by Happy Sierra Shopper from Wisconsin on Monday, February 17, 2014

I hate winter and snow, but I hate not being outside even more. So I bit the bullet and bought a pair of snowshoes. I chose these because they came with poles, and I liked the look. Totally unscientific, though I did check the length weight ratio to make sure I was ordering something suitable. I looked at a couple of youtube videos on how to snowshoe and off I went. Initally I had some trouble getting one of the poles to lock and for the basket to stay locked in place. I went to the manufacturer's website and watched a video specific to this series of snowshoes and it was very helpful in resolving those issues. So far so good, I've been out with them three times in deep snow (a foot of cover?) and have unbroken fields as well as traipsed all over in the woods, doing small hills up and down.