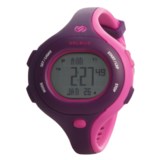 Closeouts. Female runners who don't like to get chicked (i.e. passed by a stronger woman athlete) will probably like Soleus' Chicked Sports watch -- a colorfully streamlined timepiece with 30-lap memory, five interval timers and two alarms.
Average Rating based on
10
reviews
3.100000
0
5
Verified Buyer

Reviewed by Kdcrae from Sherbrooke, Quebec, Canada on Wednesday, May 23, 2018

I love this watch. It is perfect for when I am working outside or working out or playing sports. It was slightly confusing to program, however, which is the reason for the 4-starts and not 5.

Verified Buyer

Reviewed by Michigan momma from Michigan on Wednesday, July 20, 2016

Very disappointed when out of the box the watch did not work. Called customer service to check options as this was a present for my daughter's birthday. I asked if I exchanged I would not get charged the return shipping. They told me they might waive it unless it was the battery - then I would get charged. I told them in the directions it says the battery can only be changed by a Soleus dealer or it will void the warranty. They asked if I could go to a local jeweler and see if it was the battery. I told them I would see what I could do and if it wasn't the battery I would call them back.
Went down to local store and paid to get a battery - which I don't think I should of had to do.
It worked after swapping out the batteries.
The watch itself is great. Large display - easy to figure out all the functions / even without reading the directions. It is not as bulky as the picture makes it seem. My daughter has a very small frame and it does not look overly huge on her arm. Great watch - just wish the battery, and customer service were a little better.

Verified Buyer

Reviewed by 4wheelfun from CA on Tuesday, April 12, 2016

This watch arrived and didn't work, returned as defective, will not buy as product not great anyway...

Verified Buyer

Reviewed by alpinemtngoat from alpine utah on Wednesday, April 1, 2015

nice

Reviewed by Robbie from North Bay on Monday, February 23, 2015

Hate to make my first review a negative one, but given the general high quality of gear on STP and the demanding nature of the folks who shop here, I feel like I have to warn people away from this watch, and I would expect Soleus in general. This watch is advertised as water resistant to 100 meters, but within a month of getting one for each of my girls both failed... in the bath. If you call Soleus customer support, they will tell you that they explicitly will not honor their warranty if the watch fails because your six year old girl took a bath with it, because their definition of "Water Resistant to 100 meters" does not include bathing. The display is cheap and difficult to read (unlike a Timex), the paint indicating the button functions wears off within just a few weeks of normal use, and the buttons are very sensitive, which means that any kind of moderate hand movement will have you inadvertently setting them off. I've never had a problem with, say, Timex watches in the shower or bath (also, generally rated WR to 100m) and Timex also takes its warranty seriously - they've never failed to repair a watch of mine for the cost of postage alone. Luckily, STP is an honorable merchant, so while Soleus refused to do anything about their product, the people at STP were more than happy to take the watches back and issue me a refund. If anything, I feel bad for STP because they are paying for Soleus making a poor product, and having miserable customer support. Avoid this brand.

Verified Buyer

Reviewed by Dbowler from Texas on Friday, December 26, 2014

Works perfectly and is all it was said to be. Very happy with it.

Verified Buyer

Reviewed by SAG wagon from TX on Wednesday, September 17, 2014

I purchased this watch because it looked nice, but I especially liked the clasp and the narrow band. So often in the past with other sports watches, the watchband comes out of the clasp and gets caught on things, very annoying. That was the feature I really liked about the watch when it arrived.

Another person commented on how easy the buttons were to push, I agree with that. Many times when I looked down to see the time, a button had been pressed and something other than the time was on the display.

This Soleus watch claims it is water resistant to 100 m. I wore the watch one time in the pool, and then it stopped functioning properly. No longer would the mode advance from the time display, and in addition, it would beep on its own at odd times. It finally just died. I assume somehow water got in the watch. I returned the watch as defective. Going back to Timex.

Verified Buyer

Reviewed by Ruff hiker biker from Central Pennsylvania on Thursday, September 4, 2014

This is a really nice sized, easy to read, watch. Why
did I forget the reason I can't use most sports watches?
The mode change buttons are on the outside where I constantly
(inadvertantly) push them when I bend my wrist. Does anyone else have the same problem?

Verified Buyer

Reviewed by hans from vermont on Thursday, May 29, 2014

i bought this for my 8 year old girl who just completed her first trail running race this week. it's important to have the right gear! she loves the watch and sets alarms to remind her to wake up and get ready for the bus. and it made her feel like an official runner at the race with interval timer and stopwatch. fits her great.

way cuter than a timex ironman and basically identical function

Verified Buyer

Reviewed by Tinkerbell from MA on Wednesday, April 16, 2014

Face is wide, display is not very bright. I think I'll go back to the Timex version next time as it's brighter and not as wide (I have small wrists).