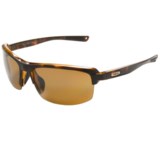 Overstock. Revo Crux S sunglasses supply paddlers, fisherman and watersport enthusiasts with glare-blocking High-Contract Polarization optics, superlight frames and a durable storage case for protection between adventures.
Average Rating based on
15
reviews
4.400000
0
5
Verified Buyer

Reviewed by Debbie M from Pennsylvania on Tuesday, November 7, 2017

Turns out the lens color "water" is not blue but gray with blue coating. Not what I expected at all but too much of a pain to return/exchange.

Verified Buyer

Reviewed by Ross from New Jersey on Thursday, May 25, 2017

Love these glasses for road cycling, and they look good off the bike as well. Awesome price so I purchased multiple pair

Verified Buyer

Reviewed by Hike Safe from Arizona on Wednesday, April 12, 2017

My favorite new driving glasses.

Verified Buyer

Reviewed by JeretNY from New York on Friday, June 26, 2015

Im use to wearing Maui Jims but I got tired of spending all that money just to lose them every year. I saw these glasses at a local retailer and tried them on. They are not as light as the maui but the lenses are comparable in quality. I had them so far for about 2 weeks and so far I love them. I got them at a great deal here, almost half the cost at what the retailers are charging. I have both the brown and blue pairs, that show you how much I love them.

Verified Buyer

Reviewed by mark from seattle on Tuesday, May 12, 2015

I've owned several pair of Revo, and they are top-notch. These are not worth the extra $50 when compared to the $15Berkeley polarized I get from Walmart. I'd say these are $25-$30 dollar glasses. The clarity is just OK, the frames are wider at the corner (don't really wrap around the contour of your face), and the float is a 2" foam tube that is unattractive and too big. A foam floating strap would have worked fine, as the classes are lightweight to begin with.

Verified Buyer

Reviewed by vt gal from Vermont on Tuesday, April 28, 2015

Bought these for my upcoming vacation to Hawaii where some of the time will be spent on the water. I am not one to cut corners on sunglasses. You only get one set of eyes. At the same time I can be a little rough on them so any time I can get a deal it's great.

Love the floaty on the sunglass cord. Revo always makes a good product and the price was really competitive. Bought the one with blue lenses for me and my husband ordered black. Not sure the glasses will work on a small face but were fine for me. Ordered a second "back up" pair this week.

Verified Buyer

Reviewed by Will Stone from Wallingford,CT. on Tuesday, April 14, 2015

I absolutely love the Revos i purchased from Sierra Trading Post! I always wanted Revos but couldnt afford them. Sierra had a sale, so i said to myself why not. I use these for Fly Fishing and they cut surface glare like ive never seen before. They are excellent quality and they also come with a floating lanyard which i didnt know about . There are many times glasses fall off your head and body and get sucked down stream or sink to the bottom of the ocean. Goodbye glasses! Guess what not my Revos!

Verified Buyer

Reviewed by swimmer from California on Thursday, January 22, 2015

Great sunglasses Revo's have to best lens's very clear.

Verified Buyer

Reviewed by bill from Ohio on Monday, January 19, 2015

Good looking sunglasses that fit well, are comfortable, and do a nice job of blocking the sun. I think the blue lenses look cool. The built in float is actually a glasses cord with a foam float in the middle that you attach to the sunglasses. They will sink without the cord/float attached.

Verified Buyer

Reviewed by Crew mom from Buffalo on Monday, August 4, 2014

Purchased these for my son who rows and was impressed with their weight and the lens. He is claiming less eye fatigue on sunny days-great glasses for the price with rapid delivery.