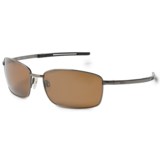 Overstock. Whether you're driving to work, hiking in the backcountry or casting for trout, Revo's Transport sunglasses will supply outstanding glare protection, courtesy of premium-quality High Contrast Polarization technology.
Average Rating based on
11
reviews
3.636363
0
5
Verified Buyer

Reviewed by Edward from NC on Friday, January 26, 2018

The hinges on these glasses are not the same as in the picture and don't have the spring out action of regular Revo Transports, they hinge inwards only from a small hinge. Furthermore, when one looks up Revo's recommendations on how to spot fakes, these come up short . (the word polarized etched on the right glass, included documentation etc). Box looks authentic though. I would have returned them but am out of town traveling for a while.

Verified Buyer

Reviewed by Small Stream Fly Fishing from Maryland on Saturday, July 1, 2017

My last pair of Revo's lasted 10+ years with really exceptional clarity on the water. This pair is just as good and is more comfortable in the nose piece and the springs that hold to the sides of your head gently holds them in place yet doesn't grip too tight to give your a headache after wearing them all day. I like having real glass for lenses, they are more scratch resistant and will hold up longer. I like the brown/amber glasses since I can wear them in any weather and they will no cause eye fatigue.

Reviewed by STP oldtimer from California on Sunday, June 4, 2017

I'll start with the positives. I like the style of the frame which suits my medium sized face. The hinges are spring loaded and keeps the sunglasses in place comfortably. I purchased the brown/terra brown color and the lenses do provide good contrast.
Unfortunately after having the sunglasses for about a year, I have encountered some issues with the lenses. First of all, the coating on the front of the lenses started to wear off within the first couple of months. I only used the soft bag or a soft lens cloth to clean the lenses, so the durability of the coating was poor. It looked terrible from the front when reflecting light, but didn't cause any issues with clarity when wearing the sunglasses. The simple fix was to use alcohol and remove all of the coating from the front of the lenses. However, a new issue with the lenses occurred a few months later. The lenses appear to be constructed in layers and the layers are now separating. They are starting to look bad, although still usable. Please note that the glasses were not abused. They are kept in the case in one of my cars and I only wear them when I drive that car which is a couple of times a week.

Verified Buyer

Reviewed by Tammy from Colorado on Tuesday, May 16, 2017

Ordered online one day and received them the next! Highly recommend shopping at Sierra Trading Post.

Reviewed by AquaSean from Oregon on Monday, June 6, 2016

Zooming in on the picture shows "Made in USA" on the inner arm. Once they arrived, I was disappointed to find the pair I received was actually made in China. The sunglasses seemed of decent quality, but I'll be sending mine back since I prefer to buy USA made items when I can.

Verified Buyer

Reviewed by CT todd from Connecticut on Wednesday, November 4, 2015

sending them back - different style than I thought. Picture online not sufficient to know which Revo style it really easy, as "style names not well popularized by Revo". Didn't try them outside so cannot tell if they are as good as Revo should be

Verified Buyer

Reviewed by Watkinses from TX - Texas on Monday, August 24, 2015

These came exactly as advertised. They were what we eat ed at a lower price than anywhere else.

Verified Buyer

Reviewed by Shoelover4ever from Tennessee on Saturday, August 15, 2015

I have been a fan of Revo glasses for years but noticed a recent decline in the quality. The quality of this pair is similar to my older Revo glasses. So glad I was able to find a pair for a great price!

Verified Buyer

Reviewed by RUN/SUP WI from WI on Monday, August 10, 2015

I love STP and am a frequent shopper. This is the worst item by far I have ever received from them. The lenses are a poor quality plastic and they are not polarized as indicated in the description. Very flimsy ear pieces and over all construction. They are definitely not REVO's.. They are typical of your $15 convenience store sunglasses.

Verified Buyer

Reviewed by Michael - Austin from Austin on Friday, July 4, 2014

Not a big fan of spending > $100 on sunglasses as I tend to quickly break or damage in some way every pair I own, but these glasses are worth it. Love the polarized lens and high quality construction. Definitely worth it!