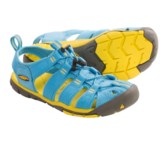 Closeouts. Ultralight and sporty, Keen's Clearwater CNX sport sandals feature Keen's classic protective silhouette with a quick-drying and partially open design that keeps adventurous feet comfy all day long.
Average Rating based on
11
reviews
4.454545
0
5
Verified Buyer

Reviewed by Sofia from Pacific NW on Wednesday, August 10, 2016

These are really comfortable Keen's, they feel lightweight and sturdy at the same time. Not only that but they are cute and I love the bright color.

Verified Buyer

Reviewed by Maggie in NM from Farmington, NM on Monday, June 6, 2016

I love Keen sandals and got these for fun. They are not as sturdy as previous Kerns I have owned, but I like them.

Verified Buyer

Reviewed by AllieG from New Jersey on Friday, June 3, 2016

I LOVE these shoes. The color is exactly as shown and they fit perfectly. They're the most comfortable shoes.

Verified Buyer

Reviewed by jessicared from Kansas on Tuesday, April 26, 2016

These shoes are very cute. They have a bright color that is fun for summer. They are rugged and great for the outdoors. This is a quality brand!

Verified Buyer

Reviewed by Betty from Florida on Monday, April 25, 2016

Already own a pair of these sandals for years and decided to get another pair. Keen has tweaked the sandal just enough so that your smallest toe does not "pop out" the side every once in a while like my older pair. Still comfy and attractive but sturdy when walking. Looking forward to my next pair.

Verified Buyer

Reviewed by MTM from Seattle on Tuesday, April 19, 2016

These Keens are very comfortable and true to size. Perfect for around town, lite hiking and anything around water. Very well constructed and made to last.

Reviewed by Lisa from Florida on Tuesday, April 12, 2016

I like these sandals a LOT. I got them to replace my very old and nearly-destroyed Keen Whisper sandals, and these were comfortable right out of the box. This sandal is less beefy than the Whisper - the sole is thinner and more flexible, and when I hike with them, they have a sort of minimalist feel. The toe bumper is smaller, and the sandal is generally much less clunky-looking than the Whisper. The Clearwater is also not as open as the Whisper, so I get less debris between the sole of my foot and the sole of my shoe. The orange-y color is surprisingly nice. ABOUT SIZING: I have always taken a 8.5 in Keen shoes, but I paid attention to an earlier review here and sized up to a 9. The 9 is absolutely perfect - the 8.5 certainly would have been too small.

Verified Buyer

Reviewed by Yes We Can from Rockland County NY on Friday, July 4, 2014

Love these comfy, light sandals. My 8 1/2's fit perfectly. The color is fun-- not close to neon-- as described in one review. It's a bright grass or apple green. Have gotten compliments every time I wear them.
While the sole is a little thin and lacks the arch support needed for a rigorous trail walk, these are the perfect shoes for in-town, walks on the beach or well-worn, fairly level trails. This seems to be an ideal kayak canoe shoe. I wore it in the rain, and it dried quickly with no mildewy smell.
My only quibble is the ankle strap. A bit of velcro would have made the on-off drill a bit easier. I hope the strap doesn't get overstretched.



Reviewed by InTheWoods from New Hampshire on Monday, June 9, 2014

I needed something in between full sneakers and the strappy walking sandals I have. Full sneakers or hiking shoes feel heavy and bulky to me, I can't stand my feet feeling heavy. And my open-toed walking sandals are great for errands, but leave my toes too exposed for wearing around my woodsy yard and property. I wanted something cool for summer but that still protected my feet; these fit the bill. I didn't have any problem with sizing as other reviews mentioned; I take (and ordered) a 7.5 and they are a perfect fit, wiggle room for my toes and the width is great. I'd say they are a flawless fit actually. The definitely do not have exceptional arch support, they're contoured for comfort but these are a very flat style so I wasn't expecting them to be especially supportive. What I really love about them is the combination of sturdy soles and flexibility. I'm always climbing around in the yard or walking my dog in the woods, and frequently find myself climbing on and over big rocks, fallen trees, hopping across streams, etc. These offer all kinds of flexibility, gripping surfaces and giving me a very natural feeling. The low profile offer a nice clean look too, I hate the look of big clunky shoes. I got the green color. I usually opt for natural and subtle earth tones, so this was a very bold choice for me but I quite like them! They're different and fun. I put them on out of the box with no adjusting whatsoever and love them. I forget I'm even wearing them and find myself wearing them well into my evening at home, when I would have normally changed into slippers. No complaints at all, these were worth every penny.

Reviewed by Dr. Bison from Georgia on Tuesday, May 20, 2014

Overall, not a horrible shoe for the price. I haven't given them a full trial run yet so take that as you will. I do agree with the previous reviewer, these run really small. I usually wear 8.5 or 9, depending on the shoe. Ordered a 9 in these and my heel is right on the back lip of the shoe. Uuugh! Unfortunately, I have to go with it as I didn't order in time to adjust and don't have a backup. These also don't feel as supportive as I thought they'd be. I hope that's deceptive! I'll update this after wearing them for a while.