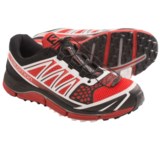 Closeouts. Featuring the EndoFit system for outstanding response and OS Tendon technology for superior energy return, Salomon's XR Crossmax 2 trail running shoes are built to keep you light on your feet on almost any terrain, from city streets to dusty singletrack.
Average Rating based on
34
reviews
4.235294
0
5
Verified Buyer

Reviewed by Hiker from San Diego, Ca on Monday, July 27, 2015

I have a normal width size 11 foot and these shoes were too tight on the sides. I even left the lasses fully loose and they were too tight. Good looking shoe with a great sole for trail running, but too tight.

Verified Buyer

Reviewed by Longboard1998 from SoCal on Monday, July 27, 2015

Have had many Salomon Trail Runners over the years. Solid shoe, comfortable out of the box and true to size
Simple, easy and quick transaction as always through STP

Verified Buyer

Reviewed by DooHiemmer from Idaho on Monday, July 6, 2015

The day my Salomon XR Crossmax 2 shoes showed up in the mail I put them on, and have only taken them off to sleep. I wear them when I go mountain biking in the mornings, when I'm at home relaxing, and for my work shift (I'm a gas station clerk and am on my feet my whole shift). I have definitely noticed my legs and feet are not as sore as they were prior to wearing these shoes, and would recommend them to anyone who Kicks Butt and Rock and Rolls all day.

Verified Buyer

Reviewed by Alin from Florida on Monday, June 29, 2015

Shoe was too narrow

Verified Buyer

Reviewed by Scott from Tennessee on Wednesday, June 24, 2015

I work as a residential house painter and needed new shoes. My pair from Eddie Bauer worked great but the support was gone so it was time for some new ones. I saw these on the website a few weeks before but was still shopping around. I visited Mast General store downtown Knoxville and saw similar trail running shoes by Solomon for over $100. I passed, came home, and saw these were still available. I ordered them and have been loving them since they arrived. They broke in quickly (after the first day). I hadn't had a lacing system like this before but operating it was very simple. Sometimes I need to remove my shoes when entering a customers home and it's a breeze with these! Highly recommend.

Verified Buyer

Reviewed by Chuck from Massachusetts on Wednesday, June 24, 2015

I purchased the XR Crossmax 2 right before running my first Spartan Super, and I was more than pleased. These shoes are built extremely well and are durable with a great deal of support, and extremely comfortable on top of all that. Water drained well, leading to comfort for the duration of my race. At the conclusion of the race they were easily cleaned and look and feel as good as new. I would definitely recommend these shoes.

Reviewed by James in Tahoe from South Lake Tahoe on Wednesday, June 17, 2015

I've been wearing Salomon trail running shoes for many years. I've always stayed with them because the fit is good for me and I really like the no-tie laces. However, this pair had a few flaws. First, although they are listed as a trail running shoe, I found the sole to be very high, higher than a typical running shoe. Second, the toe box was much tighter than every other pair of Salomon's I've owned. And third, the cushioning at the back rubbed on my achilles tendon area. Going to have to try one of the other XR versions.

Verified Buyer

Reviewed by hoke from arizona on Monday, June 15, 2015

Fit a little tight in the width, but overall a good pair of shoes

Verified Buyer

Reviewed by Andre the Businessman from Milwaukee WI on Wednesday, June 10, 2015

These shoes are awesome I replaced my New Balance with these as a day to day shoe/workout shoe confert is there support is there. They do run a little hot though.

Reviewed by scottio from BC on Monday, June 8, 2015

Not disappointed with these trail runners at all. They are replacing the original XR crossmax shoes, with sizing being consistent between the new and old. There a a few changes, none for the worse, overall this shoe is great for on or off road. The tread is aggressive enough for everything except very wet and muddy trails. On the other hand, the tread is light enough that you don't get the "cleat" like feeling when run in on pavement or a firm surface. I've always liked the lace system, so much so that all of my running shoes are Salomon.