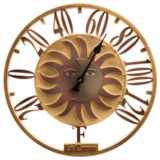 Overstock. Weather resistant and easy to read, La Crosse Technology's Sun/Moon thermometer has an organic look that blends right in with the outdoors.
Average Rating based on
19
reviews
2.526315
0
5
Verified Buyer

Reviewed by Edgegrrl from Merry Maryland on Wednesday, June 29, 2016

It's been 72 degrees since we got it.. and the temps have been 60s to 90s. Oh well. It's pretty, and cheap.

Verified Buyer

Reviewed by M from WI on Thursday, April 9, 2015

Love the look of this, and is lightweight. With no cover over the face, the hand that reads the temperature gets blown around in a good wind and so does the whole thing, actually. Just need to find a better spot for it. But it's nice.

Reviewed by Gila Hiker from Southwest New Mexico on Saturday, March 7, 2015

The mixed reviews called for a simple experiment. The shipping box was in the house for a few hours. Thermometer read 66 degrees... same as the furnace thermostat. Put it out in the shade and it matched the indoor/outdoor digital at 54 degrees. Laid it on a table in full sun and it jumped to 96 degrees. We found a north facing shaded spot above an outer door and it should be fine. In full sun it probably will read in the nineties all of the time.

It is made of closed-cell polystyrene. Inert enough that it should not warp and should stand up to outdoor conditions. Looks are a matter of taste. I would go with "cute" as per another reviewer.

It does have two wells on the underside to fit over screw heads. It is possible that high winds could lift it. In a pinch you can hide a face screw in the "LaCrosse" advertisement at bottom.

Verified Buyer

Reviewed by cheryl from Ohio on Wednesday, February 4, 2015

I purchased this item in January, I put it where my Christmas wreath was hanging, so it has a new home til next year! It is a durable plastic with a ceramic look! The temps are up and down in Cincinnati this time of year, and this is whatever temp the weather man says it is...I was impressed! I do have it on the east side of my house, where it will only get morning sun..our summers can be very hot, and would not put in full sun to prevent fading...can't wait to plant some flowers under it...It is really cute...in any season...Great Purchase!

Reviewed by Anonymous from USA on Friday, January 30, 2015

Expected more from LaCrosse

Verified Buyer

Reviewed by Joatney from Oregon on Monday, January 19, 2015

had I paid full price I would have sent it back - made from a light weight plastic that will probably not last long outdoors, but it is cute nonetheless

Verified Buyer

Reviewed by Maggie Gardener from Pennsylvania on Thursday, December 4, 2014

This outdoor thermometer is great. I'm glad that I got a second one to give as a gift.

Verified Buyer

Reviewed by Kim the crafter from Arizona on Monday, October 20, 2014

this thermometer is plastic with a bad finish. not worth the money!

Reviewed by quasicon from Colorado on Wednesday, October 8, 2014

No way to reset it if someone fiddles with the back spring. Another thing I didn't bother to return.

Reviewed by swimmer jane from nc on Friday, September 12, 2014

there is no back to this thermometer, it is a cutout. which means depending on where you put it, it can be very difficult to read. it is not that good looking in real life, kind of tan blah. i even took a sharpie to the numbers to help them stand out. it helped a little but not a lot. so for me, it just did not work.