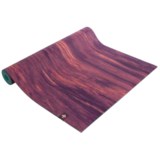 Closeouts. A 4mm design made of natural tree rubber, Manduka's eKO Lite yoga mat is an excellent, lightweight travel mat.
Average Rating based on
52
reviews
4.307692
0
5
Verified Buyer

Reviewed by Svan3 from Oklahoma on Friday, May 12, 2017

Took 1 star off due to the continued odor and smaller size of the mat. I've had the mat for about 2 weeks and when not in use, I keep it unrolled so it can air out. This is a decently cushioned mat that's lightweight, perfect for taking to class. Very grippy, good performance.

Verified Buyer

Reviewed by JMR from Midwest on Tuesday, May 9, 2017

Manduka yoga mats are high end yoga mats. I've never found better prices for them than on Sierra Trading Post. The description states that is an excellent travel mat. I use mine for daily use. 4mm seems like the correct cushion for me. Since it is rubber, it has a rubber smell to it. I just aired mine out for a few days before I took it to a class.

Verified Buyer

Reviewed by Old guy from Hill Country Texas on Wednesday, April 5, 2017

Purchased this mat after almost breaking my neck in hot yoga; top of my old mat got wet and foot slipped. Manduka is rubber and denser than the standard foam mat so it does not slip easily when wet, that's the "sticky good". When not sweating and moving from one position to another it is difficult to slide without taking more weight off, that's the "sticky bad". The mat is also shorter than others I've had.

Verified Buyer

Reviewed by Erika from New Mexico on Tuesday, April 4, 2017

This mat is lighter and thinner than some of the others that manduka, but it does not disappoint. It has great grip and I have found it to be my go to mat for most classes. It does have a rubber odor that has taken longer to go away than my other Manduka mats. Overall, a solid mat.

Verified Buyer

Reviewed by TB from MN on Thursday, March 16, 2017

Purchased for my husband for yoga. He says this.... not a long as his other mat, but long enough.
Does smell like rubber but then it's rubber and is not a bad smell.
No more cushion than other mats.
Loves the fast it doesn't slide around on the floor and his hands and feet don't slide in certain poses.
Loves the color!

Verified Buyer

Reviewed by Sarah from CT on Monday, March 13, 2017

Love this yoga mat! Great grip, no slide. Fair warning, the rubbery new mat is a bit overwhelming .. but it soon fades.

Verified Buyer

Reviewed by SC gal from South Carolina on Sunday, March 12, 2017

I got this mat because the Manduka Pro mat is heavy to carry around. This is the one I take to studios. The 4mm is a little thin, the 5mm might be a better choice if you like more cushion. Yes, there is a rubber smell at first but smell eventually goes away. Air it out before you use it.

Verified Buyer

Reviewed by delvis from PA on Thursday, March 2, 2017

You won't be disappointed with this mat. Solid,

Reviewed by CLH2000 from Utah on Wednesday, February 15, 2017

This mat is great. I used a cheap one for the past year and it slowly shredded little pieces off during yoga classes. The weight is heavy but not too heavy (don't let the name Lite fool you). It rolled out flat right away and feels grippy with sweaty palms or not. Yes, there is a smell, but it smells like rubber and it is made of rubber so....!
The price was good, I expect to use this for years and would buy again for myself or as a gift.

Verified Buyer

Reviewed by Kristie E from Atlanta on Thursday, December 22, 2016

I've been eyeing a manduka mat for a while. This one is not as thick as the beefy ones I see in my yoga class, but those must weigh 40lbs! This one is plenty sturdy, fairly heavy, but not awful. It's nicely non-skid. Beautiful color. It will last a long time.